Paul & Tracey's Travels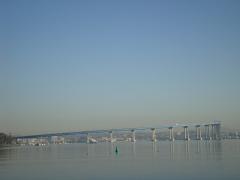 31st Dec 2008 - LA & San Diego, USA
New Years's eve and a return home
Today we are travelling north back to LA and a flight back to Heathrow. Personally, I could quite easily carry on living out of a suitcase and travelling around (although I may need to wash a few clothes !). We have all greatly enjoyed our trip, and there have been so many highlights, that when we were trying to name our favourite bits, we all struggled as there were so many. We also struggled to remember things we had done a couple of weeks ago, so this blog will be a useful reminder, along with all our photos.
We left San Diego at 10am for the 130 mile trip back to LAX (airport). It was another pleasantly warm day but there was still a slight mist lingering from the day before. We stopped after about an hour or so at San Juan Capistrano again, as it was about half way, and had a cup of coffee and a snack. Then it was back on the freeway/interstate for a final drive across LA.
We dropped our rental car off, then proceeded to the airport and the customs control, which was actually not too bad. There were still alot of people travelling despite (or perhaps because of) New Year's day. Our flight was due to take off at about 4pm, but was delayed by about 20 minutes. By coincidence, 4pm was the time that you in the UK were celebrating the beginning of 2009.
When we got on the aircraft the pilot welcomed us by wishing those from the UK a happy new year, and we had the option of champagne as a drink when the first round of refreshments came round. By this time the weather had close in at LA and the fog had returned. The 10 hour flight was probably the worst long haul we had done on this trip because we were surrounded by babies and did not get any sleep. We landed at Heathrow at 10.30am and were through the airport within an hour.
WE were quite shocked by the cold when we exited the airport to catch the shuttle bus to our car, and we immediately had to put another two layers on ! As we were driving back along the M4 we were greeted with a bit of a winter wonderland as all the fields and trees still had a white layer on them from the morning's heavy frost - the car recorded a temperature of 0C, and the day was grey and foggy - what a return.
We arrived thankfully back home at about 2pm, having stopped at a service station for some essential supplies, and spent the next hour shivering as we tried to warm the house up following it's month being empty. I had explained to everyone on the way back that although we may all be tired it would be best if we tried to make it to early evening before going to bed, to try and get back to the normal sleeping patterns. At about 3.30pm we all went to bed !
We eventually got up at about 6.30pm, had a light meal, watched the film "Hancock" that Dewi had given us when we left NZ, then back to bed. By 4.30am we were all up again, and by 9am we all back in bed ! Hopefully we will have it sorted by Monday !!
This is the last entry on this blog - hopefully you have enjoyed reading and it has given you an idea about what we have been up to, and what the place we have visited have been like. I have enjoyed doing it, although it has sometimes felt like a bit of chore having to organise a connection each time you arrive somewhere - certainly the qulaity of connection has varied. What I do have now though is a record of what we have done that I can keep - at the very least this will help me organise the 1000+ photos I took !!
Diary Photos
| | | |
| --- | --- | --- |
| Coronado Bay Bridge, San Diego | Hotel Del Coronado where part of Some Like It Hot was filmed, Nr San Diego, California | Coronado Beach, Nr San Diego, California |
| Coronado Beach, Nr San Diego, California | Coronado Beach, Nr San Diego, California | Hotel Del Coronado, Coronado Beach, Nr San Diego, California |
---