Peter & Joan's Adventures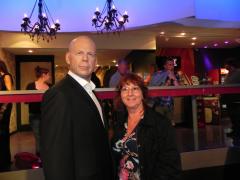 7th Jul 2011 - Peter & Joan European Holiday




Day 40 - Stars and the Theatre



We awoke to a wet morning but after a hearty English breakfast we proved we had mastered the London subway by finding our way to Baker Street (of Shelock Holmes fame and Madam Tussauds). Queued for 20 minutes to get into the Wax works but it was definitely worth it. We ran into Bruce Willis, Nicole Kidman, John Travolta, Nelson Medala and hundreds more. We also got to see the 4D Marvel Comic Super Heroes movie. Really good!!!!
Lunch was another Indian affair which was also excellent. For dinner we had a change and enjoyed some Japanese cuisine. This was followed by a real London Theatre experience. We secured seats and thoroughly enjoyed and rocked along to the musical "We Will Rock You". A futuraristic rock musical legend based on Queens music. It rocked and not only enjoyed by us but by all there as by all present resulting in 3 encores. Unsure what we will do tomorrow. A lot depends if we can secure a late checkout from the hotel as we have to pack our bags and head for the airport about 6:00pm to fly home.



Diary Photos
7th Jul 2011 Joan and Bruce
Joan and Bruce Willis (at Madam Tussauds)
---