Peter & Joan's Adventures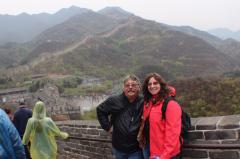 19th Apr 2014 - Canadian Secondment 2012/13/14
Beijing Day 2
Exciting day today. Ticked another item off the bucket list - the Great Wall of China. This morning we travelled for 2 hours by bus to the Badaling section of the wall. It was a cool and overcast morning with sprinkling rain. We were a little disappointed with the weather which proved to be a blessing in disguise. Once again what we thought to be hordes of people. For some reason I thought the wall would be reasonablably level and easy to walk. I was wrong. The wall was amazing but daunting at the prospect of actually climbing it. It was extremely steep and one of the most strenuous things I have done for many years. We only had 2 hours so we walked for 1 hour getting us as far as the 4th tower before turning around. It was probably only about 1 Mile, but we were extremely proud of ourselves that we made it that far. The return trip only took. 20 minutes giving us plenty of time to buy some souvenirs.
The weather was a blessing as it turned out as if it had been a warm clear day we would have shared the experience with about 4 times the number we did, meaning it would have taken longer to get there, spent less time there and be totally crushed during the whole experience. Also if it had been hot we probably would have collapsed at about the first tower. Good result all round.
It was a rewarding experience. One of our elderly tour group members said it was the greatest achievement of his life to actually walk on the wall. Another elderly member just said "I thought we were going to the Great Barrier Reef".
From here we headed back to Beijing, calling into the 2008 Olympic village, on the way. From here we were whisked to The Red Theatre for a high energy performance of " The legend of KungFu".
Following this energentic and thoroughly entertaining showit was off for dinner at a Cantonese resturant. Another fine meal, finally being dropped back at the motel about 9:30pm exhausted but still excited with all we had done and seen today. Need to pack in the morning as after visiting the pandas at the Beijing zoo we fly to Xian for the next leg of this wonderful journey.
Diary Photos
---