Peter & Joan's Adventures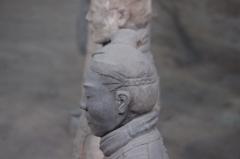 21st Apr 2014 - Canadian Secondment 2012/13/14
China Tour Day 4 - Xi'an
We woke this morning to rain. However this was not an issue as we visited the Terracotta Warriors just outside the city. Three digging pits, all under cover. What an amazing experience. I had preconceptions of what we would see but when we walked through the door of pit 1 it completely exceeded my expectations and blew us away. Bonus being it was not too crowded and we could stroll around unimpeded and take it all in. There are 3 pits in total and we spent 2 hours enjoying this remarkable but surprisingly so far unexplained archeology site. We also met one of the farmers that discovered this site whilst digging a well and obtained his signature on our souvenir booklet.
If we thought Beijing driving was dangerous; Xi'an put dangerous at an entirely new level. Firstly there appears to be no rules and add the element of rain our bus driver really earnt his wages and proved his skill.
For lunch today we were treated to a dumpling banquet - 16 courses of dumplings all washed down with Chinese firewater. After lunch it was off to the Big Wild Goose Pogoda, one of the holiest Buddhist temples in China at the Da Ci'en temple (7 th Century). This was followed by a calligraphy lesson. Back to the hotel for a quick shower and change of clothes.
For dinner we were treated to another scrumptious 7 course meal followed by a Tang Dynasty cultural performance featuring, music, folk dance and beautiful coloured silk costumes of the era (618 - 907 AD).
Another big and late day. Bus dropped us back at the Hilton Hotel just after 10:00pm. Goods news was it had stopped raining and forecast for tomorrow is fine.
Diary Photos
---