Peter & Joan's Adventures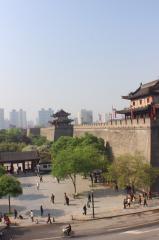 22nd Apr 2014 - Canadian Secondment 2012/13/14
China Holiday Day 5 - Shanghai
Woke to a sunny day this morning and on the bus by 8:30am to do a tour of the city wall. Our local guide, Tiger, provided a commentary on the strategies and functionality of the wall, the gate towers, corner towers, the moat, as well as the drum and bell towers. Amazing that the logic and design is identical to many of the walled cities we visited in the UK and Europe; how civilizations in different parts of the world came up with the same solution/design to protect their people, resulting in cities evolving in a similar layout although on opposite sides of the globe.
After the wall walk we visited a Jade factory for a lesson on grading and valuing jade, as well as the significance of Jade to the Chinese people. This was naturally followed by the invite to view and purchase any items we liked. It was like leading lambs to the slaughter. I think everyone in the group made an investment or purchased gifts for family or friends at home.
From here it was off to the airport for a flight to the next leg of this China tour - the River Cruise.
Unfortunately this is our last blog for this holiday as Joan and I will not be proceeding any further with the tour. We are currently on a flight to Shanghai to make a connection home to Australia. My mum's health is failing and we felt the need to be with her and the family at this time. Hopefully we will get back to China one day to complete this trek. An incredible and fascinating country.
Peter and Joan
Diary Photos
---