Peter & Joan's Adventures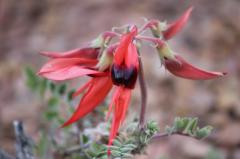 23rd Jul 2015 - 26th Jul 2015 - Caravan Holiday 2015
Port Augusta and north
After a few arguments with the GPS Thursday morning we were on the road to Port Augusta. A glorious day and beautiful drive through the lush green Clare Valley. Before we knew it we were at Port Pirie and part of an entirely different and contrasting landscape. We stopped here for lunch and enjoyed our first view of the Flinders Ranges. An hour later we were in Port Augusta and settled into the Big 4 Caravan Park. The Water Tower Lookout provided panoramic views of the town, Spencer Gulf and the majestic Flinders Ranges. From here we ventured to the Australian Arid Lands Botanic Garden to view the flora and home of the Memorial Cairn dedicated to Matthew Flinders who visited the area in 1802. The red cliff tops of the Matthew Flinders lookout also provided an excellent platform for more outback landscape photos and first flush of the Sturt Desert Pea.
Friday was a big driving day (541klm), arriving at Coober Pedy late afternoon. It was great to be driving again in the desolate outback. Today we stopped at Pimba (for fuel near Woomera) and Coondambo (for lunch). We also passed a number of salt lakes, all with water in them at this time of year - Pernatty Lagoon, Island Lagoon, Lake Gairdner and Lake Hart. The van park Stuart Range Outback Resort is an indication on how dry this country is. All sites are provided with power but no water connection. Showers are expensed at 20 cents per 2 minutes and drinking water at 20 cents per 40 litres. This isn't a problem as we carry 200 litres and restricting and charging for it definitely conserves this valuable resource and eliminates unnessary wastage and leaking taps and hoses.
The van park also runs local bus tours and we took advantage of this on Saturday. We saw and learnt a lot in the 6 hour adventure. This is truly a unique and special place, inhabited by unique and special people. Population of just over 3000 people with about 70% living underground. Coober Pedy = 'white man hole' in local aboriginal dialect. In many aspects typical of a mining town but added challnges of temperatures often 45 deg C and above, only 130mm average annual rainfall and lunar-like landscape made more eerie by the thousands of mullack heaps silhouetted on the horizon. The tour provided a comprehensive insight of the the town, the inhabitants, their lifestyles and living underground. We were then taken out to the opal fields to view first hand the shafts and open pit mining. From here we were taken to the Breakaways - ancient ocean floor now high and dry and outback landscape at its best (also location for Mad Max movie and Pricilla of the Desert fame). Next stop was the dingo fence that stretches some 2300klm across SA and into NSW and utilmately QLD. On dusk we headed back into town to visit an underground home, a demonstration underground opal mine and museum. Last stop was the Serbian underground Church before being deposited back at the van park for cold beer and some of Janni's (van park owner) pizza for dinner.
Sunday we revisted the Breakaways to do some more exploring and to attempt to capture more of the beauty and colours of this unique landscape. The moon plains were not as lunar as expected as recent rains have covered the whole area in bright yellow and (some)purple flowers. Other parts remind us of the 'bad lands, near Drumheller in Alberta, Canada. We ventured back into town and had lunch underground at the Desert Cave Hotel, followed by a tour of Faye's historic underground house c/w swimming pool. We visited a local miner and inspected some opal but did not purchase any. We then headed to the underground Catholic Church, St Peter & St Paul and like many before us the last place we visited in Cooper Pedy was Boot Hill, what the locals call the cementry. Amazed at the number of white crosses in comparisopn to marble or stone headstones. Guess not everyone strikes it rich in this town.
Monday on the road again heading for Erldunda; overnight stop before Uluru. We are both enjoying being back in the Territory - great roads 130klm speed limit, unique country side and clear blue sky with sun. Life is good!
Diary Photos
---