Peter & Joan's Adventures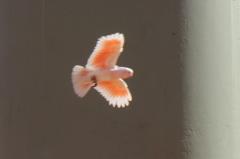 3rd Aug 2015 - 10th Aug 2015 - Caravan Holiday 2015
Canyons, Gorges, Chasms, Gaps and Cliffs
Monday we back tracked to Erldundra and then headed further north to Alice Springs. Settled into MacDonnell Range Holiday Park on the outskirts of town. Tuesday we decided to have a rest day and do some domestic, shopping and maintenance duties.
Wednesday we visited the Alice Springs Desert Park on the outskirts of town. Didn't know what to expect here, not knowing if we would stay 1 hour or all day. Delighted to say we spent all day there and what a spectacular place. They have recreated three desert habitats - sand country, desert rivers and woodland with the MacDonnell Ranges as the backdrop. Each of these areas provide excellent examples of native plants and wildlife found across the Central Australian desert. This is supported by friendly and well informed staff. The nocturnal house is brilliant, as is the Nature Theatre, aviaries and the highlight for us being the eagle encounter, having a full hour one-on-one with an eagle and his handler. The day ended on a high with a movie in the big screen theatre - the Changing Heart. A 20 minute show that ends with the screen collapsing displaying the MacDonnell Ranges in all their glory through a massive panoramic clear window.
Thursday we headed west and visited Standley (yes that's how it is spelt) Chasm. We got there a little early and had to wait around till almost midday when the sun was overhead to illuminate and present the rock walls in all their colour and beauty. After lunch it was onto Simpsons Gap. A beautiful place bit unfortunately not much water and definitely not enough to go swimming. On the way home we called into Anzac Hill, almost in the centre of town, to get a birds-eye view of the Alice and surrounds.
Friday morning we when east and visited both Emily and Jessie Gaps. Both picturesque, but no water; only dry sandy riverbeds. Both though did provide examples of aboriginal rock paintings. From here we ventured back into town and visited the Alice Springs Historic Telegraph Station. This was well presented and very informative. A bonus being it is set out in a beautiful park nestled next to the Todd River on a spring originally named Alice Springs which was later to replace the name Stuart, the original name of this town. After lunch we had a cultural afternoon visiting the Araleun Cultural Precinct, made up of a number of Art Galleries, including the Albert Namatjira Gallery and the Central Australia museum.
Saturday we moved camp to Glen Helen Gorge, 138klm west of Alice. It was a leisurely drive with frequent stops to admire the landscape and ranges. One stop we encountered a swarm of bees, so it was a fairly short stop. The next stop gave us our first view of what we were later to discover is named Mt Sonder , subject in many of Albert Namatjira paintings. Some suggest it looks like a lady sleeping. What do you think? We used Glen Helen as a base to explore the west Macdonnells, Hermannsburg and the many waterholes in this desert region.
Saturday afternoon we took the short walk from our campsite to Glen Helen Gorge. A real oasis. From here we drove the 12klm to Ormiston Gorge. Really pretty but not much water. It would be spectacular after rain and when flowing. We did however enjoy the ridge walk, aptly named the Ghost Gum trail which provided elevated views of the gorge and the majestic sunset colours reflected from the gorge walls.
Sunday first stop was Ellery Creek Big Hole. The best swimming hole we have found so far but way too cold. Must come back this way when warmer and camp next to this beautiful clean waterhole. From here we visited Serpentine Gorge. A little water but not in the same league as Ellery Creek. We were lured to climb the lookout for what promised to be the most spectacular view in Central Australia. We climbed to the top and lets just say it was a good and enjoyable walk. Next stop was only a few kilometres up the road - the Ochre pits. Definitely worth the stop. No effort, bitumen road and paved walk to the creek where you are presented with an array of coloured clays - think Joseph and his coat of many colours. The aboriginals have used this spot for centuries to mine and trade the coloured clay used in personal and ceremonial body painting. In the afternoon Joan went swimming at Glen Helen. It was very cold and a very short swim but she achieved her goal of having a swim this week.
Monday we decided to visit Palm Valley. First stop was Mt Sonder lookout. It was then onto Redbank Gorge. A difficult walk in over riverbed boulders to what would be an extraordinary narrow canyon of gushing water in the wet season but unfortunately just a small pool of water at this time of year. Smoko was at Tyler's Pass Lookout, overlooking Gosse Bluff. After 43 klm of rough unsealed road we arrived at Hermannsburg, the home of Albert Namatjira. Over lunch we discovered Palm Valley was a further 22klm along a serious 4WD track - sign advised to allow 3 hours. Doing the sums deciding not sufficient daylight hours remaining and risk to the car, we abandoned this idea and headed back to base calling into Ellery Creek Big Hole on the return journey for a swim. I ventured in for a very short time but it was too cold to enjoy. Joan sensibly stayed dry.
We have really enjoyed the West MacDonnells and do plan to return again. Next time we think April-May might be appropriate. It is a beautiful area but does involve a lot of driving, hiking, climbing and scrambling over rocks and boulders but have loved every moment of it. Tomorrow we head further north, perhaps as far as the Devil's Marbles. Until next time stay safe and happy.
Diary Photos
| | | |
| --- | --- | --- |
| Major Mitchell Cockatoo, Alice Springs | Eagle, Desert Park, Alice Springs | Owl, Desert Park, Alice Springs |
| Standley Chasm | Joan, Simpsons Gap | Many trees knocked over in Standley Chasm survive by sending up vertical branches |
| Joan, Emily , Alice Springs, NT | Joan, Jessie Gap | Jessie Gap, Alice Spring |
| Alic Springs, Telegraph Station | Joan, Jessie Gap | Trig Hill, Alice Springs |
| Alice Springs Telegraph Station | Alice Springs from Anzac Hill | Aboriginal paintings Emily's Gap, Alice Springs |
| Ormiston Gorge, NT | Glen Helen Gorge, NT | Sunset, cliffs Ormiston Gorge, NT |
| Rock Wallaby, cliffs Ormiston Gorge | Ellery Creek Big Hole, NT | View from Serpentine Gorge Lookout |
| Serpentine Gorge, West MacDonnell Ranges | Hand outline using coloured clay | Ochre Pits, West MacDonnell Ranges NT |
| Joan swimming, Glen Helen Gorge | Coloured clay at the Ochre Pits | Hermannsburg, Albert Namatjira monument |
| Gosse Bluff from Tylers Pass Lookout | Mount Soner - Albert Namatjira country | Dry riverbed leading to Redbank Gorge |
| Redbank Gorge, West MacDonnell Ranges | Peter swimming in Emery Creek Big Hole | |
---