Peter & Joan's Adventures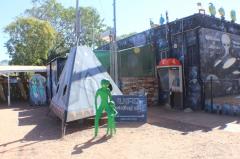 11th Aug 2015 - 16th Aug 2015 - Caravan Holiday 2015
Heading Home.
Tuesday we made our way back to Alice Springs, got re-established at the MacDonnell Ranges Van Park and set about restocking the larder, wine cellar and beer fridge for the next sector of our holiday. Wednesday morning with the car fuelled up, audio book on, as is the custom these days for long stretches of road, we headed north towards Devil's Marbles. It was somewhere along this track that it struck us that the holiday was almost over and we were indeed on the way home. With this sobering thought we had a short stop at Wycliff Wells, the UFO capital of Australia, to check the calendar and the map to confirm, yes only 8 more sleeps and we will be at Tieri - Nikki's place. We pushed onto Devil's Marbles.
Devil's Marbles; what an incredible and unique spot. In the middle of nowhere (104klm south of Tennant Creek) there is a landscape of large onionised boulders. Massive boulders littered around the countryside, some stacked, some broken, many round ones and some looking like large potatoes and others like oversized sweet potatoes. Over the millennia water has reacted with chemicals in this soft rock and their outer skins have peeled off like when one is peeling an onion. The end result is spectacular and we spent sometime exploring, enjoying and photographing this phenomena. Although we had great plans for Devil's Marbles this evening, as it was only mid-afternoon, we decided to venture onto Tennant Creek.
We settled into the Outback Van park in Tennant and then went in search of the lake. We found Lake Mary Anne on the outskirts of town and although a little small, it had water and looked like an ideal spot to do a little paddling. As it was getting late we decided not to get wet but to extend our stay another day and spend all the next day on the lake. To offset not dining under the stars, as planned, at Devil's Marbles we treated ourselves to a surprisingly delicious meal at Annies Restaurant in downtown Tennant Creek. Totally unexpected but definitely recommended if passing through this way.
Thursday morning proved to be dissappointing and expensive. We awoke to a very windy day. Not very pleasant for kayaking on the lake so we reluctantly packed up with the plan of heading to Mount Isa and hopefully better luck at Lake Moondarra. Expensive because a headwind is not the friend of caravaners. Our average fuel consumption whilst towing our 23' 6'' van this trip has been around 16 litres/100klm. This day our average ended up 20.1 litres/100klm. All the more painful with fuel at the Barkly Homestead being dispensed at 188.9 cpl. We also only got as far as Camooweal, just on 200klm short of the Isa due to travelling a little slower to conserve some fuel in the windy conditions. We were rewarded with a pleasant stopover in Camooweal and easy run into the Isa on Friday morning. We were disappointed that there is no camping at Lake Moondarra so we settled on the Sunset Park in town. The afternoon was spent having a look around the Isa. It doesn't take long!
Saturday we woke to a beautiful day, so after some domestics packed lunch and the paddles and headed to Lake Moondarra. Had a glorious day paddling and enjoying the surrounds. Spent about 3.5 hours on the water and in the main had it to ourselves. Got a little crowded mid afternoon as it warmed up but we were spent by then so packed up and let the locals have their fun with their flash ski boats.
We have passed through Mt Isa a number of times but have never really visited the the Isa so we rectified this today (Sunday) by visiting the WWII constructed, but never used, underground hospital, the hospital museum, the Isa Experience display/museum, Outback Gardens and the Mt Isa Lookout. Joan also got the London, Paris, Rome, New York & Mt Isa tee shirt as she has now visited all of these places.
Some closing metrics: To date we have been on the road 90 days, travelled 13,074 klm and consumed 1,980.83 litres of diesel, which is equivalent to 15.15l/100 klm. Most expensive fuel being 210 cpl from, Kings Canyon Resort.
Diary Photos
---