Peter & Joan's Adventures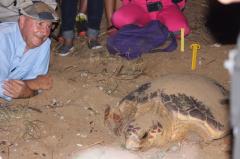 31st Jan 2017 - 9th Feb 2017 - Adventure before Dementia Tour
Turtles, Dolphins and coloured sand
On Tuesday night, 31st January we did something we have talked about for 15 years. We visited the Turtle Encounter at Mons Repos just out of Bundaberg and what an incredibly evening. As the arrival and hatching of the turtles cannot be predetermined the ticket provides access from 7:00pm to 2:00am. You turn up and get assigned to a group and then wait to be called up when the rangers find something of interest on the beach. We were lucky and got assembled and led onto the beach just on 8:30pm. For the next hour we witnessed a loggerhead laying her eggs (nesting) in the sand dunes, cover her nest and then return to the sea. This was made even better because normally this would be witnessed by torchlight from the rangers head lamp, but our group was joined by TV veterinarian, Dr Harry Cooper (Better Homes & Gardens) and his film crew complete with portable lighting, so although they got priority and front row we got rewarded with better viewing and photo opportunities. We were further rewarded with also witnessing about 60 flatback hatchlings making the journey from the dunes to the water. This was very special as the rangers set up what they called the 'tunnel of love'. They lined all the spectators up in a parallel line from the dune to the waters edge and then placed five torch holders, me being one of them, legs apart, down the centre of this human line. They then released the hatchlings who darted towards the light making their way through the tunnel of legs to the waters edge, ultimately being picked up and swept away into the night. Whilst this was happening other volunteers had retrieved the recently laid loggerhead eggs for data and relocation purposes, confirming 92 eggs had been laid.
Before leaving Elliott Heads on Thursday we had a very enjoyable catch-up and bar-b-que, Wednesday evening, with Shane O'S and his family, at their beautiful piece of paradise on the outskirts of Bundaberg. Thursday we relocated to Tin Can Bay.
What a gem Tin Can Bay Tourist Park turned out to be. A great site, clean and well organised park, well maintained swimming pool, along with consciousness and friendly owner/managers. During our ten day stay we have experienced Dolphin feeding at Barnacles Dolphin Centre, explored and enjoyed the bay foreshore, visited Inskip Peninsula, Carlo Sand Blow, Lake Poona with its white sand and tea coloured water, walked along Rainbow Beach admiring the Coloured Sands and utilised the many kilometres of bike and walking tracks. Joan even won a meat tray and pizza voucher at the local Country Club. Certainly was a rewarding and enjoyable waypoint on this journey. Will definitely return. Tomorrow we break camp, moving to Boreen Point on Lake Cootharaba to discover what is on offer there.
Diary Photos
---