Peter & Joan's Adventures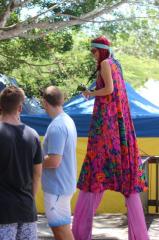 17th Feb 2017 - 22nd Feb 2017 - Adventure before Dementia Tour
Tewantin/Noosa
We found Noosa a mixed bag but certainly enjoyed our stay there, particularly the Noosa Caravan Park and the National Parks. The first oddity was that the Noosa Caravan Park is in fact located in Tewantin, not Noosa, nowhere near the beach. The park however was very well maintained, with very helpful staff and clean amenities. The other bonus was a heated 3.0m deep swimming pool.
The next oddity was the local council's strategy of providing clear driving directions to Noosa and the CBD (Hasting Street) but ignoring the surrounding areas and locations and bundling them up and referring to them all as "All Other Destinations". First impressions was they really want you to visit their place but not going to help you get any further, or at least not make it easy to find somewhere else.
First afternoon (Friday), we did some shopping, followed by a bike ride to locate the river and hopefully find a bike track leading all the way to the beach. We found the river but did not make it all the way to the beach. Friday night we had fish, chips and a beer at the Marina. Saturday morning we ventured to the iconic Eumundi Markets. It was very colourful and crowded but the general stalls disappointing. Not a great selection of local craft. Most commodities were overpriced with shop prices expected in a market environment. The food market however was great with an array of food aromas and a fantastic selection of dishes and stalls to choose from. On the way home we decided to check out Noosa Main Beach. Failed again; Hastings Street was almost in gridlock, pedestrians everywhere, no parking so we scurried back to the van park and the pool.
Sunday we had a rest day, spending the day washing, cleaning the van and swimming in the pool. Logic being not worth exploring with the weekend crowds. Monday we had a late start but planned to do one of the walks in the Noosa National Park. Failed again, too many people and no parking. This time we retreated to Noosa North Shore with a plan to return to the NP a little earlier next day. Access to North Noosa is via a ferry and it was reasonably deserted other than for a few die hard 4X4 enthusiasts driving on the beach and sand dunes. We had a good walk on a deserted Teewah Beach, had a swim and a picnic lunch. Later that afternoon we went for another bike ride followed by happy hour on the banks of the Noosa River.
Tuesday went to plan. We walked the Coastal Track from the Parks entrance near Noosa's Main Beach skirting the coastline along Laguna Bay, Tea Tree Bay, Dolphin Point, Granite Bay, Picnic Cove, Hell's Gate and down onto the beach at Alexandria Bay. A fantastic walk with many spectacular coastal views and headlands. Calculated distance being 10.8 km, enjoying a swim at either end; Alexandria and Laguna Bays. We had happy hour on this evening at the ferry crossing watching the comings and goings from Noosa North Shore. During drinks we decided we would hire a paddle board next day to determine if that is something we should pursue.
Wednesday proved too windy for paddle boarding so we went for a walk on the spit, then another relaxing afternoon in the pool, while Joan visited a local hairdresser. Wednesday evening we had a very enjoyable meal at the Tewantin Noosa RSL club. Thursday morning we broke camp and made our way (34 km), to Mudjimba, just north of Maroochydore.
Diary Photos
| | | |
| --- | --- | --- |
| 'Stilt Lady', Eumundi Markets | Eumundi Markets | Shell, North Shore, Teewah Beach |
| Noosa from Teewah Beach, First Cutting | Horse Riders, Teewah Beach, Noosa North Shore | Lunch time, Beach Road, Second Cutting, North Shore |
| Joan, Happy Hour, Noosa River | Little Cove, Noosa | Granite Bay, Noosa National Park |
| Dolphin Point, Noosa National Park | Alexandria Bay, Noosa National Park from the northern headland | Ferry between Tewantin and North Shore Noosa |
| Brahminy Kite or Red-backed Sea-eagle (apologies on photo quality) | Noosa Queen, nightly Noosa River cruise | Noosa Sound from Noosa Spit |
| Noosa Spit | | |
---