Peter & Joan's Adventures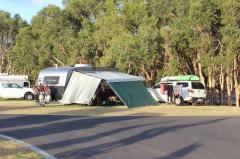 23rd Feb 2017 - 3rd Mar 2017 - Adventure before Dementia Tour
Mudjimba
What a gem Mudjimba turned out to be. A small coastal village 10 minutes from Maroochydore and surrounded by a number of service centres, a magnificent beach, kilometres of bicycle and walking tracks and the best campsite we have enjoyed to date, close enough, to hear the waves crashing on the beach.
We arrived and set up camp around lunch time Thursday 23rd February. After lunch we headed across the road to check out the beach. We were not disappointed, and surprised how close we really were to Maroochydore. We were also quite taken by the island just off Mudjimba Beach and because of it's profile assumed it would be called Whale Island. A search of Google proved otherwise but we will continue to refer to it as Whale Island. The correct name is Old Woman Island (also referred to as Mudjimba Island) which is located about one kilometre off the coast and can be clearly seen for miles up and down the coastline. Aboriginal legends abound about the Island. One has it, the Island was the result of an epic battle between two men, Coolum and Ninderry, and a woman called Maroochy. The end result was that Coolum's head was knocked off and ended up in the ocean, creating Mudjimba Island. Mount Coolum, which is seven kilometers to the north, is now flat topped due to the lack of a head! There are various other legends involving Aboriginal women living on the island until old age, hence the "Old Woman" name.
We spent the remainder of Thursday getting orientated and carrying out domestic duties; hunting and gathering food and refreshments.
Friday, Saturday and Sunday were spent bicycle riding and swimming. Sunday we did take time out to slip into Maroochydore to buy a boogie board to improve the wave surfing experience. We also visited the Endeavour Foundation Art Union House currently being raffled in Mudjimba. Liked it and could imagine living here so bought, what we hope is, the prize winning ticket. Plan to move in early May 2017.
Monday morning entailed some more shopping, followed by a swim. Late afternoon I decided to ride to Coolum. Followed the bike track as far as Point Arkwright before turning around to make camp in time for happy hour. Coolum would have to wait for another day. Tuesday we drove north to the southern area of the Noosa National Park. Leaving the car at Sunshine Beach we walked along the beach till we reached a very steep set of stairs leading us up to Devils Kitchen and then onto Lion Rock before descending down to the southern end of Alexandria Bay; the beach we had visited the previous week from the Noosa via the coastal track. After 'smoko' we retraced our steps back to Sunshine Beach, stopping off at the Mount Coolum Hotel for a late but well earned lunch. Driving back to Mudjimba we hatched a plan to get up early tomorrow morning and tackle Mt Coolum.
We did sleep-in Wednesday morning but we still made the trailhead at Mount Coolum by 7:00am. Sign said "Steep grade, 2 hours return". The summit is 203m above sea level. Good news is we completed it easily within the 2 hours, considering we spent more than 30 minutes at the top looking around and taking photos. Bad news being it was fairly hazy and photos mediocre, but we certainly felt accomplished and satisfied. Later in the day we took the new boogie board to the beach and although the surf was a little rough we gave it a work out and had a great time.
Thursday, our last day in Mudjimba proved to be a big and very enjoyable day. Once again we mounted the push bikes with Coolum Beach the goal. We followed the bike path to Marcoola, Mount Coolum, Yaroomba to Point Arkwright. We continued north, but ran out of bike track. As it was getting hot and close to lunchtime we retreated back to Marcoola for fish and chips, stopping off at Mudjimba Beach on the homeward stretch for a swim. 'Map my Ride' recorded the round trip as 21.3 km. Feeling pretty pleased with ourselves we decided to re-visit the summit at Mount Coolum and hope for clearer vistas in the late afternoon. So at 3:10 pm we set off again and according to 'Map my Walk' completed the 193m climb and 3.10 km round trip in 1 hour 15 minutes and captured a couple of good photos, along the way.
Friday morning we packed camp and continued our trek south heading for Bribie Island on the northern outskirts of Brisbane.
Diary Photos
---