Peter & Joan's Adventures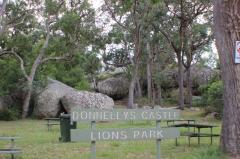 20th Mar 2017 - 26th Mar 2017 - Adventure before Dementia Tour
Stanthorpe
Aloomba Lavender is located on a 4,000 acre working cattle property. The Lavender covers 6 acres with approximately 12,000 plants. The owners and hosts Peter and Tere Bonner have diversified into bush camping and B&B accommodation and they certainly make you feel like it is home away from home and we had the whole property to ourselves. Well, we had to share with their kelpie dog, Tilley. We spent 5 nights here and it certainly proved to be a great camp and a base to explore the surrounding Granite Belt and New England regions.
Although it had rained overnight and it was overcast Monday morning we decided to visit a number of the Stanthorpe attractions. First stop was Donnelly's Castle, a rocky outcrop on the edge of town that was a popular hideout for Bushrangers that roamed the New England back in the day. It was a little damp but we enjoyed wandering between the rock formations, arches and caves. From here we visited Sam's Farm Fresh Fruit & Veg. It was worth the visit and we made a contribution to the local economy. The bounty included a case of Golden Queen Peaches which Joan declared 'as the best fruit she had ever tasted'. After a short stop at Kent Saddlery to check out horsey things and all things that smell of leather we made a further contribution to the local economy and enjoyed a ploughman's lunch at Jersey Girl's Cafe, part of Stanthorpe Cheese. Not only a good lunch but we also stocked up on cheese and salami. Bring on happy hour. On the way home we called into Mt Marly Lookout for an overall view of Stanthorpe.
Tuesday morning was still overcast so we had a quiet morning at home and enjoyed a wonderful cup of tea and chat with Tere and Peter. After lunch we ventured to Bald Rock NP to see if we could climb Bald Rock, which rises 200 metres above the surrounding bushland and is claimed to be the largest exposed Granite Rock in Australia. An information board in the park also states 'Bald Rock is the second largest rock in Australia, Ayers Rock taking the prize'. It was too wet so we kept heading towards Tenterfield, stopping off at Boonoo Boonoo NP. Nice drive but also very wet so we high-tailed it for home. Cheese and bickies for happy hour.
Overcast again Wednesday morning but we had chosen indoor activities so potential rain was not an issue. First up we attended the morning session of LawDogs Australia. It is a dog show that gives an insight into the training of security patrol and law enforcement dogs. It was very entertaining and part of the charm is these dogs are not showdogs but future potential working dogs, in training, and the demonstration doesn't always go to plan. The presenter/trainer was very clear and informative with a script that kept both adults and children engaged. From here we ventured to another local business, the Glass Shokunin Studio. It wasn't exactly what we anticipated but the owner/artist demonstrated the processes involved in creating kiln formed glass and his passion for manipulating glass to make the jewellery, vases and other artefacts he sells. After lunch in town we did a little shopping before retiring to Aloomba.
Thursday, finally a sunny morning so we wasted no time in getting to Bald Rock NP. There are two ways to reach the summit of Bald Rock. The shortest and quickest is the 720 metre Rockface Walk or the gradual 2km Bungoona Walk. Because of the rain the rockface was too slippery to climb so we had to be content with the longer walk. Does not matter how you get to the summit the elation and views are well worth the effort. It is a great walk full of of canyons, stone arches, boulders and echo points. Emerging out of the trees and rocky outcrops to the water-streaked dome, balancing rocks and panoramas is a photographers dream. Still failed however to get that ever elusive magic shot. We spent some time on the top viewing the world from this vantage point and looking at what we assumed to be Castle Rock, our next camp destination. On descending the rock we had lunch in the picnic area before setting off for Little Bald Rock. The attraction here was the potential of a good view/photo of Bald Rock. Unfortunately the weather turned nasty and started to rain again and get rather cold so we abandoned the walk and retreated home to warm dry clothes.
Friday morning we reluctantly packed up camp and after another great cuppa and chat with Tere we headed towards Stanthorpe around lunch time. The plan here was to restock the larder, fridge and water tanks before heading to Girraween NP. After setting up camp in the Top of Town van park we headed to the Granite Belt Brewery, a local micro Brewery, for lunch and to sample some local beer. We enjoyed an enormous shared meal simply called the carnivore. The brewery has 7 different beers on offer which can be purchased over the bar or samples can be purchased by the paddle, consisting of 4 samples of your choice. It was a good choice of venue as we certainly enjoyed both the food and the liquid refreshments. My favourite being the IPA - Indian Pale Ale.
Saturday we put ourselves and our bikes to the test with a challenge to ride to Ballandean, some 34 km south of Stanthorpe. We had underestimated the number and steepness of the hills enroute. We did get 13 km to Severnlea, home of the Granite Belt Cheese Co on Severn Brae Estate. What was to be a coffee break turned into a wine and cheese tasting. The owner Bruce made us feel very welcome providing generous samples of both cheese and wine accompanied by a nonstop commentary on the historic building, the wines, his cheeses, and Stanthorpe. We appreciated the stories, the ambiance and the country hospitality. We returned later in the day with the car and stocked up with some more cheese, wine and some hot chilli sauce. All in all a great day but did prove our bikes are not fit for heavy duty or Tour de France ambitions. Both the bike batteries and our batteries were exhausted by the time we got back to the van park. The bikes with 14" wheels and no gears are suited for bike paths around town or along the beach front but definitely not for difficult road trips.
Sunday we readied the van for free camping next week. Monday morning we packed up and under clear blue skies headed for Castle Rock campgrounds in the Girraween National Park. Really looking forward to the walking trails and rock climbing ahead of us.
Diary Photos
| | | |
| --- | --- | --- |
| Donnelly's Castle, Stanthorpe | Joan, Donnelly's Castle, Stanthorpe | Howie mural, Donnelly's Castle, Stanthorpe |
| Big Apple Applethorpe, near Stanthorpe | Campsite Aloomba | LawDogs Australia |
| Sunset Aloomba | Joan, Archway, Climbing Bald Rock | Peter, under the arches, Bald Rock |
| Water stained rocks, dome, Bald Rock | Joan, Balancing Rocks, Bald Rock | Joan, summit, Bald Rock |
| Looking North, Bald Rock summit | Descent from Bald Rock | 720m wall walk v's 2 km casual descent, Bald Rock |
| Mobile advertisement, Aloomba | Museum & view, behind Top Park, Stanthorpe | Town Park, Stanthorpe |
| Severn Brae Estate | Park, Stanthorpe | Bike ride Stanthorpe - Severn Brae Estate |
---