Peter & Joan's Adventures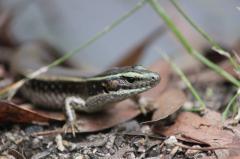 27th Mar 2017 - 31st Mar 2017 - Adventure before Dementia Tour
Girraween National Park
Girraween National Park (NP) turned out to meet and exceed all our expectations and was certainly everything the reviews had promised. The bitumen access road, great camping sites, massive granite outcrops, precariously balanced boulders, well maintained and signposted walking tracks, rock pools and spectacular views. The only setback was that the showers were not operating due to a recent lightening strike and this meant a re-evaluation of our water inventory and usage. As it turned out it was a minor inconvenience and we ended up staying an extra day without exhausting our supply or having to access our 40 litres of emergency water supply.
The first day (Monday) we tackled a couple of easy walks. The first was to Dr Roberts Waterhole, named after the local doctor who was a driving force and had the foresight in the 1930's, in persuading the government of the day to declare what is now known as Girraween NP as national park. On the return trip we diverted to the Underground Creek walk through swamp and woodland to arrive at a creek that disappears beneath boulders that have fallen from the burnished-gold cliffs above. By chance some passing hikers pointed out a side path that leads behind and above the underground rock face. This was like discovering a whole new world. Imagine the joy of unlocking the next level of a favourite computer game. This world presented unusual rock formations, rock pools, swimming holes and two snakes taking advantage of the warm granite. A great afternoon and an easy 4 km walk.
Tuesday we woke to clear blue skies which meant we could attempt our assault on the Pyramid, a class 4 climb to the 1180m summit. The warm up walk took us to the Granite Arch, Girraween's own natural stone archway; an iconic location often used to promote Girraween NP. From here we steadily climbed uphill through eucalypt forests and past rocky outcrops till we arrived at the base of this massive Granite dome. We took our time and with plenty of stops we eventually clambered to the summit. It was a very difficult climb for us with some steep sections and some exposed vertical drops. As the brochure says "If the climb doesn't take your breath away, views of Balancing Rock, the second Pyramid and over Girraween NP will". It was very satisfying to have conquered the Pyramid and unfortunately none of my photos truely captured the beauty or the elation of the moment. We only walked/climbed a distance of 3.6 km but it was quite a workout. It was testament that we are fitter than when we visited China in 2014, as this was a more difficult climb than the Great Wall of China but we completed it with less fuss. The descent was without incident and after lunch and a short afternoon nap we set out again to walk the 3.7 km to the junction of Bald Rock Creek and Ramsay Creek. A really pleasant walk along this fast flowing creek with many small waterfalls and rock pools. It was still warm enough to take a refreshing dip at the junction but I did struggle getting out of the rock pool thanks to the slippery moss covered river bed and rock walls.
Wednesday turned out to be a little overcast but this was a blessing in disguise. Plan for today was to tackle the three main attractions on the Southern Section walks; Castle Rock (another class 4 walk, 1112m) the Sphinx and Turtle Rock. The walk to Castle Rock was not too difficult with a well maintained track through black cypress and stringybark woodlands. Once above the tree line it is a steep climb over exposed granite rocks but nothing prepares you for the panoramic views after squeezing through a crevasse onto a rock cliff top just below the summit. The final climb to the summit is not too demanding but definitely worth the effort. After quite a long smoko and a phone call to both of the kids (yes we actually had phone service up there), feeling very accomplished we pushed onto the Sphinx. The Ridge walk to the Sphinx was relatively easy, though a little disappointing when we arrived at the Sphinx and really couldn't see it. A local hiker came to our rescue and explained where we had to stand to get the Sphinx experience. We got it but as with a lot of these rock sculptures it takes take some imagination. All the same it was a lovely location with great views and the boulders not only provided shade but good seating arrangements for lunch. We followed the trail towards Turtle rock which came to an abrupt end at what we figured would be the Turtle's bum. We could go no further as it was sheer rock face and we had neither the equipment nor the skill to proceed. We had a leisurely down hill walk home with the new found knowledge that the Turtle is better viewed from afar.
It started to rain Wednesday night and continued all day on Thursday, ceasing sometime early Friday morning. Needless to say we had a rest day Thursday giving me an opportunity to catch up on my blog and photos and Joan the chance to put a further dent in the latest book she is reading.
Friday was still overcast but not raining. We packed up and headed back to Stanthorpe to top up the water and food supplies before starting the trek back to Bouldy. Must say I was very pleased with our water management and the efficiency and the benefit of our solar panel. We arrived at Castle Rock with batteries charged at 13.2 volts and left 4 days later after rain with batteries reading 12.4 volts. Arriving back in Stanthorpe we also had the chance to catch up on the impact and status of Cyclone Debbie and the aftermath. Also back in service we could contact friends and relatives. Fortunately lots of stories but no injuries or major losses within the family or circle of friends.
Diary Photos
| | | |
| --- | --- | --- |
| Copper tailed skink, Dr Robert's waterhole | Underground Creek | Unusual rock formation, above Underground Creek |
| Yellow-faced whip snake, Underground Creek | Joan, Granite Arch, Girraween NP | Joan & Peter, under the Arch, Girraween NP |
| Nobbi dragon, sunning himself, on path to the Pyramid | Castle Rock, the Sphinx & Turtle Rock from the Pyramid | The campgrounds (middle ground) from the Pyramid |
| Bald Rock (NSW) from the Pyramid | Joan & Peter, summit of the Pyramid | Joan, descending the Pyramid |
| Joan, descending the Pyramid | The Junction, Girraween NP. Bald Rock Creek & Ramsay Creek | Campsite, Castle Rock Campground, Girraween NP |
| Trailhead leading to Castle Rock, Girraween NP | The Castle, the Sphinx & the Turtle | The Turtle (and the Sphinx) |
| Joan, climbing Castle Rock | Cunningham skink, Castle Rock | The Sphinx |
| Peter, base of the Sphinx | Joan Trail end, the Turtle | The Pyramid, Girraween NP from Rangers Station |
| The Pyramid, Friday morning. | | |
---