Peter & Joan's Adventures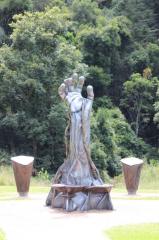 7th Apr 2017 - 11th Apr 2017 - Adventure before Dementia Tour
Kingaroy
I awoke this morning (Thursday 13th April) to the delightful laughter and squeals of grandchildren playing and enjoying the company of their cousins. We are spending Easter with both our daughters and their families in Hervey Bay. It is shaping up to be a very memorable long weekend. The special bond that cousins share never ceases to amaze me. It gives me great joy to observe and play my part in all of this.
We spent most of last week in Kingaroy, and it was four days of nostalgia and reflection. Back in our 'peace, love and brown rice' days we spent 5 years in the South Burnett. We initially set up in Proston for about 6 months, before moving to Nanango.
Proston was to be our idyllic alternative lifestyle. With two young children in tow it took us about 6 months to come to our senses and relocated to Nanago where the Tarong Power Station was being constructed. I found work there initially as a gardener and ultimately in the Supply Department as a Purchasing Officer. Still not entirely giving up on the alternative lifestyle we purchased a 12 acre block almost in the shadows of the power station on which we built a shed annexed to a caravan powered by 12 volt batteries, gas stove and wood heaters. Jump forward 3 years and I had been promoted to Purchasing Superintendent, we had built a 3 bedroom house and we were connected to the grid, we had electricity. It was at this time (1990) we were seeking better financial security so we moved across to coal mining to pursue the challenges and rewards of this booming industry.
Back to Kingaroy, last Friday. Driving from Jondaryn Woolshed to Kingaroy we reminisced about our years in the South Burnett and agreed to revisit 3 places of significance to us; the Bunya Mountains, Proston and Nanango, during our stay. I wanted to add a fourth, Tarong Power Station, but Joan doesn't share my passion for electricity generating plants.
Driving into Kingaroy, the roads seemed better than we remembered and the shopping options had definitely improved with a modern Woolworths, Aldi and Big W on offer. After settling into the Showgrounds, which turned out to be an excellent campgrounds, we had a closer look at Kingaroy. Unfortunately we found it to be a little depressing and run down; not the thriving community we envisaged. Saturday was a fine day and we enjoyed the forty minute drive to the Bunya Mountains. It was very green and cool as expected. There were a lot more houses, shops and cafes then our last visit in 1989, but definitely just as popular and busy as we remembered it. After a very enjoyable and relaxed lunch at the Bunya's restaurant we spent the afternoon walking the familiar trails to waterfalls and lookouts. We drove back to Kingaroy via Brooklands late afternoon. On the trip home we reminisced about all the visitors we had taken to the Bunya's; Liz, Ian & the girls, my Dad & Mum, Mick & Jenny, Monique, Billy & Cathy and Gaff. Driving back into Kingaroy we passed the Taabinga cemetery and our thoughts turned to Steve, our mate we buried here back in 1990, a victim of melanoma. We agreed we needed to locate his grave and pay our respects.
Sunday afternoon we drove to Nanago and had a quick look around before making our way out to Langans Road. This proved to be a sobering visit. It was like entering a time warp. The black wattle block that we had cleared 30 years ago was overgrown again and the whole street looked neglected. As we drove out of this rural neighbourhood we both agreed leaving in 1990 was probably one of the best decisions we have ever made. Not sure what would have happened if we had persevered with this water deprived 'prickle' block. On the way back to Kingaroy we called into the cemetery and walked about 75% of the rows without success in locating Steve. Searched the net that evening to no avail so first thing Monday morning visited the Council Chambers and 5 minutes later had the site reference we needed.
Before visiting Steve we took a run to Proston to revisit what was going to be our Nirvana. Unfortunately the outcome was similar to our experience the previous day in Langans Road. The Coverty /Glencoe area looked very run down. We returned to Kingaroy via Wondai, having lunch at the Butcher's Cafe in Wooroolin. With the Council provided plot reference we easily located Steve's grave and paid our respects and assured him that although it has been 27 years between visits, he has been in our thoughts and not forgotten.
Tuesday we had a leisurely morning packing up and then made the 3 hour drive to Nikki's place for Easter with the family.
Diary Photos
---