Peter & Joan's Adventures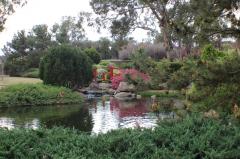 27th Sep 2017 - 1st Oct 2017 - Adventure before Dementia Tour
Wellington, NSW
Wellington is a rural town in central NSW, located at the junction of the Macquarie and Bell Rivers. It is near Dubbo and is known as the location where the mountains and rivers meet. This fertile farming and pastoral district was discovered in 1817 by John Oxley and the town established 1823 resulting in convict, aboriginal and missionary history to be found around the district. Wellington is the second oldest NSW settlement west of the Blue Mountains. The Lion of Waterloo, one of Wellington's hotels was established in 1842 and is the oldest operating hotel west of the Blue Mountains, and is near the location of the last recorded duel fought on Australian soil in 1854.
Our base was the Wellington Caves Caravan Park, a council run park on the outskirts of town. It is a neat park with exceptionally large sites overlooking the golf course. It is easy to find, located just behind the Gateway Sculpture on the Mitchell Highway and adjacent to the Toyama Osawano Japanese Gardens. The Gateway Sculpture is a Day of the Triffids reminiscent art piece capturing the identity and spirit of Wellington and its people. The main structure is constructed from the girders of the old Wellington bridge that collapsed in 1989. If nothing else it certainly captures your attention. The Japanese garden was donated by the town's sister city Toyama and is a tranquil traditional Japanese garden landscape with Japanese ornaments and a 4.5 metre stone lantern tower whilst incorporating some Australian trees.
Wednesday was a domestic and maintenance day but Thursday we called by the Information Centre and headed out to the Burrendong Botanic Garden and Arboretum. What is an Arboretum? Well, as a zoo is to animals, an arboretum is to trees. An arboretum is a place where trees are grown for display and study. First impressions were not great, as the area was very dry, no trees in flower and it just looked like normal Australian bush. But as we started to explore the various tracks we started to realise it was segregated into seperate areas and a lot of work had gone into identifying and preserving this flora. In all, over 2500 species of native plants are on display over this 164ha property. The property is divided into six areas broadly labeled Fern Gully, Hakeas, Wattles, Casuarinas, Mallees and Prostantheras. The highlight being the man-made Rainforest in Fern Gully. A plaque commemorating the construction of the massive and impressive shade structure creating the rainforest environment makes tribute to collaboration with Professor Peter Spooner from the School of Landscape Architecture (UNSW). We also came across another echidna on one of our walks; the second echidna sighting this week. All up, an educational and enjoyable afternoon.
Friday, more bushwalking. This time at Mt Arthur Reserve. Once again the bush was very dry and no wild flowers although it was already spring. It was a moderate grade hike along the Apex Trail, to the summit of the mountain. Ningana Lookout overlooks Mount Wellesley. Further around, Bintang (meeting of the waters) Lookout provides excellent views of Wellington township and the junction of the Bell & Macquarie Rivers. On the descent we stopped off at Kalang (beautiful) Lookout providing a closer view of the Macquarie River.
Saturday was a little overcast but we spent the morning at Maynggu Ganai, a local historic convict and aboriginal site. From here we ventured to Cameron Park in search of Platypus. We walked along the Bell River but no sightings of the elusive semi aquatic egg laying mammal. After lunch we drove towards Dubbo to check out a potential free camping location for the return trip next April. What a find! Ponto Falls Reserve, about 8 klm off the Mitchell Highway. Three kilometres of dirt road, suitable for caravans. Large grassed areas adjacent to crystal clear running water of the Macquarie River. We definitely will be staying here next time. Coordinates are S32 27' 52", E148 49' 14". Note: Although called Ponto Falls it is really just rapids, no waterfall as implied by the name.
Sunday we slept in partly because we were late getting up but more so as it was the start of daylight savings in NSW so we lost an hour overnight. Eventually got mobile about midday but best laid plans ..... Had planned Sunday lunch at the Lion of Waterloo hotel. Arrived at 12:15pm to find it doesn't open till 4:00pm on a Sunday. Ah well plan B - ham and cheese sanga back at the van. We did make our way back to the Lion of Waterloo and enjoyed a late Sunday session in this friendly good vibe drinking house. Once a passenger stop for Cobb & Co, the Tavern is now hidden in a suburban street oozing old world charm. We got back to the van in time to watch the NRL grand final. Unfortunately it wasn't a fairy tale result for the Cowboys. The Storm were too dominant on the night and ran away with the win 34-6.
Note: Although Wellington is renowned for its Caves and in fact they were within 100m of our campsite, we elected not to visit them this time. Firstly we have already visited many caves over the years and as this was school holidays and the tours were heavily booked with children we thought it would be better to leave this experience for a quieter time we may be passing this way.
Monday (Labour Day holiday) we packed the van up and headed for Parkes to view the CSIRO radio telescope, enroute to our next stop West Wyalong.
Diary Photos
| | | |
| --- | --- | --- |
| Toyama Osawana Japanese Garden | Toyama Osawana Japanese Garden | Diprotodon Wellington Caves |
| Van site Wellington Caves overlooking the golf course | Flowers at the Burrendong Arboretum | Plague honouring Prof Peter Spooner, Burrendong Aboretum |
| Shade structure over man-made rainforest, Arboretum | Echidna Burrendong Arboretum | Joan & Peter, Binjang Lookout, Mt Arthur Reserve |
| Macquarie River, Wellington from Binjang Lookout | Cathedral Cave, Wellington | Gateway Sculpture Wellington |
| Gateway Sculpture Wellington | Maynggu Ganai, a local historic convict and aboriginal site. | Barn Sparrow, Cameron Park, Wellington |
| Mountain and Rivers meet, Information Centre, Wellington | Historic Railway Bridge, Wellington (1881) | Macquarie River, Ponto Falls Reserve |
| Lion of Waterloo Tavern, Wellington | Wellington Railway Station | |
---