Peter & Joan's Adventures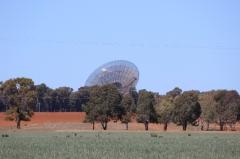 2nd Oct 2017 - 14th Oct 2017 - Adventure before Dementia Tour
West Wyalong - Devonport
On Monday we enjoyed a backroad country drive (Renshaw McGirr Way) from Wellington to Parkes Radio Telescope. This Observatory is home to the 64m Telescope that featured in the Australian iconic movie "The Dish". We had their recommended dish beef and red wine pie for lunch at the onsite cafe. Both the pie and coffee were excellent. After lunch we caught the 3D movies on offer in the Observatory before continuing our journey to West Wyalong. We camped at the West Wyalong Showgrounds staying two nights. The Showgrounds although a little dry was a great waypoint. There was not a lot to do or see in the surrounding area but we had a couple of excursions. Both ended up disappointing. The first was to Barmedman, a 32klm drive to a mineral swimming pool, said to have health giving properties. It was a large pool situated on a four-hectare reserve, but it was completely empty; no water. We drove the 32 klm back into town then drove another 30 klm in the opposite direction heading for Lake Cowal, the largest inland lake in NSW. A nice drive but we could not access the lake. The Barrick Gold mine has extended its open cut operations and the access road appears to have been swallowed up. Ah well, back to town to the Lions Park to check out the Douglas DC3 and the Vietnam War Memorial.
Wednesday, back on the road. We stopped for lunch at a pleasant little park and information centre with a Tiger Moth airplane on display in Narrandera. After lunch we made our way to the NSW border town of Tocumwal and what a find. The primitive camp on the banks of the Murray River is absolutely brilliant. Potable water, toilets, cold showers, dump point and only $5/person/night. It is only a 900 metre walk along the river bank to the Main Street with a supermarket, baker, butcher, pubs, coffee shops and antique shops. Really friendly locals and great community. Thursday we visited the blowhole (a little underwhelming), the Murray River railway bridge (very interesting), finding some graffiti on one of the girders dated May 1929. This bridge was initially provided for road traffic only, it was strengthened for rail traffic in 1908, and was used for both road and rail traffic until November 1987. Friday was a windy overcast day, but we explored the Main Street, did some shopping and sent post cards to the grandkids. That evening we had a meal at the Palms Hotel. Saturday was also a windy day though I ventured out to the railway museum and along the Main Street to take some photos. I also crossed the bridge over the river into Victoria to get some photos of our campsite (in NSW) from Victoria.
Sunday we moved into Victoria, pulling up in Shepparton at the Secura Shepparton East Caravan Park; a good choice. Monday we located the Information Centre and then ventured out the Australian Botanic Gardens, a former landfill in the process of being regenerated into a showcase of Australian natives. Only early days but a great concept that will only get better as it develops and grows. From here we went to Victoria Lake Park and Aquamove, an indoor aquatic centre. Next stop was Monash Park, which showcases Moooving Art, a dynamic art project of a colourful fibreglass herd of cows, celebrating the local dairy industry. On the way home we stumbled upon a gold mine - the SPC factory sales - Aldi on steroids. A full selection of groceries and household consumables at attractive prices made even more attractive by multiple or carton buys. Could have gone berserk here but constant concern about towing weight and biosecurity measures entering Tasmania capped our desires to spend big.
Monday we started our preparation for Tasmania, washing the van and car. After lunch we visited the Shepparton Weir and Fish Steps. A series of rock walls built to provide a reliable river height for urban water extraction whilst still enabling fish to move up and down stream using the fishway as a ladder. The rest of the afternoon was spent at the Shepparton Art Museum (SAM) a small but impressive collection of artwork. Our favourite being Sam Jink's sculpture "Woman and Child".
Wednesday we took a run down to Murchison, a small village just south of Shepparton. Not of any particular interest other than the namesake of our Caravan. Not a lot there. We visited the Meteorite Park, but no meteorite there. We found some more colourful cows, had a great lunch at the Bakery and stopped and took some photos of the heritage listed Thornebridge Inn.
Thursday we drove the remaining 180klm to Melbourne staying at the Discovery park in Braybrook. We spent Friday securing the van and final cleaning in preparation for boarding the Spirit of Tasmania for a day ferry crossing from Melbourne to Devonport, Tasmania. We did a dry run Friday from the van park to Station Wharf in the car to ensure no hiccups Saturday morning.
Saturday morning we were up at 5am, departed the park just after 6am arriving, as planned, at the wharf just after 6:30am. We had no problems with vehicle and van inspection, no bio-security issues so lined up and were boarded and in the lounge by 8am, with the ferry departing on time at 9am with an ETA of 6:30 into Devonport. I am writing this as we approach the Port and we should be disembarking on time.
Diary Photos
| | | |
| --- | --- | --- |
| Approaching the Parkes Telescope | 'The Dish', Parkes | DC3, Lions Park, West Wyalong |
| Tiger Moth, Narrandera, NSW | The Blow Hole, Tocumwal | Murray Code stature, Tocumwal |
| Tocumwal Rail Bridge | B. Laird & B. Richey camped here 26th May 1929 | Tocumwal Rail Bridge |
| The Murray River and campsite | Tocumwal Raiwway Museum | Our camp NSW side of the Murray River from the Victorian river bank |
| Tocumwal town sign | Australian Botanical Gardens, Shepparton | Monash Park, Shepparton |
| Moooving Art, MonashPark, Shepparton | Shepparton Weir and Fishway | Women and Child - Shepparton Art Musem |
| Women and Child - Shepparton Art Musem | Punch bug, garden centre, Shepparton | Thornebridge Inn, Murchinson |
| On the wharf, Melbourne, about to board SOT1 | Departing Melbourne, Gateway Bridge in background | Passing the sister ship SOT2, midpoint Bass Straight. |
---