Peter & Joan's Adventures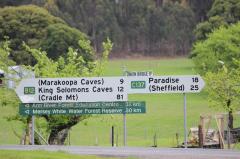 29th Oct 2017 - 5th Nov 2017 - Adventure before Dementia Tour
Tasmania - Week 3 - NW Inland
Though it was relatively cold and miserable we did survive the weekend in Mole Creek. Hard to believe Mole Creek is only 18 kilometres from Paradise. Monday we woke to clearer skies and sunshine. We started exploring the surrounding areas. We doubled back to Sheffield via Railton - the town of Topiary. Topiary is the horticultural practice of training perennial plants by clipping the foliage and twigs of trees and shrubs to develop and maintain clearly defined shapes, whether geometric or fanciful. In the centre of Railton there was a fenced area with a number of topiary shapes on display. As we drove around town we found many more examples.
By the time we got to Sheffield it had clouded over and was threatening to rain. We have visited here before but we were still keen to rediscover and admire their murals. We ventured into the Sheffield Hotel for lunch. Certainly enjoyed their $16 lunch special and the views of Mt Roland through the large windows in their dining room. The rain passed and we got to wander through mural park and around the main street. We also stumbled upon King George V Park, just off the main street and its path of ceramic art pieces. A local approached us and gave us a rundown on the park and some of its artistic treasures.
Tuesday, another fine but cool day. We ventured to the Mole Creek Karst Conservation Area to trek into the Westmorland Falls. A fairly easy and enjoyable walk, through dense bush with some steep sections. We were also confronted with a number of muddy bogs that slowed progress and tested us on a few occasions. The Falls certainly justified the effort, being able to scramble right up to the base of the falls. Was also surprised at the number of shell fossils to be found in the rocky river bed. This whole area must have been under the ocean at some point in time. After lunch we drove to Deloraine to locate something entirely different - Pine Lake. A small alpine lake surrounded by rocky alpine terrain, small cushion plants and rare Tasmanian pencil pines, only found in the Tasmanian highlands. This 800 metre boardwalk is also one of Tassie's 60 Great Short Walks.
Wednesday morning we decided to tackle another local walking track to Lobster Falls, near the village of Chudleigh. Another leisurely and enjoyable walk through a rainforest high above the Lobster Rivulet. All was good until it was time to descend to the water level. The track become almost non existence, it was a very steep descent on loose wet rocks. We got to view the falls through the trees but elected to abandon any further efforts to get closer. It was still a good walk but glad we decided to retreat to Tulampunga for lunch and our planned afternoon walk to Alum Cliffs Lookout, high above the Mersey River. We have visited Alum Cliff before, back in 2009 but as it is now on the list of 60 Great Short Walks we decided to revisit to allow us to complete our goal of doing all the walks on the list, this trip. And glad we did because this time it was a warm afternoon and no wind. Last visit was overcast and very windy. It is a great walk and certainly deserves a place on this Tasmanian list.
One of the highlights of our 2006 trip to Tassie was our visit to Trowunna Wildlife Park at Mole Creek. We revisited here on Thursday. It has expanded since our last visit and their breeding program has been successful with a lot more wombats and Tasmanian Devils now on display. We arrived in time for the educational talk and feeding of the devils. It was a great interactive demonstration. Although it was clouding over we stayed after the tour and wandered around the park for another hour or so watching and enjoying the antics of the young Devils. From here we made our way to Deloraine, picking up a couple of pies and having lunch on the river bank. I enjoyed my first ever scallop pie and I can certainly recommend them. Yum! After lunch we did our weekly shopping at Woolworths and before heading back to Mole Creek we had a nostalgic moment enjoying a milk shake at the Crusin in the 50's Diner. A labour of love that has recreated a Happy Days styled diner with an unbelievable amount of fuel, oil and motor memorabilia faithfully restored.
Friday we relocated the van about 30 kilometres away to Gowrie Park. This put us within striking distance (50klm) of Cradle Mountain. It was overcast when we arrived. We set up camp, had lunch then put up the annex, as we do, so Joan can have some privacy when doing her morning exercise routine. Well no sooner had we erected the annex and the wind started. We weren't too concerned but an hour later the van was shaking and the wind was howling through. In a short lull we quickly dismantled the annex and hurriedly packed everything into the back of the car. Glad we did because next minute it started up with increased fury. A few gusts later it cleanly ripped the annex straight off the Jayce Expander parked behind us. The wind kept up most of the night.
Saturday we woke to an overcast day and 1 degree. It was a miserable day all round. We did venture out in the afternoon for a run to Cradle Mountain but could not see much except a dusting of snow on the passing Mountains. Saturday evening the wind returned and was quite loud in the van and once again we were rocked to sleep.
Sunday woke to sunshine and blue skies. A perfect day for Cradle Mountain but unfortunately not to be. This day was the Peaks Challenge Cycle Race, Cradle Mountain leg, so no go. Instead we decided to tick off one of our Short Walks - Leven Canyon. Guess what; bloody bikes everywhere, roads closed all over the place. Leven Falls was 18 klm as the crow flies from our camp, 1 hour and 50 minutes later we got there. Regardless we ended up having a great day at Leven Canyon. Two spectacular lookouts, 697 steps down through the forest and then on another walk another 272 steps down to the canyon floor. Hoping for a short run home, but no luck, roads still closed and bike riders around every corner so we retraced our steps the long way home. Good news is great weather forecasted for tomorrow and we are planning to walk Cradle Mountain.
Until next time stay happy and safe.
Diary Photos
| | | |
| --- | --- | --- |
| Mole Creek, 18 klm from Paradise | Mural, Sheffield | Joan & the armed services, centotaph Railton |
| Topiary, Railton | Topiary, Railton | Local Sheffield artesian explaining ceramic path |
| Westmorland Falls, Mole Creek | Shell fossils, Westmorland | Joan, boardwalk, Pine Lake |
| Pine Lake | Lobster Falls, Chadleigh | Alum Cliffs, Mole Creek |
| Alum Clffs & the Mersey River | Wombat, Trowunna Wildlife Park | Devils feeding, Trowunna Wildlife Park |
| Devils, Trowunna Wildlife Park | Tasmanian Devil, Trowunna Wildlife Park | Trowunna Wildlife Park |
| Cruisin in the 50's Diner | Our Camp, Gowrie Park. Mt Roland in the background | Dusting of snow on nearby mountains |
| Leven Canyon - a great short walk | Leven Canyon from Cruikshank's Lookout | Leven Canyon from Canyon Floor Bridge |
| Mt Roland from Sheffield | | |
---