Peter & Joan's Adventures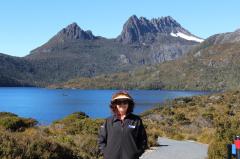 6th Nov 2017 - 12th Nov 2017 - Adventure before Dementia Tour
Tasmania - Week 4 - NW Inland
What a week! In the main beautiful days, clear blue sky, very little wind resulting in lots of walking, some waterfalls, unfortunately a few actual falls, and an abundance of wildlife. All in all, almost a perfect week. 
Monday we headed straight for Dove Lake, walking the 6klm Dove Lake Circuit, clockwise. This has to be one of the best walks anywhere. It is an easy walk around a pristine lake with great views from Glacier Rock, all the while the towering spires of Cradle Mountain loom above. It is a photographers dream, not to mention the iconic Boat Shed. All praise to Joan who hung in patiently until I got my people-free shot of the boat shed. Not an easy thing to do. We drove back to Ronny Creek to have our picnic lunch. We were harassed by the usual scavenging birds but also were joined by a wombat grazing on the surrounding grass.  After lunch we drove up to Waldheim Chalet. Waldheim is regarded as the father of Cradle Mountain National Park. We set off on foot along the boardwalk, through the buttongrass moorland before climbing up past Crater Falls to Crater Lake. This is as far as we climbed that day, heading back to the car via Wombat Pool and Lake Lilla. All up about 13 klm of easy to moderate walking. Returning through the buttongrass we were rewarded with numerous wombat sightings. I was further rewarded on returning to Gowrie Park as I went in search of a nearby geocache and found it without too much difficulty.
Tuesday (Melbourne Cup Day), we packed up in the morning and relocated the caravan 400 metres up the road to O'Neill's Creek Picnic Reserve in Gowrie Park, a low cost ($5) camping area. And what a gem, with Mt Roland as a backdrop and for the majority of the time we had the whole place to ourselves. As we were experiencing some issues with our Drifter unit (battery management system) Tuesday ended up a service day and we didn't stray from the van. Could not resolve the Drifter issue (public holiday in Melbourne) but was not too concerned, confirmed batteries were still charging and water pump was working just no information showing on the dashboard. 
Wednesday another blue sky perfect day; we arrived at Cradle Mountain just after nine. The intent today was to complete a few short walks we didn't have time to enjoy Monday and then conquer the walk to Marions Lookout. We warmed up with  a quick stroll around the Enchanted walk, coming across a tiger snake sunning itself beside the boardwalk. We then crossed the road and completed the next walk, to the top of Pencil Pine Falls. From here we then trekked to the bottom of Pencil Pine Falls, took our selfie photo and then moved onto Knyvet Falls. It was time to relocate to Ronny Creek and start our assault on Marions Lookout. Arriving at the Ranger Station we discovered access restricted to buses only, due to the number of vehicles/visitors that day. We had smoko hoping the situation would change. It didn't, so we succumbed to catching a bus into Ronny Creek, the trailhead for our walk. We retraced our steps from Monday climbing to Crater Lake and then continued up the Overland Track climbing the rock face to Marions Lookout (1223m). Although I carry a backpack I have a bad habit of carrying my camera over my right shoulder. We were almost at the summit when I slipped over some loose stones. First fall of the week. No real damage to me but did chip the rim of my camera lens. The summit was spectacular and really worth the effort. Glad we did it. It was almost 5 o'clock when we clambered back on the bus to head back to the carpark. Like Monday there were many wombats grazing on the moorland during our descent.
Thursday we decided to stay in Gowrie Park another day. This time I did get to speak with someone at Setec and with their help and some further diagnosis I located and fixed the problem with the battery management system. As we were getting low on supplies we decided to move onto Deleraine, the next day.
Friday before packing up we went for a walk up O'Neills Creek. Joan wanted to show me some 'neat' wooden bridges the locals had improvised for creek crossings. Whilst clambering down the creek bed to get that magic shot of Joan standing on a wooden bridge I slipped on a rock and fell in the creek. A little bark off my arm but my camera survived but the worst of it, I was soaking wet. Yes it was bloody cold. On route to Deloraine we stopped off at Railton (town of Topiary) for lunch and was pleased to see that much of the foliage and trees around town had been manicured and a lot of the green shapes around town looked much better than the week before, when we passed this way. Once we were settled into the Deloraine Apex Caravan Park on the banks of Meander River we headed off to Woolworths to do our weekly shop. 
Saturday we had another one of the 60 short walks in our sights - Meander Falls. We completed it but it was our hardest and most gruelling walk so far. All up it took us 6 hours to complete. The 5 klm trek in, was not that steep, but it did involve clambering over rocks and boulders for most of the climb. We followed the river all the way up and there was some spectacular rapids, swimming holes and small falls along the way. It was only about 200m from the falls I has a lapse of concentration whilst crossing a number of boulders and tripped, falling ungracefully and skinning both shins and knuckles. A lot of blood but no real damage. Surprisingly my camera had a good knock but no apparent damage. We pushed on to the Falls. Unfortunately the Falls were not as spectacular as we expected but certainly a long drop. We elected not to climb to the top. To late, too sore and too tired. I did however brave the ice cold water to wash/bath my legs. The return walk was a little quicker, nevertheless still taxing. At one point I did catch my foot between a rock and a tree root, resulting in a relatively soft landing yet again on the ground. Fortunately I had learnt my lesson and camera was safely stowed in my backpack.
Today, is Sunday and I am sitting in shade of the annex of the caravan writing this blog watching the antics of the ducks on the Meander River and waiting for the platypus to come out to play. Pleased to report slept well last night and although some impressive scabs and scars no real damage and no soreness this morning. We live to be stupid another day. 
Diary Photos
| | | |
| --- | --- | --- |
| Joan, Dove Lake, Cradle Mountain NP | Peter, Clacier Rock, Dove Lake, Cradle Mountain NP | Peter, Boat Shed, Dove Lake, Cradle Mountain NP |
| Boat Shed (no people), Dove Lake, Cradle Mountain NP | Wombat, Ronny Creek, Cradle Mountain NP | Buttongrass, Ronny Creek, Cradle Mountain NP |
| Crater Falls, Cradle Mountain NP | Track to Marions Lookout, Cradle Mountain NP | Our camp, Gowrie Park. Mt Roland in the background |
| Tiger snake, Cradle Mountain NP | Joan & Peter, Pencil Pine Falls | Joan, Ronny Creek, Cradle Mountain NP |
| Boat Shed, Crater Lake, Cradle Mountain NP | Joan, Marions Lookout, Cradle Mountain NP | Joan, O'Neills Creek, Gowrie Park |
| Huntsman Lake, Meander | Meander Falls | Meander Falls |
| Peter, Meander falls | | |
---