Peter & Joan's Adventures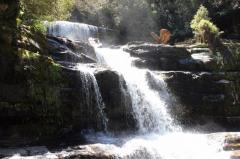 13th Nov 2017 - 19th Nov 2017 - Adventure before Dementia Tour
Tasmania - Week 5 - NW + NE Inland
A few weeks ago we were, according to a road sign only 18klm from Paradise. This week I think we found paradise in the form of a town - Deloraine. We were parked on the banks of the Meander River, about 300m from the main drag - Emu Bay Rd.
Monday we ticked off another of the Tasmanian 60 Great Short Walks. We took the long drive around through Hadley and took the backroads climbing up the unsealed road to Liffey Falls. About 2 klm from the Falls we came across two young hitch hikers. Something you do not see very often these days. We rearranged some items from the back seat to the canopy area and gave them a lift. A young French couple nearing the end of their 9 month Australian Adventure.
Liffey Falls was everything the brochures had promised. An easy enjoyable walk through the forest past a number of cascades before reaching the main event, with lookouts at both the top of the falls and at the base. The bonus being we could scramble across the rocks to the base of the falls providing some great photo opportunities. On return to the carpark we made the effort and walked the extra 100m to view the Big Tree. Looks like every location in Tassie boasts a big tree. You guessed it; our French couple were waiting at the exit of the carpark so we gave them a lift, 6 klm, back to the bitumen (highway) were they planned to camp that night.
Tuesday was Joan's birthday and we woke to a beautiful day. After a late breakfast we walked through the park along the Meander River and eventually doubling back to Emu Bay Road taking our time walking up one side of the street checking out the shops and galleries along the way. We walked as far as the Information Centre. At the Info Centre we stocked up on brochures and post cards before heading back into town and down the other side of the street, stopping at the Empire Hotel enjoying a fish and chip lunch at Cycle@theempire Cafe. After lunch we continued our gallery shopping expedition. Last and best shop of the day being Seppenfelt's.
Wednesday, another perfect day. Morning spent on domestic duties, washing, cleaning, shopping list plus trip to library to update apps and operating system. The afternoon we launched the kayak into the Meander River and spent a couple of hours paddling upstream to a small set of rapids and then downstream as far as the weir on the northern edge of town. A perfect day ended having happy hour with our neighbours Ruedi & Edwina watching a platypus frolic in the river behind us.
Thursday was very windy but we ventured out at lunchtime to drive to Elizabeth Town to visit the Ashgrove Cheese factory. A short and enjoyable drive, rewarded with a generous farmers cheese board for lunch. Returned to the Deloraine library late afternoon to successfully update IOS 11 on by iPad.
Friday morning we packed up camp after a week in this great location and relocated 56klm to Old Mac's RV Farmstay in Norwood, Launceston. After lunch we established our bearings then knocked over another Great Short Walk; Hollybank Conservation Reserve, 20 minutes north of Launceston. A beautiful but puzzling location. A wood lot with Ash and Pine trees. The Ash trees originally planted as a wood supply for cricket bats and tennis rackets. There are now spacious picnic facilities, a number of good walking tracks and some deserted timber buildings that appear to have been established as information and timber centric displays. The Reserve now also hosts a mountain bike park and shares its tree tops with a zip-lining venture. We enjoyed the short walk.
Saturday up early and into town to share the delights of the Community Farmers Market. Truely worth the effort, fresh fruit and veggies, large array of herbs, meats, fish, coffee and finger food. Park close and take baskets or bags if intending to buy produce as it all looks and smells good and fresh. From here we took the short drive to Cataract Gorge Reserve. Had visited here in 2006 but it was a blue sky perfect day for catching the chairlift across the basin, crossing Alexandra Suspension Bridge and retracing our steps to Duck Reach Power Station. You guessed it, another one of the 60 Great Short Walks. We completed all the walks by lunchtime so headed back into town enjoying a quesadilla at Zambrero's for lunch before heading off to Penny Royal for a real treat - a blackberry and raspberry ice cream cone. Life is good!
Sunday a late breakfast, a lazy sunny morning in the annex writing this blog, researching things to see, places to go and updating some travel metrics.
On the road this leg. 112 days
Number of camping spots. 28 off
Kilometres travelled - car. 9,746 klm
Kilometres travelled - van. 5,985 klm
Fuel consumed. 1,482.4 ltr
Average cost/ltr. 126.37 cpl
Average consumption. 15.21 ltr/100 klm
Sunday afternoon we ventured out to north Launceston to Tamar Island's Wetland Interpretation Centre consisting of 1.5klm of timber boardwalks and 4 bridges spanning 4 islands in the Tamar River. There was a wide range of plant and bird life to be seen. Unfortunately there were some fires behind Launceston so views of the Tamar Valley were a little hazy. On the way home we stopped at the Launceston City Park to see and watch the antics of the Japanese Macaque Monkeys housed there. They did not disappoint. The bonus being a number of baby monkeys have been added to the troop, providing further photo opportunities.
The last metric, for this week, concerns our goal of completing the Tasmanian 60 Great Short Walks before we leave the Apple Isle. As of today we have been in Tassie for 35 days and including Tamar Island, we have completed 14 Walks. This equates to one walk every 2.5 days. Might have to up the ante a little, to ensure we complete the remaining 46 walks.
Diary Photos
| | | |
| --- | --- | --- |
| Liffey Falls | Liffey Falls | Tree Tree, Liffey Reserve |
| Weir, Deloraine | Meander River, Deloraine | Statute, Emu Bay Rd, Deloraine |
| Quamby Bluff from Information Centre, Deloraine | Our van, banks of Meander River, Deloraine | Ashgrove Cheese, Elizabeth Town |
| Community Farmers Market, Launceston | First Basin, Cataract Gorge, Alexandra Suspension Bridge | Joan, Chairlift Cataract Gorge |
| Chairlift, First Basin, Cataract Gorge | Duck Reach Power Station | Flying Fox Shed, Duck Reach Power Station |
| Joan, Suspension Bridge, Duck Reach Power Station | Suspension Bridge, Duck Reach Power Station | Peter, Penny Royal |
| Penny Royal, Launceston | Joan, bridge Timor Island Wetlands | Boardwalk, Timor Island Wetlands |
| Macaque family photo, City Park, Launceston | Baby macaque, City Park, Launceston | Mother & baby macaque, City Park, Launceston |
---