Peter & Joan's Adventures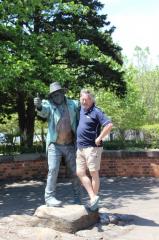 20th Nov 2017 - 26th Nov 2017 - Adventure before Dementia Tour
Tasmania - Week 6 - NE Inland + NE Coast
Cannot believe it is Sunday already and I am sitting in the annex again recapturing the week. Today we are in Low Head on the NE coast. It has been a very rewarding week though it is raining today and is forecasted to continue all day. This is actually a good thing as we are told the eastern districts are in drought. This is not obvious to us Queenslanders as the landscape still looks extremely green.
This week has been a little different, we stopped to smell the roses, did not do many walks, did not tick off any Tasmanian Short Walks but did find time to sample beer and enjoy some more Tasmanian cheese and wine.
Monday we did a short excursion to historic Evandale. We stayed here in 2006 at Solomon's Cottage. One of the many B&B's in Evandale. It is a quaint little village stuck in an 1800's time warp with lots of Arts & Crafts, gift shops and eateries. We walked the Main Street, visited the John Clover statue, the Time Machine, had a picnic lunch in the park and then headed towards Longford to the Historic Woolmers Estate (Circa 1817), which is now National Heritage listed. We spent close on two hours doing the self guided tour taking in buildings, magnificent views of the Macquarie River, collections, artefacts, machinery and gardens. The highlight for me being the 1913 Wolseley car in original condition. Annexed to Woolmers Estate, is the National Rose Garden, spectacular in spring with thousands of roses in bloom. We spent a long time in this formal rose garden with the many different varieties on show. An incredible array of colour and perfume. I am no gardener but I did appreciate the spectacle and the work that has gone into this project. The Kitchen garden also invoked good memories of days gone by. A garden my father would have inspired to replicate.
Tuesday we returned to Cataract Gorge to walk the zig-zag track back to King's Bridge and then return by the much easier riverside path. Both tracks provided many spectacular views and photo opportunities of the Tamar River and the Gorge. We also recorded a geocache find on this return walk. For lunch we treated ourselves to the James Boag experience. A $10 paddle of beers, consisting of a draught beer, XXX Ale and Wizard Smith Ale. The beer was paired with three superb Tasmanian cheeses, some crackers and walnuts. This was all enjoyed in the sunny beer garden at the rear of this classic hotel, which also houses the James Boag museum. The remainder of the day involved mundane domestics duties and shopping.
Wednesday we packed up camp and made our way 65klm north to Low Head, booking into the East Beach Caravan Park. After setting up camp we visited the Low Head Light House and then as is protocol, located the Visitor Information Centre. The friendly volunteers loaded us up with brochures and suggestions to keep us occupied for the next few days.
Thursday morning was consumed with domestic duties and washing, as is always the case after low cost camping (no power). Thursday afternoon after a frustrating hour on the phone to the Post Office call centre we made a return trip to Launceston to collect voting papers for the Queensland State Election taking place this weekend. Good news was documents were there, we voted then returned to Low Head via the western Tamar Highway, taking in the Batman Bridge on the return trip. I have always liked the design of this bridge.
Friday it was time to explore the surrounding area and explore we did. We stumbled upon Bridport and what a find. Looks like we have found our next waypoint. Lovely town with a number of magnificent beaches. From Bridport we moved onto Scottsdale. Another interesting town, with a free camp that has toilets, hot showers, potable water and a dump point. Next stop was Bridestowe Lavender Estate. Unfortunately the lavender is still about a month away from flowering so we missed the purple sea haze. Bonus being free entry to ponder what it would look like and visit their gift shop. During bloom time visitors are subjected to a gate charge. We pushed on to Lilydale for a short two stage walk to a couple of picturesque waterfalls and some good photo opportunities. It was time to head for home but not before calling into the Bay of Fires Winery at Pipers River, to sample and purchase some of their merchandise.
Saturday morning was overcast so we took the opportunity to research and secure potential camping spots for Christmas and New Year as we have not booked anywhere as yet and word is van sites will be hard to get. The word was right as initial enquires had no sites available. Perseverance paid off and by midday had secured 7 nights at St Helens (Bay of Fires) over Christmas and Tribunna (Maria Island) for New Years. Looks like a plan. A good plan! After lunch the sun came out and we went for a walk to the Low Head Pilot Station.
It is now late afternoon and it is still raining. We have had a pretty lazy but relaxing day. Until next time take care, stay safe and be happy.
Diary Photos
| | | |
| --- | --- | --- |
| Peter with John Clover | Courtyard, coffee shop, Evandale | Joan and the Time Traveller |
| The Time Traveller, Evandale | Main House, Woolmers Estate | 1913 Wolseley car in original condition, Woolmers Estate |
| Rose Garden, National Rose Garden | Rosebud, National Rose Garden | Water feature, Kitchen Garden, Woolmers Estate |
| Cateract Gorge, Launceston | Peacock, Cataract Gorge | Peter, James Boags Brewery Experience |
| Beer Garden James Boag Experience | Low Head Lighthouse | Timber carvings, East Beach Caravan Park, Low Head |
| Batman Bridge, near Beaconsfield | Old wharf, Bridport | Timber carvings, Cenotaph, Scottsdale |
| Icon at Bridesdale Lavender | Bridesdale Lavender Farm | Lillydale, lower falls |
| Lillydale lower falls | Lillydale upper falls | |
---