Peter & Joan's Adventures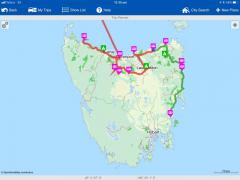 27th Nov 2017 - 3rd Dec 2017 - Adventure before Dementia Tour
Tasmania - Week 7 - NE Coast
We are still making our way eastward along the north coast of Tasmania. Been a quiet week but an enjoyable one with a few surprises and three days of rain. Cannot complain about the rain as east Tassie is very dry and in need of rain. We are currently camped at the beautiful beachside town of Bridport, but let's recapture the week.
Monday turned out to be a warm mainly clear sunny day. We decided to pack lunch and explore the western Tamar. We backtracked over the Batman Bridge spanning the Tamar River, turned right and headed for Beaconsfield. This is the beautiful little town that made national headlines Anzac Day 2006 when the Beaconsfield Gold Mine collapsed with 17 people working underground. Fourteen escaped immediately, one (Larry Knight) was killed and the 2 remaining miners, Brant Webb and Todd Russell were rescued on 9 May 2006, two weeks after being trapped nearly a kilometre below the surface. The mine did reopened but closed again 2012. There is now a souvenir shop and mine museum on the site.
From here we made our way to the historic site of York Town. There is not much there today, but it was a British settlement from 1804 - 1808. The first settlement in Northern Tasmania. We walked around a paddock lined with information plaques and a monument. We checked out a low cost camp and then moved onto Greens Beach. As with many locations along this coast a beautiful sandy pristine beach with some great views back to Low Head lighthouse. We found a shady picnic table for lunch. After lunch we drove 30 minutes west to Springlawn, part of the Narawntapu National Park. Main objective for today was to complete another of the prescribed Short Walks.
This was a fairly easy walk around a Lagoon through a paper bark swamp forest. We peeled off near the end of the walk and climbed a couple of sand dunes till we arrived at a another long deserted pristine beach, which we found out later to be Bakers Beach. Another discovery today was that Springlawn NP visitors centre also has powered van sites with full amenities. Might call in here on our return trip to Devonport on the homeward leg.
Tuesday morning was spent at the Georgetown Library updating Apps and uploading photos. For lunch we ventured to Georgetown Seafood on the recommendations of locals. It was good but not the best seafood we have had in Tasmania. After lunch we ventured back to west Tamar to visit Seahorse World at Beauty Point. We visited here in 2006 and wanted to repeat the experience. Glad we did. Something special about seahorses and the crew here provide a very comprehensive , educational but relaxed tour of the facility. We certainly enjoyed it and captured some magic photos of many of the sea creatures housed here.
Wednesday was a warm sunny day. In the morning we relocated the van to Bridport Seaside Caravan Park, some 61 klm east of Low Head. Wandered around town in the early afternoon. Spent the remainder of the day pottering around the van and annex.
Thursday morning was taken up with van maintenance. Somehow the bedside drawer housing all the battery charges was jamed locked. Two hours later the latch was disassembled and replaced. Life goes on; iPads, iPhones and camera can once again be recharged. On the outskirts of Bridport are two iconic golf links known as the Barnbougle Golf Links. Both links are considered world class. The first is The Dunes and the other is called Lost Farm. Both utilise the many sand dunes and acres of marram grass along this coastal strip. Each course has its own clubhouse and a selection of cottages and lodges for accommodation. We just visited to have a look and admire the views back along the beach onto Bridport. The afternoon was a little hazy but still impressive. So was the coffee.
Friday we woke to rain and it rained all day. Had a quiet day in the annex uploading, backing up and archiving photos. Did have a pleasant surprise just before lunch. A friend, Garry Dunkinson from our Middlemount days holidaying in Tassie along with his sister and brother in-law, knew we were in Tassie but not exactly where. They were in a hire car driving from St. Helens to Launceston driving through Bridport when Garry spotted our kayak on the roof of a BT-50 parked in the van park. He called in, on the off chance, it was us and it was. What's the odds? It was good to catch up and swap travel stories. Friday night Joan and I enjoyed a fantastic seafood meal at the Bridport Bunker Club (RSL).
Saturday rained again all day. Gave us a chance to surf the net and order christmas presents for the kids and grandkids. Sunday still overcast but we decided to drive to Tomahawk to check out the van park there. We have read both good and bad reviews for this waypoint. Good news is it looks like a great place, so that will be our next stop. We drove home via Gladstone where we had a gigantic lunch in the pub and located another free camp. The other highlight was calling into Little Blue Lake. It is a natural phenomenon resulting from the pioneering mining days of South Mount Cameron and the surrounding areas of the Far North East of Tasmania. Originally a mine hole, the lake reflects a vivid aqua blue from the minerals in its base. The locals do swim in it but it is not recommended due to the high mineral content in the water.
Let's hope tomorrow is sunny. It is now summer and time to start swimming.
Diary Photos
| | | |
| --- | --- | --- |
| Tassie travels so far (red), planned future stops (green) | Batman Bridge | Joan, Layers of Discovery, Beaconsfield |
| Waterwheel now part of Museum, Beaconsfield | Headframe, Beaconsfield Gold Mine | Yorktown |
| Yorktown | York Town | Low Head Lighthouse from Greens Beach, West Tamar |
| Spectators at Lunch, Greens Beach | Springlawn Short walk | Springlawn Lagoon |
| Bakers Beach, Springlawn | Seahorse World, Beauty Point | Seahorse, Seahorse World, Beauty Point |
| Seahorse, Seahorse World, Beauty Point | Rare Red Hand Fish, Seahorse World. | View from our annex, Bridport |
| Campsite Bridport | Little Blue Lake, Gladstone | |
---