Peter & Joan's Adventures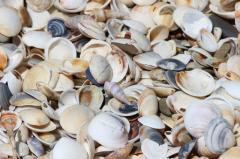 18th Dec 2017 - 24th Dec 2017 - Adventure before Dementia Tour
Tasmania - Week 10 - Scamander, St Helens and beyond
After our little escape and special treat at Freycinet Lodge last week we returned to reality at Scamander. After the weekend away we had some housekeeping and mundane paperwork to take care of, so Monday was a quiet morning in and around the van. After lunch although a little windy we ventured out for a walk around Scamander and along the beach. Too cold to go swimming but a really nice beach. Not quite the white sands of Friendly Beachs at Freycinet but kilometres of deserted coastline with clear turquoise water, a continuous sand dune buffering us from the wind and a continuous line of the most sea shells I have ever seen in one place scattered the entire length of beach, highlighting the high tide mark.
We didn't walk the entire beach but far enough to spark our interest in the village on the next Headland. It was about a twelve kilometres drive to discover the idyllic little seaside settlement of Falmouth with its cliff top houses with million dollar views across the Tasman Sea. Nothing here but sea and sand and magnificent views. An internet search summarises Falmouth as "a small holiday resort village which is really nothing more like a collection of attractive houses on a low cliff top with excellent views along the coastline. This strange, non-town feel is a result of the district being owned by two families who had no real enthusiasm for the growth of a settlement". I liked it.
Tuesday we went a little further afield and backtracked to Bicheno to visit the Douglas-Apsley National Park to complete the Aspley River Waterhole and Gorge circuit walk. Another walk on our list of walks to complete. The Waterhole looked inviting but too cold. The walk to the gorge was pleasant and not too difficult but a few steep sections. The Gorge did not have a lot of water running through it and was very rocky. Had the entire place to ourselves. Enjoyed our picnic lunch and walk around. Decided to return to the carpark by the same track we trekked in as the dry rocky riverbed did not look very appealing and decided it would be too slow and dangerous for the return trip. We passed a few other hikers coming in, on our way out, and when we got back to the car park found some park rangers writing breach notices for vehicles not displaying park passes. We had nothing to fear with our annual pass clearly displayed on the windscreen.
We always planned to return home via the inland road through St Marys and glad we did. Turning off the Tasman Highway onto the Elephant Pass Road we were intrigued by a billboard advertising the world famous Mt Elephant Pancake Barn. A quirky little restaurant perched near the summit of Mt Elephant that specialises in pancakes and as it turns out have very friendly staff, really quick service and the most trusting business owner we have ever encountered. The venue has an impressive array of knick-knacks, posters and blackboard art. After adjusting to the visual overload we were welcomed and ushered to a table. Before ordering we noticed the "NO EFTPOS, Cash Only' sign. Explaining our dilemma of recently being converted to the "Tap & Go" mentality, the owner quickly responded "Not a problem, give me your order I will give you a stamped addressed envelope and when you get to the next town stop at an ATM get some money and post it back to me" Wow!!! Anyway we enjoyed a savory pancake with cream and ice cream along with coffee. Before leaving we rummaged through the car and with what coins we recovered and Joan's secret stash we had sufficient cash to cover the bill. What an incredible place.
Wednesday was another quiet morning in the van with a beach walk and short drive to Shelly Point and Beaumaris in the afternoon. Thursday we packed up and drove all of 16 kilometres north to St. Helens, our chosen destination for Christmas. St Helens is the commercial centre of the NE corner. It is a port town with plenty of fishing boats and seafood and is the gateway to the Bay of Fires. Thursday afternoon, sticking with tradition, it involved shopping and calling into the Visitors Centre. This day also involved running around to complete some last minute Christmas shopping and mailing same to recipients.
Friday morning a little more shopping and my Christmas haircut before heading out for a special day. We spent all afternoon exploring the iconic beautiful and photogenic Bay of Fires. First stop was Binalong Bay. Hard to describe and capture the beauty of the perfect white sandy beaches, turquoise coloured water and orange lichen stained boulders littering the untouched coastline. It is not quite untouched as there are house, shacks and free camping areas scattered all along the coastline but they are not evident until you are right on top of them. We slowly made our way up the coast past Grants Lagoon, stopping at Swimcart Beach to walk along the deserted beach, before continuing on past Cozy Corner, Sloop Lagoon, Taylors Beach, Big Lagoon finally running out of road at The Gardens. We walked around the headland at the Gardens being able to see Eddystone Point and Lighthouse on the horizon (we visited there about 2 weeks ago when based in Gladstone). On the homeward journey we stopped off at Cozy corner to explore and take photos before pulling into Taylors Beach for happy hour and a special tea to celebrate 18 months of retirement and the mid point of our Tasmanian tour. Tea was easy to prepare - local fresh prawns, Scamander cherries all washed down with chilled Moët champagne, a parting gift from the Commercial team at Moranbah North Mine, which we have had stored in the caravan, just waiting for a special occasion like this. Thanks guys, it was perfect.
After the indulgence of the previous day thought we better do some exercise on Saturday. We headed inland to the Blue Tier to a mysterious place called the Goblin Forest Walk, another of the Tasmanian 60 Great Short Walks. It was a really enjoyable drive up through Gould Country to the Blue Tier Forest Reserve at Mt Poimena (816m). The walk was only 20 minutes through a regenerated rainforest. It was a magical walk with lots of fungi and incredibly lush green flora. Difficult to image that a town and mine was once situated at this location. Feeling in need of a little more exertion we decided to tackle the Mt Poimena summit and Moon Valley Rim walk. It was a well established and moderate climb to the summit but by the time we got there it was blowing a gale and the would be incredible views of the Bay of Fires non existent. It was very hazy and no hint of blue at all so we made our way back down to the carpark. Still an enjoyable walk but a little shorter than planned.
Sunday a sunny but cooler day. The cool change that had been forecasted did eventuate. Had a quiet morning lazing around the van and making a start on this blog. This afternoon we went for a drive out to Beerbarrel Beach at St Helens Point, past the Peron Dunes. I assume Beerbarrel Beach is the local response to Wineglass Bay. Had a look around and took some photos. Tonight we are planning to go uptown and watch the Christmas Parade in St Helens, but I need to make a start on tea. I'm cooking chicken cacciatore pies today so I better get started. Tomorrow is Christmas Day so wishing all our family and friends a joyous and merry Christmas. Cheers to one and all.
Diary Photos
| | | |
| --- | --- | --- |
| Sea shells, Scamander Beach | Joan crossing Aspley River, Douglas-Apsley NP | Joan, Aspley River Gorge, Douglas-Apsley NP |
| Aspley River Gorge, Douglas-Apsley NP | Mount Elephant Pancake Barn | Parking sign, Mt Elephant Pancake Barn |
| Caravan Site, St Helens Big 4 | Stranded yacht, Big 4 St Helens | Tin Dragon, Information Centre, St Helens |
| Welcome to Bingalong Bay, Humbug Point | Inlet, Binalong Bay | Joan enjoying the solitude of Swimcart Beach |
| The Gardens, Bay of Fires | Swimcart Beach, Bay of Fires | Swimcart Beach, Bay of Fires |
| Cozy Corner, Bay of Fires | Impromptu celebration Taylors Beach, Bay of Fires | Joan & Peter enjoying Prawns, Cherries & Champagne, Taylors Beach, Bay of Fires |
| Goblin Forest Walk, Blue Tier. Another 60 Great Walks. | Tiger snake, Goblin Forest Walk, Blue Tier Forest Reserve | Summit, Mt Poimena, Blue Tier Forest Reserve |
| Hazy view of the Bay of Fires from Mt Poimena | | |
---