Peter & Joan's Adventures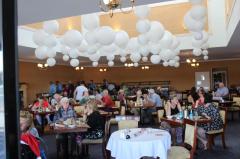 25th Dec 2017 - 31st Dec 2017 - Adventure before Dementia Tour
Tasmania - Week 11 - East Coast
Monday was Christmas Day. It was a lot quieter in the St. Helens caravan park then we expected. Christmas morning is not the same without family, especially grandchildren around. We had a quiet morning around the van phoning both our girls and talking with each of the grandkids. At lunch time we took the easy option and headed to Tidal Waters Resort, in St. Helens for a buffet lunch with all the trimmings. Pleased to report they had a generous (appeared bottemless) serving of prawns and oysters. This was also followed up with lamb, turkey, pork and ham. Even found room for pudding and custard, for dessert. Had the traditional Christmas afternoon nap and finished the day with more pudding, cream and custard. The pudding was a traditional one we had purchased from Smithton Scouts in Stanley and had been hanging in the wardrobe of the van awaiting this eventful fate. In fact we enjoyed it for the next three nights.
Tuesday, a sunny day, we ventured back to Binalong Bay, after exploring Humbug Point we returned to Binalong and I ventured in for a swim in one of the little inlets near the bay. The water wasn't as cold as I expected. Later in the afternoon we made our way back to Cozy Corner and settled on Taylors Beach for happy hour. Once again we ended up with the whole beach to ourselves giving us an opportunity to explore the rocks and just enjoy the solitude of the Bay of Fires. It would be easy to assume that this name came about because of the orange lichen covered rocks, but this is not the case. The internet and local interpretative signs advise the bay was given its name in 1773 by Captain Tobias Furneaux in his ship, Adventure, who saw the fires of Aboriginal people on the beaches.
Wednesday another quiet morning around the van. Highlight of the day was a seafood lunch at Skippers on the wharf in St Helens. Later in the afternoon we went for a walk around Georges Bay and attempted to find a geocache located in the park on Marina Drive but there were too may muggles around so had to abandon that exercise.
Thursday we broke camp at St. Helens and relocated south to Triabunna. Really enjoyed the drive through Swansea and stopped at the Spikey Bridge for lunch. This location is almost directly across Great Oyster Bay from Freycinet Lodge, our memorable night of luxury almost two weeks previous. Spikey Bridge was also an interesting waypoint. A little neglected now but a stone bridge constructed by convict labour in the 1840's. After settling into Triabunna Caravan Park we visited the Information Centre, booked our passage on the Encounter Maria Island ferry for the following day's excursion, dropped by the local hotel and replenished our liquid supplies. It was a nice afternoon so we put the annex up and enjoyed happy hour. Ten o'clock that night the wind started so we scrambled and put the annex down.
Friday we woke to an overcast and showery morning. We were a bit concerned as we had to be at the wharf by 8:45am for the 9:00am ferry crossing to Maria Island. For a still unexplainable reason locals call this place Mariah Island, although it is spelt Maria and the Parks & Wildlife internet site explains "During his exploratory trip of 1642, Abel Tasman named 'Maria's Eylandt' in honour of the wife of Anthony Van Diemen, the Governor-General of the Dutch East India Company". It was only a thirty minute trip, still overcast but not raining, when we arrived. Maria Island has much history. First European explorers arrived in 1789, whalers in 1805, the Darlington Probation Station was established 1825, 1880's it was used for grape growing and ultimately the limestone cliffs were quarried and mined for the production of Portland cement. Today the whole island is a national park and offers a number of walks, some incredible views, Mountain bike riding and wildlife. Our morning was spent completing the circular Fossil Cliffs walk getting us back into Darlington for lunch. After lunch we completed the Painted Cliffs walk via the Oast House Track. An Oast House is a hop kiln, a building designed for kilning hops as part of the brewing process. That is another two short walks ticked off. Whilst walking back to the wharf to catch the ferry home we were privileged to witness a wombat and its baby taking a walk along the beach.
Saturday was a windy overcast showery day so another opportunity to spend a restful morning around the van. In the afternoon we ventured out to Swansea to enjoy another seafood lunch and do some grocery shopping . We also completed another short walk. It was an extremely short walk, only about twenty minutes along the coast near Swansea, but one with a big name - Loontitetermairrelhoiner. On the homeward trip we decided we enjoyed our trip to Maria Island so much we would return early next week and explore it some more.
Sunday we woke to no wind and blue skies. We had planned to do some work around the van so the morning was spent with Joan cleaning the inside and me scrubbing the annex. We have experienced a lot of wind and some dirt roads in Tasmania so dust is an issue in the van and the annex is is showing signs of staining. By lunch time both inside and out were looking spick and span. After lunch we took a short drive south to Orford to have a look around. We ended up walking around the cliff tops from Shelley Beach to Spring Beach and back. It was only about two kilometres each way but afforded some great views of Maria Island. It is New Year's Eve and not sure if we will make it through to midnight as we have a great mountain bike adventure planned for tomorrow. Regardless wishing all our family and friends a Happy New Year and may 2018 deliver everything and more you may want or dream for. Cheers!
Diary Photos
| | | |
| --- | --- | --- |
| Christmas Lunch, Tidal Waters Resort, St Helens | Peter swimming Binalong Bay | More Orange lichen rocks Binalong Bay |
| Some of the campers tucked away Cozy Corner, Bay of Fires | Solitude. Joan walking along Taylors Beach. Taken from Cozy Corner | Skippers Seafood Eatery, St Helens |
| View of Freycinet/Coles Bay from van window, Spikey Bridge | Spikey Bridge, Swansea | Cape Barren Goose, Maria Island |
| Joan, Fossil Quarry, Fossil Cliffs, Maria Island | Road to Painted Cliffs, Maria Island | Oast House, Maria Island |
| Painted Cliffs, Maria Island | Painted Cliffs, Maria Island | Darlington Bay, Maria Island |
| Ruby Hunt's Cottage Maria Island | Mum and baby wombat out for a walk | Baby wombat, Maria Island |
| Bishop & Clerk in cloud, Maria Island | That long walk, Swansea | Anchor from the Resolution, Schouten Beach, Swansea, Freycinet in the background |
| Spring Beach, Orford | Maria Island from Spring Beach, Orford | |
---