Peter & Joan's Adventures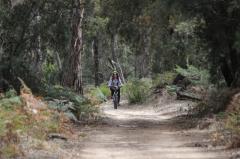 1st Jan 2018 - 7th Jan 2018 - Adventure before Dementia Tour
Tasmania - Week 12 - SE Coast
2018, New Years Day. We woke to an overcast day but we excitedly packed lunch and other supplies into our backpacks and arrived at the Triabunna wharf in plenty of time to catch the 9:00am ferry to Maria Island. The previous day we had hired mountain bikes and the plan was to explore the southern extremes of Maria Island. By 10:00 o,clock we were riding along the dirt coastal track. It was picturesque and enjoyable but we had already amended our goal to reaching French's farm and hopefully the isthmus. The bikes were well set up and had gears that seemed to flatten the hills substantially but we realised that we would be tired and very saddle sore by mid afternoon so we wisely adjusted our goals. We did make it to French's farm, but the track then turned to sand approaching the isthmus, so we abandoned the bikes and walked along the beach of Shoal Bay. Getting back on the bikes we backtracked and diverted to Encampment Cove for lunch. We arrived back at Darlington in time to catch the 3:30pm ferry back to Triabunna. Time wise we could have ridden a little further but bum-wise I think we got it about right. A really enjoyable and rewarding day. We concluded a great day with a good feed of fish and chips from the Fish Van down on Triabunna wharf.
Tuesday surprisingly did not wake up sore but we elected to have a quiet day around the campsite. After lunch, attempted to explore the headland around Spring Bay and although drove some interesting dirt roads and saw some interesting countryside, farms and sea views kept being turned back by farm gates and ultimately a big locked gate at the now abandoned Gunn's wood chip mill and wharf facility.
Wednesday we broke camp and relocated via Sorell to Taranna, midpoint between Eaglehawk Neck and Port Arthur. After setting up camp at Taranna Cottages, we headed out to revisit the local sites. We had spend a day here back in April 2006. Not a lot had changed. While seeking out a lookout we did however take a wrong turn and unintentionally ended up at Fortescue Bay. Did not stay as we were planning to return later in the week to do a short walk here. We did get back on track and visited the Tessellated Pavement, the Dog Line, the Officers Quarters, the Blowhole, Tasman Arch and Devils Kitchen. The Dog Line and Officers Quarters are a historical site situated on a narrow 30 metre-wide isthmus that joins the peninsula to the rest of Tasmania. This isthmus was once guarded by a line of ferocious dogs to prevent convicts escaping across the Neck from the nearby penal colony of Port Arthur. The slightest disturbance would set the dogs barking and alert the soldiers. All the other attractions we visited are geographical phenomena associated with the rugged coastline and its cliffs.
Thursday was set aside to explore the Tasman Peninsula and complete some more short walks. First stop was the Coal Mines Historic Site. What an amazing and intriguing place. Free entry and we could have easily spent a day walking and exploring the tracks. We did five consecutive walks which constituted the Short Walk for this site. By completing the Convict Precinct, Plunkett Point, Inclined Plane to the Main Shaft, Signal Station and the Military Precinct we covered the main points of Interest. From here we drove to Nubeena, found potable water and collected 40L as there is no water supply at our camp, before heading for Cape Raoul. As this is a grade 4 walk, estimated time to complete being 6 hours, our approach was to start it and turn around when we had seen or done enough. That point was about 3 kilometres in. We emerged from the bush onto a spectacular cliff edge that looked down on Cape Raoul. We spent about 30 minutes admiring and photographing the 180 degree views before heading back to the trailhead. Being 2:30pm we thought we might get in one more walk for the day. It was 3:30pm by the time we set off on the Cape Hauy walk to the Candlestick and Totem Pole. This walk was also classified as a Class 4 and the last stage of the Three Capes Walk, with an estimated 4 hours return, so once again the plan was to 'suck it and see'. It was a steep climb and unfortunately after about 3 kilometres beer o'clock won out and we decided to turn back. It was a very picturesque walk back overlooking Fortescue Bay. The beer was cold and good.
Friday, another magic sight filled day. 9:00am on the dot we walked through the the newly opened Port Arthur Visitor Centre. We spent all day walking around and exploring the Convict and other buildings making up this incredible World Heritage listed Historical site. We had visited here in 2006, but it was a warmer day this time and we seemed to have covered and seen a lot more, although there were a lot more visitors this time than April 2006. The numbers were swelled due to the cruise ship Golden Princess being anchored in Mason Cove disgorging its passengers via life raft to the Port Arthur jetty.
Saturday morning we drove back into Sorell for Joan to visit a hairdresser and for me to complete the weekly shopping and collect some more water for the van. On the way home we stopped off at Eaglehawk to do the Waterfall Bay short walk. A great walk along the cliff tops with a number of vantage points to view the cliffs and the ocean battering the coastline below.
Sunday was clear blue sky. We had some domestic things to take care of in the morning but first I drove back to Eaglehawk Lookout to get some photos of the rugged sheer cliff edged coastline. It really is spectacular. After lunch we had a couple of real surprises; hidden gems. The first being the museum that Colin and Marge have put together at Taranna Cottages. Must admit I am over small local museums but Colin's passion and persuasion sparked our interest and glad it did. A well laid out logical presentation of local history and world class in more ways than one. The next hidden gem was Maingon Bay incorporating the Remarkable Cave. First up from the Lookout an incredible view of the jagged dolerite rock pillars that create the profile of Cape Raoul and then a short walk down some steps into Maingon Bay to experience the Remarkable Cave. The steps take you to the rear of a sea cave. The experience and sights encountered depend on the what stage the tide is at. Low tide the cave is accessible and at high tide the cave would be underwater.
Something a little different next week. Tomorrow we relocate to Hobart, collect my sister, Annemarie and husband, David from the airport and spend a few days with them and my Hobart based nieces Angela and Samantha, and their families.
Diary Photos
| | | |
| --- | --- | --- |
| Joan, mountain bike riding, Maria Island | Joan, Frenchs Farm | Our Mountain Bike Adventure |
| Isthmus, Maria Island. We didn't quite get there. | Tessellated Pavement, Pirates Bay | Dog Line Eaglehawk Neck |
| Tasman Arch | Coal Mines Heritage Site | Ruins Coal Mines Heritage Site |
| Ruins Coal Mines Heritage Site | Echidna Chair, Cape Raoul | Cape Raoul |
| Fortescue Bay from Cape Hauy | Penitentiary, Port Arthur | Penitentiary, Port Arthur |
| Museum, Port Arthur | Farm Overseer's Cottage, Port Arthur | The Church, Port Arthur |
| Mason Cove, Port Arthur. Golden Princess in background | Penitentiary, Port Arthur | Dockyard Port Arthur. Golden Princess in background. |
| Waterfall Bay, Tasman Peninsula | Cape Hauy from Eaglehawk Neck Lookout | Pirates Bay from Eaglehawk Neck Lookout |
| Part of the History Museum, Taranna Cottages | Cape Raoul from Maingon Bay Lookout | Remarkable Cave |
---