Peter & Joan's Adventures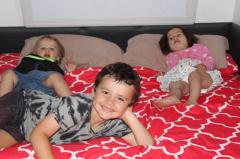 8th Jan 2018 - 14th Jan 2018 - Adventure before Dementia Tour
Tasmania - Week 13 - Hobart
Moving day tends to be a bright sunny day. Monday in Taranna was no exception. After packing up and thanking Colin & Marge for a great waypoint we headed for Hobart. An uneventful drive through Hobart to Snug had us fully set up by lunchtime. We chose Snug, south of Hobart as my nieces, Angela and Sammy, and their families live nearby in Bonnet Hill and Electrona. To complete the family reunion my sister Annemarie and her husband, David flew in from Newcastle. I picked them up from Hobart airport at 2:30pm and they checked into a cabin at our Caravan Park. Monday evening the girls and Hieu (Angela's husband) came around to the van and we had a great evening getting to know their children, Riley, Delilah, Harry and Indigo. Annemarie and David have visited in recent years but this was the first time Joan and I had met our grand nieces and nephews.
Tuesday morning, another sunny day and we made the most of it kayaking with Riley and Sammy in North West Bay. Even Annemarie had a paddle. Tuesday night was a full-on family reunion with dinner at Sammy and Ryan's place. It was a great catch up, great food, noisy and fantastic to see cousins playing and interacting as only cousins do.
Wednesday morning, David, Annemarie, Joan and I were up early, car packed and on the 9:00 o'clock ferry to Bruny Island. It was a first visit for all of us and although we did not have an itinerary the plan was to see as much as we could in a day. And wow did we pack in a lot. First stop was Truganini Lookout at the neck. Not only an amazing view but we could also make out the recognisable profile of Cape Raoul. We then ventured further south to the Bruny Island Lighthouse. Backtracking through Lunawanna, we stopped at BI Premium wines for a taste. Unfortunately underwhelming and overpriced, but the girls took a fancy to the Ginger Cider, on offer. From here back to Alannah to the pub for lunch. A great little pub. Although the meal was delivered in stages and a little slow it certainly made up for in quantity and taste. It appeared to be a very popular eatery. Joan and I enjoyed one of the best seafood platters we have had in ages. From here the intention was to do a short walk at Adventure Bay but abandoned the idea when we couldn't locate the trail head. The girls consoled themselves with a berry ice cream from the Berry Place. Next stop was the Cheese, Beer and Bread Place. It was very busy with queues of patrons waiting to be served, so we had a quick look around and made a beeline for the Whisky House. An impressive establishment with an array of 4 nip paddles ranging in price was $40 - $200/paddle. We sampled the $40 paddle. Found the Sullivans Cove single malt whiskey agreeable but at $230/bottle left empty handed. We were back on the ferry by 4:00pm. Stopped in Kettering to pick up some fresh local fruit and veggies and back at the van in time for happy hour. In short we found Bruny Island probably a great place to escape for a few days/weeks if you are self sufficient but a little expensive for a day-tripper.
Thursday another family adventure. The girls and kids took us for a short walk to Snug Falls. What a great morning. Five adults, two walking kids and two younger ones in back packs. All the kids were great and it was a beautiful destination. Thursday evening another family food and fiesta night. This time at Angela and Hieu's new home. Another evening of great company, kids entertainment and too much food.
Friday was an overcast day, with the permanent threat of rain. So after a late start we called into the Shot Tower at Taroona. This is a 48 metre sandstone tower built by Joseph Moir in 1870. For 100 years it was the tallest structure in Tasmania and is alleged to be the tallest remaining shot tower in the world and the tallest ever built in the Southern Hemisphere. From here we went to the Signal Station at Mt. Nelson where we met Beth and Mark for lunch. Beth being a friend of Annemarie's from high school days. It was a great catch up and I really enjoyed the octopus main course. Unfortunately a very overcast and windy day so the view was not the best. A detour on the way home had us calling into the Cascade Female Factory Historic Site in South Hobart. The site was operated as a female factory (prison) from 1828 - 1856. We visited here back in 2006 and although it has been revamped it is still a sombre place being reminded of the thousands of woman and their children that were cramped in here to be punished and reformed.
Saturday, Annemarie and David's last day. Joan and I slept in. A result of the big week and the fact that it was raining. We had planned to spend this last day at Richmond with Annemarie, David, Angela and her family, Sammy and her family along with Ryan's parents, Rick and Christine. Because of the rain, plan B resulted in an impromptu bar-b-que with duelling Webber's at Angela and Hieu's place. Another perfect family-fun food feast. Kids had a ball and we enjoyed meeting Ryan's parents. Three o'clock rolled around and it was time to get Annemarie and David to the airport. Arriving at Hobart Airport we learnt that Williamtown airport had been closed due to smoke from surrounding bushfires. Short story Annemarie & David's flight was cancelled with them rescheduled to fly out same time next day. So they scored another night and day in Hobart. As they were homeless and we had no room in the van we dropped them back at Sammy's for the night.
Sunday morning we met the family at Dru Point Centennial Park in Margate, to watch the kids play and enjoy their scooters and bikes. From here we ventured to the Pancake Shop forming part of the Margate Train. After lunch Annemarie and David said their goodbyes to Angela, Samantha and the grand nieces and nephews and we ran them out to the airport via Richmond to view the historical buildings including the convict Bridge (1823) and the Catholic Church (1836). We said our goodbyes to Annemarie and David around 3:30pm at the departure area of Hobart airport. 4:30pm we received an SMS from Annemarie advising their flight had once again been cancelled. Talk about déjà vu and that Van Diemens Land saying 'for the terms of their natural lives...'
Postscript. Annemarie and David were rerouted Sunday evening on a direct flight to Sydney and completed the final leg of their homeward trip by courtesy car.
Diary Photos
| | | |
| --- | --- | --- |
| Harry, Riley & Delilah | Riley paddling | Sammy, Harry & Peter kayaking |
| Harry on the beach | Harry, Delilah & Riley | Joan and Indigo |
| Harry, Sammy, Delilah & Angela | Hieu doing it tough | The Neck from Truganini Lookout, Bruny Island |
| South Bruny Lighthouse | David & Annemarie, House of Whiskey, Bruny Island | Hiking Group, Trailhead, Snug Falls |
| Angela, Indigo, Delilah, Harry, Riley & Sammy, Snug Falls | Family gathering, Angela & Hieu's place. | Annemarie & Joan, top of Shot Tower, Taroona |
| Shot Tower, Taroona | Annemarie, David & Joan, Cascades Female Factory | Yard Area, Cascades Female Factory |
| Family photo | Delilah, Dru Point Centennial Park, | Riley & Harry, Dru Point Centennial Park |
| The Margate Train | Convict Bridge, Richmond. | |
---