Peter & Joan's Adventures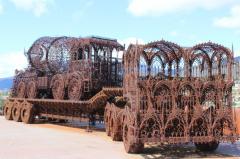 15th Jan 2018 - 21st Jan 2018 - Adventure before Dementia Tour
Tasmania - Week 14 - Southern Tassie
Monday morning rang Annemarie to check they made it home. All was good. We spent most of the day at the Museum of Old and New Art (MONA), in Berriedale, Hobart. MONA is a privately funded museum displaying antiquities, modern and contemporary art from the David Walsh collection. David Walsh is a Tasmanian millionaire who made his fortune by developing a gambling system used to bet on horse racing and other sports. On entering MONA you know you are in for something special. A spiral staircase leads you three floors underground. The museum has been carved into the sandstone cliffs around of the Berriedale Peninsula. Our experience took about four hours to work our way from the bottom floor back to the light of the surface. It is confronting, thought provoking, confusing, technical and at the same time enthralling. Guess David Walsh is an complex, perhaps slightly disturbed individual but definitely generous and an asset to Tasmania as it is a great tourist attraction all the while providing free entry to all Tasmanians and a fantastic venue for all sorts of entertainment in the accompany picturesque and functional grounds and gardens.
Monday night we had a parting dinner with Angela, Hieu, Delilah and Indigo at The Beach restaurant on the foreshore of Blackmans Bay. It was a very enjoyable and relaxed evening with this beautiful family.
Tuesday we headed for Mt Wellington. Third time here and the first time we have had clear blue skies and no wind. Unfortunately it was a hazy day so not the clear sharp photos we were expecting. The other disappointment was the Organ Pipes walk, one of our 60 Short Walks, that we had planned to walk, was closed due to an upgrade of the walking track.
Tuesday night it was time to say good bye to my other niece, Samantha and her family, Ryan, Riley and Harry. Sammy cooked a beautiful home cooked meal complimented by freshly picked berries for dessert. Like the previous evening it was an enjoyable and relaxed evening with a lovely family. Billy and Cathy can be proud of both their girls and their life choices.
Wednesday morning we broke camp and after one last visit to the Snug butcher we headed south to to set up camp at Dover. It is only a small caravan park but well set out and welcoming, well placed for exploring the Huon Valley. Wednesday afternoon saw us completing another short walk. This time the Duckhole Lake, an easy 2klm stroll to a dark reflective sink hole. Before returning to camp we had a quick look around Dover. It did not take long but it certainly was beautiful perched on Port Esperance.
Thursday was a bucket list day. We travelled an hour south of Dover to Cockle Creek where the road ends. In fact this is Australia's most southerly road. After visiting the whale sculpture at Recherche Bay we hiked a further 8klm to South Cape Bay being, another Tasmanian Short Walk and the most southern Bay of this great southern land. Here I was able to see Australia's most southern Point (South East Point) and swim in the Southern Ocean. A rewarding and satisfying day all round. Only surprise and warning to others was the number of ferocious March flies that ensured our visit was kept short on this most southernly beach.
Friday we woke to clear blue skies and warnings of a hot day (30+ deg C). We had big plans of completing 2 or 3 short walks that day. On the road by 9:30am promptly got lost on a back dirt road somewhere west of Dover so had to backtrack and stick to the bitumen taking the longer route via Geeveston to the Hartz National Park. To our surprise as we pulled up at the carpark the clouds starting rolling in over the Hartz mountains. By the time we had rugged up and walked through the high alpine area to Lake Esperance, the entire lake was blanketed in cloud. It was fascinating but eerie. After about 20 minutes there was a few gusts of wind that cleared the scene for a few minutes but it was soon swallowed up again by cloud. We decided to abandon the second walk to Hartz Peak as visibility was very poor and the risk of getting lost and worse still no hope of getting photos of the south west wilderness stole our motivation.
Returning to the car we had some lunch and then pushed onto the Tahune AirWalk. Only 30 minutes from Hartz Mountains and once again clear blue sky. We visited here in 2006 with my brother Billy. This time we completed the McKays Track, the Huon Pine Track and the AirWalk to complete the three elements of this short walk. Had a short stop in Geeveston on the homeward journey for some fuel and groceries.
Saturday, after being on the go for almost two weeks we had a well earned rest day, catching up on washing and chores around the van.
Sunday morning we broke camp. First stop was Woolworths Huonville to pick up our 'click and collect' food order, I had placed the previous day. It worked like a charm. A full week's shopping collected, refrigerated and stored in less than 10 minutes. Next into Hobart calling into BCF on the way through for some caravan consumables. Stopped off at New Norfolk for lunch before pushing onto Mt Fields National Park, one hour west of Hobart, home for the next 4 - 5 days. Looking forward to this coming week, a powered, watered site in a National Park with a full catalogue of short walks to complete.
Until next week stay happy and stay safe.
Diary Photos
| | | |
| --- | --- | --- |
| Flatbed Trailer and Cement Truck Sculpture, MONA | Joan in the grotto, MONA | Kittens' Tea Party, MONA |
| Julius Popp's bit.fall, Water Words, MONA | The Museum of Evertything, MONA | The "Cloaca" poop machine, MONA |
| Angela, Indigo, Hieu and Delilah | Tasman Bridge, Hobart from Mt Wellington | The Pinnacle, Mt Wellington |
| Track closure notice, Organ Pipes Track, Mt Wellington | Ryan, Riley, Harry and Sammy | Duckhole Lake |
| Joan, Whale Sculpture, Cockle Creek | Peter, South Cape | Peter, South Cape Bay Beach |
| Joan, in the clouds, edge of Lake Esperance | Lake Esperance, Hartz Mountains NP | Swinging Bridge, Swinging Bridge Walk, Tahune AirWalk |
| Cantilever, Tahune AirWalk | | |
---