Peter & Joan's Adventures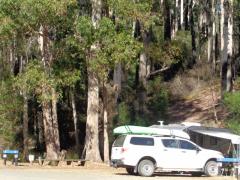 22nd Jan 2018 - 28th Jan 2018 - Adventure before Dementia Tour
Tasmania - Week 15 - Southern Highlands
Monday we slept in but when we did wake it was a beautiful morning. We had a lazy morning and I spent most of my time trying to coax my camera back to life. After six years of misuse and probably the result of being dropped one time too many it has finally refused to switch on. I have persevered with intermittent problems last few months, even purchased a new battery but a loose connection somewhere has final let go. One of the issues of being a nomad, never stop anywhere long enough to get things attended to. Will research a new camera or perhaps just wait and get this one fixed when we get back to Queensland. Joan has kindly entrusted me with her 'point and shoot' so that I can continue to get my daily fix and continue capturing our travels.
Monday afternoon we started exploring this extraordinary Mt Field National Park. We spent the afternoon completing the very picturesque and enjoyable Three Falls Walk. This walk starts with a short walk to the iconic Russell Falls, featured on so many Australian landscape calendars. From here we climbed up and past the top of Russell Falls to the less spectacular Horseshoe Falls. Think it would come into its own after a good shower. The walk continues through the forest to a detour through the Tall Trees. A really pleasant and serene place. Another moderate undulating walk delivered us to Lady Barron Falls. The return walk to camp involved climbing 239 steps. For some unexplained reason we decided to run up the first 150 steps. I am still paying for that stupid decision. This walk ticked off three more Tasmanian Short Walks from our list.
Tuesday we again adopted the strategy of a quiet morning, driving 16 kilometres after lunch up to Lake Dobson to complete the Pandani Grove Walk, the remaining short walk in this National Park. It was a pleasant walk around the lake. This is a snowfield and popular skiing area in winter.
Wednesday morning I slipped into New Norfolk, the closest dump point and to do a grocery shopping at Woolworths. After lunch we once again ventured up the Lake Dobson Road to complete the 2 hour Seagers Lookout Walk. It was a steep rocky climb past Lake Fenton to a disappointing rocky outcrop with good views of the Derwent River Valley and the south-west of Tasmania.
Thursday back to a sleep in and lazy morning. The afternoon another 2-hour walk. This time to Lake Nicholls. This was also a rocky track but not as steep as the previous day, through woodland and heath with the reward after the climb of the picturesque Lake Nicholls.
Friday, Australia Day, continuing the theme for this week, a quiet morning around camp. After lunch I visited Lake Pedder, Strathgordon, and Australia's highest concrete arched Dam, Gordon Dam, the scene of massive student and conservationists' protests late 1960's and 70's. At Lake Pedder there is a Huon Pine that was felled in 1975, with a calculated age at that time of 2,200 years, meaning it was around before the birth of Jesus Christ.
Saturday as planned we broke camp and headed further west to Derwent Bridge arriving just on lunchtime. Being moving day it was a clear and as it turned out a very hot day. Second 32 deg C day, of a forecasted 3-day Tasmanian heatwave. The plan was to freecamp at the Derwent Bridge Hotel as the nearby Lake St Clair NP reportedly could not accommodate large rigs. We set up camp in the carpark of the Hotel. It definitely was hot and the thought of sleeping in a hot van did not appeal, so we drove out to the NP to eyeball and measure their sites. Verdict was they were tight but they had both power and water. The outcome was obvious. An hour later we had been back to town collected the van and set up in amongst the trees at Lake St Clair. We did however venture back to the pub that evening for a meal and so glad we did. The best Indian/Sri Lankan curry we have enjoyed since visiting Elephant Castle in the UK, July 2011.
Sunday another warm sunny day. We filled in the morning by taking in a leisurely short walk from the Lake St Clair Visitor Centre. This was one of our targeted 60 Great Short Walks. This one involved three elements or stages. First stage being Watersmeet Nature Trail leading onto the Platypus Bay Circuit which returned us to Watersmeet; the junction of the Hugel and Cuvier Rivers. We took the alternate route back to the Visitors Centre via 'Larmairremener tabelti' (the Aborginal cultural walk). All up a fairly easy enjoyable walk totally just over 5 kilometres. After lunch we visited the much publicised 'The Wall' in Derwent Bridge. We were not disappointed. The artist Greg Duncan has erected a wall 100 metres in length, housed in a timber framed shed. He has spent the last decade carving mainly Huon pine to tell a story. In his words '...some of the things that express the values and philosophies which identify us simply being Australian, something I fear is at risk more in these times than ever before'. I found the work extraordinary and moving. Unfortunately photography is not permitted so cannot share any of his work, but there is more detail and some photos on http://thewalltasmania.com.au/wall.html. We have seen many timber carvings in Tasmania but the intricate work and finish of this work puts Greg Duncan in an entirely different level of timber artwork and sculpturing.
Anyway another week gone. Only three weeks left in Tasmania before we head back to the big island and start our trek home. Until next time stay happy and stay safe.
Diary Photos
| | | |
| --- | --- | --- |
| Camp Site Field National Park | Russell Falls, Field National Park | Joan, Russell Falls, Field National Park |
| Horseshoe Falls, Field National Park | Lady Barron Falls, Field NP | Lake Dobson, Field NP |
| Pandani, Lake Dobson, Field NP | Lake Fenton | View from Seagers Lookout |
| Walk Profile, Seagers Lookout | Joan, Nicholls Lake from Nicholls Hut | Nicholls Lake |
| View from Lookout, Lake Dobson Road, Fields NP | Gordon Dam | Gordon Dam |
| Lake Pedder | Huon Tree, Pedder Lake | Huon Tree, Pedder Lake |
| Huon Tree, Pedder Lake | Start/Finish of the Overland Track, Cradle Mountain - Lake St Clair | The Barge, Lake St Clair, Platypus Circuit |
| The Wall, Derwent Bridge | Cafe garden, The Wall, Derwent Bridge | The Wall building, Derwent Bridge |
| Pumphouse, Lake St Clair, Wall of Jerusalem in the background | | |
---