Peter & Joan's Adventures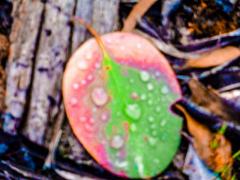 29th Jan 2018 - 4th Feb 2018 - Adventure before Dementia Tour
Tasmania - Week 16 - Southern Highlands & West Coast
This was a week of changing plans. Monday the plan was to catch the morning ferry from Lake St Clair to Echo Point and walk the 11 kilometres back to Cynthia Bay to complete another one of the 60 Great Short Walks. Insufficient numbers meant the ferry was not operating so we agreed with the ferry skipper that we would walk from Cynthia Bay along the Overland Track and he would collect us from Echo Point around 1:00pm on his afternoon run to Narcissus Bay. It was overcast with passing showers but walking through the rainforest was pleasant and sheltered from the rain. We arrived at Echo Point in plenty of time to enjoy our cheese sandwiches for lunch before the 'Idaclair' (the wilderness ferry) arrived to collect us as arranged. From Echo Point the ferry continued onto Narcissus Bay to collect 20 smelly overland trekkers who had just completed 7-8 days hiking from Cradle Mountain.
Tuesday, another day and another short walk to complete. This time the 13 kilometre Shadow Lake Track. Another overcast day with passing showers. This day we were not as protected by the trees and we did get wet but being prepared, wearing the appropriate attire, we were not too inconvenienced. All in all it was a pleasant walk through sub-alpine moorland and highland eucalyptus forest.
Wednesday we planned to move onto Queenstown or perhaps Zeehan or Strahan. It was very cold Wednesday morning and to our surprise we woke to a dusting of snow. Weather reports confirmed snowfalls above 900 metres throughout the Highlands. Hard to believe it was 32 deg C on Sunday and this morning it was 3 deg C. Already a little nervous about towing the van through the mountains and down into Queenstown we decided to stay put for another day. Not wanting the added complication of iced or snow covered roads. Ended up a quiet day working around the van, checking weather reports and researching the road to Queenstown. Highlight was lunch at the Hungry Wombat Cafe in Derwent Bridge.
Thursday woke to a beautiful day. Packed up the van and on the road by 10:00am. Research the previous day had unearthed it was only 91 kilometres to Queenstown but some very mountainous terrain. Fortunately there are a number of landmarks and short walks along the way, so it was possible to break the trip up and give both me (the driver) and the car a few breaks along the way. We ended up stopping at the well-known Franklin River to enjoy the tranquility and rainforest of this wilderness area. Next stop was another look at the Franklin River from a rocky outcrop known as Donaghys Hill. The third stop was at Nelson falls. A very short walk but probably the most impressive falls we have experienced in Tasmania. On the outskirts of Queenstown we also stopped briefly to photograph Horsetail Falls and Queenstown from the lookout leading into the town. Although it had taken us about 5 hours to travel this distance it was not as difficult a drive as anticipated and both car and myself were unscathed so we decided to push onto Strahan and make that our base for next little while. As it turned out we were lucky to get a site in Strahan and could only secure realestate for two nights.
We had visited both Strahan and Queenstown in 2006 and were already familiar with the area and its highlights. Strahan is a beautiful town and we spent Friday reacquainting ourselves with the town and it surrounds, taking a walk around the wharf area and up to Hogarth Falls through Peoples Park. In the afternoon went for a drive to Ocean Beach and Macquarie Heads.
As we failed in extending our stay at the Caravan Park we packed up Saturday morning and relocated all of 44 kilometres to Zeehan, once a booming silver -lead mining town and the third largest city in Tasmania. Now a struggling community with a population less than 1,000. Nevertheless it is a friendly and beautiful little town to use as a base for a week or so. Saturday afternoon after setting up camp we drove to the edge of town past the golf course to the abandoned Spray Silver Mine and tunnel, a 100-metre long abandoned train tunnel that is now home to glow worms. From here we ventured 20 kilometres along yet another mainly gravel road to Trial Harbour. This area was used as a port during the early days of mining in Zeehan. It is an exposed piece of coastline and not surprisingly shipping facilities were later established at Strahan and Regatta Point. Today it is just a collection of holiday homes and fishing shacks.
Sunday was overcast so we elected to visit the West Coast Heritage Centre in the Main Street of Zeehan. In fact it has taken over and occupies a number of buildings in this precinct. We knew we were in for a big day when the volunteer at the ticket counter advised us to hold onto our ticket because they were good for 14 days entry. We did spend most of the day there. It incorporates a vast array of local history and includes a massive mineral display, mining machinery, underground mine simulation, a blacksmiths shop, locomotives, access to the historic Gaiety Theatre, Masonic Lodge, Police Station and Courthouse. There is also a Pioneer Women's Gallery. It is a credit to the town and their ongoing support not to mention the foresight of those individuals that assembled and made these displays possible.
Diary Photos
| | | |
| --- | --- | --- |
| Dew drops on coloured leaf forest floor, Lake st Clair | Overnight Hut/Shelter Echo Point, Lake St Clair | Wharf, Echo Point, Lake st Clair |
| 'Idaclair', Echo Point, Lake St Clair | Shadow Lake, Lake St Clair | Dusting of snow, mountains around Lake St Clair |
| Snow Mt Rufus, Lake St Clair | Echinda beside highway. Note bling attached to quills. | Red/Orange fungi, Franklin River Nature Trail |
| Nelson Falls, Queenstown | Queenstown from Lyell Highway Lookout | Queenstown |
| Strahan Harbour | Row Boat, Risby Cove, Strahan Harbour | Peter, Hogarth Falls, Strahan |
| Spray Tunnel, Zeehan | Trial Harbour | West Coast Heritage Centre, Main St, Zeehan |
| Locomotives, West Coast Heritage Centre, Zeehan | | |
---