Peter & Joan's Adventures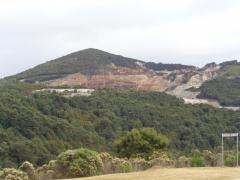 12th Feb 2018 - 18th Feb 2018 - Adventure before Dementia Tour
Tasmania - Week 18 - NW Coast
This was our last week in Tasmania and it has been a wild one. Monday we broke camp in Waratah and had an easy leisurely drive to Wynyard via Ridgley. We located the Leisure Ville Holiday Centre; only a small caravan park but they allocated us a large grassy private site in the back corner of the park. Something Joan appreciated as it better for her morning exercise routine.
Tuesday woke to a beautiful morning so we packed some lunch and headed down the Murchison Highway to the Hellyer Gorge, about an hour south of Wynyard. It was an interesting winding drive down to the gorge. Tasmanian Forestry have provided a functional rest area here and two short walks along the Hellyer River's edge. We had lunch and completed both walks before returning to Wynyard to complete a weekly shop at Woolworths. Tuesday evening the wind started and continued all night.
Wednesday we woke to rain and howling wind. There was nothing we could do but bunker down and spend the day in the van, and I mean in the van. We had docked the awning the previous afternoon when the wind was evident. On the news bulletin that evening it was reported we had experienced gusts of wind in excess of 100klm/hour. It wasn't a total waste of a day. Firstly it gave me the time to compile a map of all the short walks we have completed during our time in Tasmania. In summary we completed 80 short walks, 48 off being from the Tasmania 60 Great Short Walks series and 32 being other walks we came across and completed. The other bonus was the van park had an indoor heated pool and spa, so while it was raining and blowing outside we enjoyed the warmth and tranquility of the pool.
Thursday it was still wet and blowy, coupled with a cold front that had moved in over night. Another day in the van. Bizarre; family and friends in Queensland were roasting in 40 deg plus heat and we were freezing. We did escape at lunchtime to get out of the van for a short time, but it was short-lived. We had decided to go to the Hellyer Distillery Interpretation Centre for lunch. Unbeknown to us there were two cruise ships in port at Burnie; the Sun Princess and the Silver Whisper resulting in no tables being available. After lunch in the van we went swimming in the heated pool and then I updated our metrics for our Tasmanian tour and compiled another map of day trips completed during this leg of the tour.
The updated metrics:
Number of days in Tasmania 129 days
Klm's travelled in car, Tasmania. 9,137 klm
Klm's caravan travelled 1,894 klm
Number of camps in Tasmania 25 off
Litres of fuel Consumed. 1,246 ltr
Average price of diesel. 139 cpl
For anyone interested the above maps can be located at:
Map #1 - Short Walks completed during our travels. http://wctrip.co/au/99282/1700785257 Orange icon = Tasmanian 60 Great Short Walks. Acqua icon = Other Short Walks.
Map #2 - Points of Interest and day trips completed https://trackmytour.com/N3jQw#1998965
Friday we did return to the Hellyer Road Distillery for lunch. Although the service was a little slow the food and whiskey was certainly worth the effort. We enjoyed a Tasmanian Tasting plate for two. What a great way to finish our time in Tassie. The well portioned dish included Petuna smoked salmon, cherry tomato salad, crispy risotto balls, local smoked ham, cheesy polenta, pumpkin fritters, marinated Nichols chicken, house made quiche, Ashgrove cheddar, Westhaven marinated fetta, olives, brie, dips and a selection of crackers and char-grilled crusty bread.
Saturday although overcast, the wind had dropped and only scattered light showers so we visited Boat Harbour, Sisters Beach and Rocky Cape National Park.
Sunday ended up a quiet day washing, swimming and preparing the car and van for the 11 hour ferry trip next day to Melbourne. We did take time out for lunch, visiting Crusty's Bakery for scallop, pies one last time, before departing this land under down under. We plan to spend next week in Ballarat, Victoria.
Diary Photos
| | | |
| --- | --- | --- |
| Bischoff Mine, Waratah | Campsite, Wynyard | Hellyer Gorge, Rest Area. |
| Hellyer River, Hellyer Gorge | Joan, Hellyer Distillery Interpretation Centre | 'Man and His Dog', Paper mache statue, Hellyer Distillery |
| Paper monument, Burnie | Cruise ships, Port of Burnie | Short walks Tasmania. Orange = 60 Short Walks. Acqua = other short walks |
| Our day trips Tasmania | Boat Harbour | Boat Harbour |
| Wharf, Sisters Beach | Rocky Cape National Park | |
---