Peter & Joan's Adventures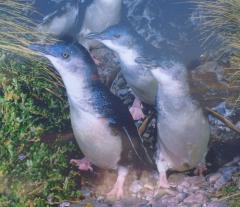 19th Feb 2018 - 25th Feb 2018 - Adventure before Dementia Tour
Back on the big island
Monday was a bit of a wasted day. It was our last day in Tassie. Yes it was time to leave this land under down under. We had a late check out from the Caravan Park so we had a lazy slow morning packing up the van and filling in time on our iPads. After lunch we drove the short distance to Devonport, calling into Lillico Beach on the way to kill some time and try our luck at spotting Penguins one last time. No luck with the penguins, so we carried onto Devonport arriving with about two hours to kill before loading would commence on the Spirit of Tasmania. We parked up at the beach, once again killing time on our iPads. I used this time to capture our parting emotions on our Tasmanian experience and shared these with and thanked the members of the Facebook group 'The very best of caravan and camping in Tasmania'. This FB group is a great resource for planning and getting insider information of the best Tasmania has to offer. 4:30pm rolled around and couldn't hang in any longer so we made the short trip the the ferry terminal and found ourselves second in line to board. Fortunately they opened the gates about 15 minutes later. We then ran through the checkin procedure and security checks. It was determined we weren't concealing any guns, ammunition nor drugs in the engine component, canopy or caravan so we were approved to board. Second time around no mystery and much easier. This time around because it was a night crossing we also had a cabin. We quickly located our cabin (number 7000) which was right at the front (bow) of the ship directly under the bridge. We utilised the time prior to sailing having a few drinks and dinner. The SOT departed right on time at 7:30pm. It was a good crossing, slept all night and docked in Melbourne on time at 6:00am Tuesday morning. An hour later we were having breakfast on the side of the M8 Western Freeway just outside of Melbourne.
We booked into the Shady Acres Caravan Park on the outskirts of Ballarat (we also stayed here in 2015) and spent that day and the following day in and around the van. After our Tassie adventure we just needed a change of pace before starting the next leg of this tour and the homeward trek. It was also overcast, showering and windy. Wednesday night we spoilt ourselves and had some time away from the van. We stayed at the Sovereign Hill Hotel, dined at the nearby Kambei Japanese Restaurant and attended the Blood on the Southern Cross Light and Sound Show. Thursday was another overcast day so we spent another day around the van planning our next moves. Friday rejuvenated, an updated plan and a clear day we visited the Ballarat Botanical Gardens, Prisioner of War Memorial and completed a grocery shopping at Aldi.
Saturday morning we hitched the van and headed further west along the M8 onto the A8 through Ararat, Great Western, pulling up at Stawell. After settling into the Grampians Gate Caravan Park (site of the original Stawell Gift, Easter 1878). The event was moved to its current location at Central Park in 1898. After settling in we had lunch then did the customary run around town locating the Information Centre. From here we drove up to Halls Gap to determine if we would use Stawell as our base for the Grampians or relocate later in the week, if the road was caravan friendly. Saturday afternoon Halls Cap was very busy and had a holiday feel about it. Lots of coffee shops, motorbikes and four caravan parks. Both of us thought it had a Jasper (Alberta, Canada) feel about the place. Decision was easy, spend a few days in Stawell and then move up there mid week to do some walks and check out the iconic landmarks.
Sunday woke to a windy but sunny day. Agenda today was the silo art trail. After spending a week doing nothing it was time for a road trip. We left Stawell mid morning making our way to Murtoa, home of the National Heritage listed Stick Shed. A 265m x 60m x 20m high wooden (because of wartime restrictions on steel) wheat grain store built in 1942. Regrettably access to this significant part of Australian history is not currently available. We pushed onto Rupanyup, for the first Silo Art, 'Sporting Youth' by Russian street artist Julia Volchkova. From here to Minyip, the home of the 'Flying Doctors', a TV series from the 1970's. A little further up the road was Sheep Hills, another painted silo. This one features four indigenous faces on a starry background. This is the work of Melbourne street artist Matt Adnate. Being 1:00 o'clock we made a dash for Warracknabeal for lunch at the Creekside Hotel. After a late lunch we continued north to the Brim Silos to view Guido Van Helten's iconic tribute to the farming communities of the Wimmera and Mallee region. There is further silo art at Rosebery, Patchewollock and Lascelles but it was late afternoon and we had a 1.5 hour drive home. We headed back to the van via Horsham, stopping briefly at Dadswell Bridge to admire the giant koala.
Forecast for next week is less wind and more sunshine, so with some luck we may achieve a few more walks and get to go swimming.
Diary Photos
| | | |
| --- | --- | --- |
| Photo of a photo posted at Lillico Beach | Lined up on the SOT wharf Devonport | Driving up the ramp into the bowels of the SOT |
| View out our cabin window, in Devonport, looking up the Mersey River | Our Cabin, number 7000, SOT | Spirit of Tasmania ll |
| Turning the SOT around in the Mersey River | SOT moving into Bass Strait. That's Devonport in the background. | One of the buildings at Sovereign Hill Hotel |
| Looking out over Ballarat from Sovereign Hill | Bronze Horse statute, Ballarat, recognising the 958, 600 horses and mules killed in WW 1. | 'Loud Fence' (child abuse) ribbons Ballarat catholic cathedral |
| Blood on the Southern Cross show, Sovereign Hill | Peter Lalor, Blood on the Southern Cross show, Sovereign Hill | Prisoners of War Memorial, Ballarat |
| Bob Hawke bust, Prime Ministers Parade, Ballarat | SAC, Stawell Athletics Club, home of the Stawell Gift | Rupanyup Silo Art. |
| Round about art, Minyip. (Home of the Flying Doctors). | Sheep Hills Silo Art | Brim Silo Art |
| Brim Silo Art | The Giant Koala, Dadswell Bridge | |
---