Peter & Joan's Adventures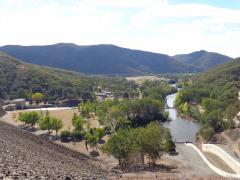 9th Apr 2018 - 15th Apr 2018 - Adventure before Dementia Tour
A week of history and a country show
Woke to a beautiful day in Gundagai Monday morning. Had a quiet morning around the van with domestic duties but headed for Tumut after lunch, with our eye on Blowering Dam as a possible kayaking opportunity. Didn't get to launch the kayak but had a good walk along the dam wall and surrounds. Was surprised to learn that this was the location, 8th October 1978, that Newcastle born Ken Warby set the world water speed record in his jet powered boat 'Spirit of Australia' at 511 km/hour. On the way home we called into the Tumut Labyrinth for Peace, featuring the sun and planets. We have found a few labyrinths during our travels. The previous one was a large loose stone one on the outskirts of Lightning Ridge.
Tuesday also another perfect autumn day however I spent the morning at the library updating apps and some other online tasks. After lunch we went for a walk around the flood plain between the two derelict bridges where the original townsite of Gundagai was located before it was washed away in 1852 along with 89 of its inhabitants. Viewing a monument commemorating the National School that was located on this site I thought this would be a great place for a geocache. I checked the data base on my iPhone, took about 5 steps and located a very easy find. What a bonus.
Wednesday another perfect day and a +30 deg day so we launched the kayak in the Murrumbidgee River just downstream from the Sheahan Bridge and paddled upstream, carrying the kayak over one set of rapids. Took us about 1 hour to paddle upstream the 2.2klm to the old Prince Alfred Bridge, but only 15 minutes to drift back to our starting point. It was quite a workout going against the current but a very enjoyable paddle once completed.
Thursday I went on a geocache hunt quickly locating two. The first near a monument celebrating Yarri, an aboriginal who saved 49 residents during the 1852 floods. The other cache was on the summit of Mt Parnassus, the northern lookout. From here I ventured down to the now closed Gundagai Railway Station and spent an hour taking photos and talking with the museum caretaker. A lot of history and railway nostalgia housed in these 1885 buildings.
Friday we broke camp and headed for Young, our next waypoint. We had a stop at Cootamundra to stretch our legs and walk the Captains Walk in Jubilee Park which features 42 bronze sculptures of Australian Test Cricket Captains. The display starts with Dave Gregory 1876 and currently finishes with Michael Clarke. Cootamundra has a strong connection with cricket, being the birthplace of Sir Donald Bradman. Bradman gets additional attention with a life-sized statue depicting his typical cover drive stance in addiction to his bust.
After setting up in Young we did our normal familiarisation drive, visit to the information centre and shopping at Aldi. Saturday we left the van mid-morning and drove 40 minutes to Bribbaree to attend their annual Show and Shine/Horse Gymkhana. What a day and what a great country show. Not many people but plenty to see. The showgrounds was divided into four quadrants, each with different events on offer. Firstly was the show and shine. This area had vintage cars, street cars, bikes and trucks. Next area was devoted to lawn mower racing. Over the back was a display of heritage tractors participating in a tractor pull competition. The other sport on offer was horse events with the normal run of gymkhana events; barrels, bending etc. The Gymkhana also included a whip cracking course and an obstacle course that would certainly have tested their dressage savvy city cousins. It certainly required a bomb proof horse and was not completed by a number of these experienced stock saddle riding country kids (and adults).
Woke Sunday to overcast skies, a cold front and threatening rain. Needless to say we did not venture far (outside). After lunch we did take a run out to Lambing Flats to walk around the Chinese Tribute Gardens and Dam. We returned to the van park via the showgrounds, successfully locating another geocache. The car is booked in tomorrow for some new tyres and Thursday we head to Canowindra for the Hot Balloon Challenge.
Diary Photos
| | | |
| --- | --- | --- |
| Spillway & surrounds, Blowering Dam, Tumut | Ken Warby, Blowering Dam, Tumut | Old Railway Viaduct, Murrumbidgee River, Gundagai |
| Sheahan Bridge over the Murrumbidgee River, Gundagai | Yarri monument, Gundagai | Gundagai historic flood levels |
| Gundagai Railway Station | Platform, Gundagai Railway Station | Gundagai Railway Station |
| Historic Bridges, Gundagai from Mt Parnassus | Peter, Don Bradman, Jubilee Park, Cootamundra | Ian Chappel, Captains Walk, Cootamundra |
| Cherries, Young | Show & Shine, Bribbaree | Tractors on show, Bribbaree |
| Lawn mower racing, Bribbaree | Truck on show, Bribbaree | Show & Shine, Motorbikes, Bribbaree |
| Chinese Tribute Gardens, Lambing Flats | Chinese Tribute Gardens, Lambing Flats | |
---