Peter & Joan's Adventures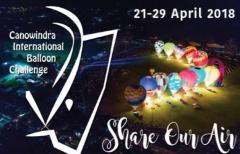 23rd Apr 2018 - 29th Apr 2018 - Adventure before Dementia Tour
Canowindra International Balloon Challenge
We were volunteers this week at the Canowindra International Balloon Challenge, in Canowindra (pronounced Kan-now-dra). Joan was allocated shifts in the office, booking in campers, answering queries and ticket sales. I was allocated to a target team. As well, both of us were assigned to the Hummingbird Balloon Team. The Hummingbird was not a competition balloon but more of a promotional novelty balloon, referred to as a 'shape'. In short it was a great week, long days with I nteresting tasks, great people and we learnt a lot about ballooning.
Each day started at 5:30am with a pilots briefing and task allocation. It was at this meeting the pilots were advised the challenge that had been set for that morning, along with the tasks they had to compete, the scoring, time constraints, launch site(s) and other instructions. A lot of this was dependent on wind conditions and modelled atmospheric predictions from sunrise till mid morning. Most competitions commenced at sunrise, just after 6:30am and concluded at 9:00am. Most days the pilots had 4 or 5 tasks to complete. The entire competition, over 6 days totalled 26 individual tasks. The tasks required the pilots to exercise skill in manoeuvring their balloons over a set course with goals, targets, scoring areas, time and distance limits. Maximum points per task was 1000.
Our job, once the tasks and locations were advised, entailed getting to the nominated co-ordinates, and setting up the required targets or scoring areas, before the balloons arrived. Some tasks were complex and involved multiple drops with varying measurement rules. It was then our job to measure coloured and numbered markersin accordance with the task instructions (e.g. closest to target, minimum distance between two markers within declared dropped zone) to calculate points earned.
Balloons also flew most afternoons, around 4:30pm till sunset, but not for competition points. These flights were for supplementary prizes, practice and to give non-competition (fiesta) pilots additional hours and participation.
We were also allocated to the hummingbird team, an American owned (Doug & Pattie) large bird shaped balloon. This involved us assisting with the inflating of the balloon and then chasing the balloon by car to their landing location, to assist with the deflating and folding up the 650 lb (300kg) balloon. This was fun and an entirely new skill set and ballooning competencies.
Final day of competition was Saturday. Saturday evening an evening market, Balloon glow, challenge results and prizes presentation, as well as a concert by Peter Byrne, a Neil Diamond tribute show. Saturday afternoon we were on gate duty early afternoon whilst the grounds were in lockdown prior to the gates opening at 3:30pm. During the glow we were supposed to be involved in crowd control but at the last moment we were enlisted to assist with the hummingbird. We were looking forward to the glow as it was advertised as a spectacular light and sound show and a photographers dream. It involves a large group of balloons being set up in a line, flaring in time to music. Unfortunately the wind blew up and started gusting, meaning we were kept busy trying to control and prematurely deflating the big bird and missed the main event. The glow spectacular was cut short as even the smaller balloons were being buffeted around. After the shorten glow the Neil Diamond tribute kicked off which turned out to be an enjoyable nostalgic concert.
Sunday morning the organisers ran a fun sponsored event known as a key grab were balloonists fly in and try to snatch a key mounted onto of a flagpole. It was a fun event and great for the spectators. After lunch we visited the Age of Fishes Museum; a collection of locally found 360 million year old Devonian fish fossils. The only collection in the Southern Hemisphere.
Not sure were we will end up this week but we are definitely homeward bound.
Diary Photos
| | | |
| --- | --- | --- |
| Canowindra International Balloon Challenge | Competitors approaching the old Rodeo Grounds, Canowindra | Rodeo Grounds Target & Drop Zone (triangle) |
| Target for double drop, Sports Ground, Canowindra | Anzac Day March, Canowindra | Hummingbird, above the showgrounds, Canowindra |
| The frog leaving the Sports Ground, Canowindra | Balloons preparing to launch | Peter & John during balloon inflation. |
| Peter & John securing the basket | Peter Byrne - Neil Diamond Tribute, Canowindra 2018 | Pilots briefing. Note Peter & John background |
| Showgrounds starting to fill up. Taken from over the Sports Oval | Hummingbird chasing the frog | 'Jewel', the Hummingbird Balloon passing over |
| Campground from the Hummingbird. Note green kayak, our camp | Competition balloons approaching Sports Ground | Setting up for Balloon Glow, Canowindra |
| Hummingbird feeding, Canowindra | Competitor Key Grab, Sports Ground, Canowindra | McBalloony Balloonyface landing Sports Ground, Canowindra |
| Age of Fishes Museum, Canowindra | | |
---