somewhere under the rainbow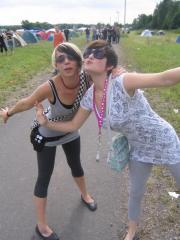 12th Jul 2007 - 16th Jul 2007




Melt!



Melt, Melt, Melt!!! Morsche ists soweit es geht nach Gräfenhainichen in die Ferropolis "City of Steel".
Am meisten freu ich mich auf: Clickcklickdecker, Deichkind, Hot Chip, The Horrors, I¬īm from Barcelona, Kettcar, Puppetmastaz, The Rifles, Shout out Louds, Shit Disco, Stereo Total, Tocotronic.....................und auf en ganzes Wochenende mit meiner Eva und all die anderen Tollen. Jetzt macht hoffentlich auch das Wetter mit....bin mal gespannt......



Diary Photos
---