samandlucytravels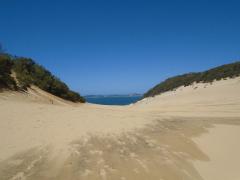 9th Mar 2017 - 14th Mar 2017
Sunshine & Fraser Coast
We drove to the Sunshine Coast of Queensland which is much a reflection of Gold Coast with a more relaxing atmosphere. It has a beautiful coastline and was happy to spend the night and day mooching around Maloolaba & Maroochydore. After our night in the Sunshine Coast we bypassed much awaited Noosa to head north to the Fraser Coast prior to visiting Fraser Island as our tour left from Noosa.
On the Fraser Coast we spent time in Tin Can Bay where you can get in the water and hand feed the Dolphins. Tin Can Bay had a beautiful walk that you can do around the Bay with a single pub that welcomed us on our return! We then headed to Rainbow Beach, which you can get to by row boat from Tin Can Bay in 10minutes but is a 30min drive! This is where we discovered Carlo Sand Blow, a beach on top of a mountain. Apparently there is only 3 in the world! We were also able to scout out the southern tip of Fraser in anticipation.
Hervey Bay was our last stop on Fraser Coast before heading back down to Noosa to do our Fraser Tag- Along Tour. Hervey Bay was great for swimming and full of kind generous people. Noosa stole my heart with it's Coastal Walk and Fairy Pools, it was like something out of a David Attenborough documentary!
I think our favourite part of Noosa was bumping into Ryan & Sian. Living in Edenbridge and having many mutual friends, to bump into someone on the other side of the world is crazy to say the least! We sat down and caught up until the heavens decided to open and we had to make a mad dash for the van, before getting drenched! We all managed to all get on the same Fraser Island Tour and spent that night in the Nomads Noosa hostel - Worst night sleep I've ever had!
Diary Photos
10th Mar 2017 Rainbow Beach - Carlo Sandblow
No Description
---
10th Mar 2017 Rainbow Beach - Carlo Sandblow
No Description
---
10th Mar 2017 Rainbow Beach - Carlo Sandblow
No Description
---
10th Mar 2017 Rainbow Beach - Carlo Sandblow
No Description
---
10th Mar 2017 Rainbow Beach - Carlo Sandblow
No Description
---
10th Mar 2017 Hervey Bay
No Description
---
10th Mar 2017 Hervey Bay
No Description
---
11th Mar 2017 Hervey Bay - Longest Pier EVER
No Description
---
11th Mar 2017 Hervey Bay
No Description
---
12th Mar 2017 Noosa Lookout
No Description
---
12th Mar 2017 Noosa Lookout
No Description
---
12th Mar 2017 Noosa - Sunshine Beach
No Description
---
12th Mar 2017 Noosa - Sunshine Beach
No Description
---
13th Mar 2017 Noosa Heads Coastal Walk - Fairy Pools
No Description
---
13th Mar 2017 Noosa Heads Coastal Walk - Fairy Pools
No Description
---
13th Mar 2017 Noosa Heads Coastal Walk - Fairy Pools
No Description
---
13th Mar 2017 Noosa Heads Coastal Walk
No Description
---
13th Mar 2017 Noosa Heads Coastal Walk - Watching the Marine Wildlife
No Description
---
13th Mar 2017 Noosa Heads Coastal Walk
No Description
---
13th Mar 2017 Noosa Heads Coastal Walk
No Description
---
13th Mar 2017 Noosa Heads Coastal Walk
No Description
---
13th Mar 2017 Noosa Heads Coastal Walk
No Description
---
13th Mar 2017 Noosa Heads Coastal Walk
No Description
---
13th Mar 2017 Noosa Heads Coastal Walk
No Description
---
13th Mar 2017 Noosa Heads Coastal Walk
No Description
---