samandlucytravels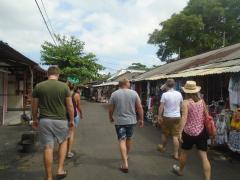 24th May 2017 - 27th May 2017
Tanah Lot & Canggu
Our first taste of Indonesia begins in Bali. After travelling westernised countries for the last 8 months I knew the culture would be different, but we really have been thrown in the deep end. This became evident with our trip from the airport, the roads are carnage (you would not ride a moped here!). The roads clearly weren't built for cars, and although many people still do ride mopeds, the combination is a nightmare, however we made it to Seminyak and were reunited with Dad & Marcia. I was lucky to be surprised with the arrival of Lewis & Karon (my cousins). It's so nice to be able to be able to explore the island, and see family for the first time since Grant & Max came to Sydney, especially around the time of my birthday
Seminyak town is mental, there is so much to see I didn't know where to look. This was overwhelming in comparison to Australia and New Zealand, but there is method to the madness. Everything flows smoothly (apart from the traffic, of course).
After relaxing round the pool for our first couple days, finding our feet, getting to know the area and tasting the Balinese cuisine we headed out to explore more of the island. Our first stop was Tanah Lot temple, a temple by the sea. It was built as a shrine to worship the Balinese sea gods (in Bali 80% of the people are Hindu). After experiencing some of the Hindu culture in Sri Lanka I loved seeing all the statues of gods again. Tanah Lot Temple was no doubt a picturesque typical Balinese landmark.
On our way back to Seminyak we stopped off in Canggu. Our driver said this is what Seminyak used to be like 10 years ago (not so crazy). Canggu is also a popular destination for the Australians as Echo Beach is a beautiful surfing spot. We couldn't help ourselves but to sit back at Echo Beach Club, enjoy a few beers and watch the late afternoon surfing.
Diary Photos
27th May 2017 Tanah Lot markets
No Description
---
27th May 2017 Tanah Lot markets
No Description
---
27th May 2017 Tanah Lot Temple
No Description
---
27th May 2017 Tanah Lot Temple
No Description
---
27th May 2017 Tanah Lot Temple
No Description
---
27th May 2017 Tanah Lot markets
No Description
---
27th May 2017 Views over Tanah Lot
No Description
---
27th May 2017 Views over Tanah Lot
No Description
---
27th May 2017 Tanah Lot markets
No Description
---
27th May 2017 Tanah Lot Temple
No Description
---
27th May 2017 Tanah Lot Temple
No Description
---
27th May 2017 Canggu - Echo Beach Club
No Description
---
27th May 2017 Canggu - Echo Beach Club
No Description
---
27th May 2017 Canggu - Echo Beach Club
No Description
---