samandlucytravels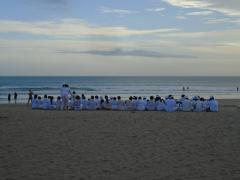 29th May 2017 - 4th Jun 2017
Surfing, Nusa Dua & Uluwatu
Before saying farewell to Lewis and Karon, we spent some time down at Seminyak Beach. There's nothing I love more than listening to the ocean, with the sand between my toes and wind in my hair. The best days of your life, truly are spent at the beach.
I know my dad has been really looking forward to going surfing and after a couple days hard graft, he got it! I had to admire his courage and determination (or ignorance), not to have lessons and be self taught, but it didn't take long, and I'm proud to see him vertical on the board! We celebrated that evening listening to the Beach Boys, splashing around in the pool.
Nusa Dua is famous for it's private white beaches, snorkelling, and resort life. Although it was beautiful it made us grateful for staying in Seminyak, as we had the culture. We spent our Sunday at Sundays Beach Club. What a place! Made me feel like a celebrity! We relaxed on bean bags on the sand, enjoyed a few beers, and the highlight of my day was of course the chocolate, peanut butter and banana milkshake. Delicious.
In the evening we headed to Uluwatu temple to watch the sunset. The monkeys here were very naughty. We watched them steal a young girls shoe, and the people had to bargain for it! Brilliant. The view of the sunset over the ocean, whilst we were up on the cliff was beautiful. We watched a cultural fire dance that evening overlooking the sea, and it was incredible, a lot of fun too.
Since Uluwatu we have continued to spend our afternoons at the beach, as Sam and Dad continue to improve on the waves.
Diary Photos
30th May 2017 Seminyak - Hindu Ceremony on the Beach
No Description
---
2nd Jun 2017 Seminyak Beach
No Description
---
2nd Jun 2017 Seminyak Beach
No Description
---
2nd Jun 2017 Seminyak Beach
No Description
---
2nd Jun 2017 Seminyak Beach
No Description
---
2nd Jun 2017 Seminyak Beach
No Description
---
2nd Jun 2017 Seminyak Beach
No Description
---
3rd Jun 2017 Seminyak Beach
No Description
---
3rd Jun 2017 Seminyak Beach
No Description
---
3rd Jun 2017 Seminyak Beach
No Description
---
3rd Jun 2017 Seminyak Beach
No Description
---
3rd Jun 2017 Seminyak Beach
No Description
---
3rd Jun 2017 Seminyak Beach
No Description
---
3rd Jun 2017 Seminyak Beach
No Description
---
4th Jun 2017 Nusa Dua
No Description
---
4th Jun 2017 Nusa Dua
No Description
---
4th Jun 2017 Nusa Dua
No Description
---
4th Jun 2017 Nusa Dua - Sundays Beach Club
No Description
---
4th Jun 2017 Nusa Dua - Sundays Beach Club
No Description
---
4th Jun 2017 Nusa Dua - Sundays Beach Club
No Description
---
4th Jun 2017 Nusa Dua - Sundays Beach Club
No Description
---
4th Jun 2017 Nusa Dua - Sundays Beach Club
No Description
---
4th Jun 2017 Nusa Dua - Sundays Beach Club
No Description
---
4th Jun 2017 Nusa Dua - Sundays Beach Club
No Description
---
4th Jun 2017 Nusa Dua - Sundays Beach Club
No Description
---
4th Jun 2017 Nusa Dua - Sundays Beach Club
No Description
---
4th Jun 2017 Nusa Dua - Sundays Beach Club
No Description
---
4th Jun 2017 Nusa Dua - Sundays Beach Club
No Description
---
4th Jun 2017 Nusa Dua - Sundays Beach Club
No Description
---
4th Jun 2017 Nusa Dua - Sundays Beach Club
No Description
---
4th Jun 2017 Nusa Dua - Sundays Beach Club
No Description
---
4th Jun 2017 Uluwatu Temple
No Description
---
4th Jun 2017 Uluwatu Temple
No Description
---
4th Jun 2017 Uluwatu Temple
No Description
---
4th Jun 2017 Uluwatu Temple
No Description
---
4th Jun 2017 Uluwatu Temple
No Description
---
4th Jun 2017 Uluwatu Temple - Fire Dance
No Description
---
4th Jun 2017 Uluwatu Temple - Fire Dance
No Description
---