samandlucytravels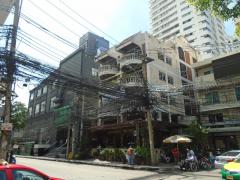 16th Jun 2017 - 19th Jun 2017
Bali to Bangkok
Our final few days in Bali were spent doing what we do best, bumming it on the beach. We stayed in Legian, which doesn't have the style of Seminyak, but it was the perfect place to say goodbye to Bali. If I could, I'd go back in a heartbeat. Bangkok opened my eyes to how good we had it there. The simple island life, who needs anything else?
For our first night in Bangkok we went to a Above Eleven, (a roof top bar) to try and take in the immense size of the city. We enjoyed a couple of mojitos each and watched the sun set behind the sky scrapers. It was a great bar/ restaurant with an awesome view to start off our night before heading to Soi Cowboy. Turns out Soi Cowboy is a really good night out. The best bit about it? The half price beer of course! You've got to see the madness of Bangkok while you're here.
Our first night proved to be the best, but unfortunately the rest of our time in Bangkok wasn't. It was evident we were back to spending city prices. Tax not included, and 10% service charge on your bill, and for what? You'll be lucky to get a smile. We were shocked and worried that this is what the Thai people would be like (we were wrong of course), that's just Bangkok for you. I hope no one ever judges Thailand on what they experience in Bangkok, it's best to get out the city.
Taking this advice from the people who know Sam and I best, we headed to the floating markets of Damnoen Saduak. This was great fun, cruising through the maze like river systems, watching the local people make their trades of fresh produce for the day, and also flogging the tourist crap. If you want to buy something they either pull you up next to their long boat, or their little shack off the side of the river. It's so nice to see the people using and respecting the traditional ways, a complete contrast to Bangkok.
I'm glad we got to see the mental streets of Bangkok, but I don't think we'll be going back!
Diary Photos
17th Jun 2017 Bangkok - Sukhumvit Soi 11
No Description
---
17th Jun 2017 Bangkok - Sukhumvit Soi 11
No Description
---
17th Jun 2017 Bangkok - Above Eleven
No Description
---
17th Jun 2017 Bangkok - Above Eleven
No Description
---
17th Jun 2017 Bangkok - Sukhumvit Soi 11
No Description
---
17th Jun 2017 Bangkok - Above Eleven
No Description
---
17th Jun 2017 Bangkok - Sukhumvit Soi 11
No Description
---
17th Jun 2017 Bangkok - Soi Cowboy
No Description
---
18th Jun 2017 Bangkok - Damnoen Saduak Floating Market
No Description
---
18th Jun 2017 Bangkok - Damnoen Saduak Floating Market
No Description
---
18th Jun 2017 Bangkok - Damnoen Saduak Floating Market
No Description
---
18th Jun 2017 Bangkok - Damnoen Saduak Floating Market
No Description
---
19th Jun 2017 Chiang Mai
No Description
---
19th Jun 2017 Chiang Mai
No Description
---
19th Jun 2017 Chiang Mai
No Description
---