samandlucytravels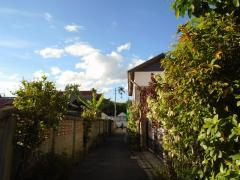 19th Jun 2017 - 22nd Jun 2017
Chiang Mai: Temple Hopping
What a breath of fresh air it is here in Chiang Mai. I knew from the moment we landed, seeing the lush forest stretching over the mountains, the cute Thai houses, golden temples and Buddhist monks roaming the streets, that I would fall in love with this peaceful part of Thailand. When we were welcomed by hosts, we immediately felt better about the people.
Unfortunately Sam caught the flu in Bangkok, we weren't surprised with the amount of pollution and smog. I then caught the flu from him a couple days later, so our first few days in Chiang Mai were a bit of a right off really. We mostly explored the Old Town on foot trying out the local food. We hired a moped for the day to head up into the mountains towards the Doi Suthep Temple. Getting on the back of a moped is definitely one of the better things I've done here, it's so fun, and you feel so free. Especially when you're weaving in and out of the chaotic traffic of South East Asia, there are no lanes! Sam took to it like a champ though. The ride out of the Old Town and into the Doi Suthep-Pui National Park up to Doi Suthep Temple is one of the more beautiful drives I've been on. Climbing the mountain doing hairpin bends through the jungle was beautiful and calming as we cruised along. The view over Chiang Mai City went on for miles and Doi Suthep Temple at the top was beautiful. As with any temple though it doesn't come without it's many steps (no pain no gain!).
Exploring the Old Town by foot we headed to two of the more popular temples, Wat Prah Singh & Wat Chedi Luang. The sheer size of them was overwhelming, with the gold glistening in the sun, and the vibrant colours glowing. The temples in Chiang Mai really are architectural works of art. In the Buddhist religion Buddha always has to be positioned above waist height, as a sign of respect, and any monument of only Buddha's head is seen as disrespectful (so paying for those tacky bracelets with Buddha's head on, isn't actually cool!). Luckily when we got to Wat Prah Singh we were just in time for the morning Buddhist prayer.
I think we both preferred Wat Chedi Luang as a temple though. For Sam, it had a male only worship house (peace and quiet for him). I also love the old stone monument that looked like it had been made out of the same bricks that make up the wall and gates around the Old Town.
Diary Photos
19th Jun 2017 Chiang Mai
No Description
---
19th Jun 2017 Chiang Mai
No Description
---
19th Jun 2017 Chiang Mai
No Description
---
20th Jun 2017 Chiang Mai - Somphet Market
No Description
---
20th Jun 2017 Chiang Mai - Somphet Market
No Description
---
20th Jun 2017 Chiang Mai - Somphet Market
No Description
---
20th Jun 2017 Chiang Mai - The Corner Inn
No Description
---
20th Jun 2017 Chiang Mai - Moped into the mountains to Doi Suthep
No Description
---
20th Jun 2017 Chiang Mai - View from the mountains
No Description
---
20th Jun 2017 Chiang Mai - Moped into the mountains to Doi Suthep
No Description
---
20th Jun 2017 Chiang Mai - Doi Suthep
No Description
---
20th Jun 2017 Chiang Mai - Doi Suthep
No Description
---
20th Jun 2017 Chiang Mai - Doi Suthep
No Description
---
20th Jun 2017 Chiang Mai - Doi Suthep
No Description
---
20th Jun 2017 Chiang Mai - View from Doi Suthep
No Description
---
20th Jun 2017 Chiang Mai - Doi Suthep
No Description
---
20th Jun 2017 Chiang Mai - Doi Suthep
No Description
---
20th Jun 2017 Chiang Mai - Doi Suthep
No Description
---
20th Jun 2017 Chiang Mai
No Description
---
20th Jun 2017 Chiang Mai
No Description
---
20th Jun 2017 Chiang Mai
No Description
---
20th Jun 2017 Chiang Mai
No Description
---
22nd Jun 2017 Chiang Mai - Wat Prah Singh
No Description
---
22nd Jun 2017 Chiang Mai - Wat Prah Singh
No Description
---
22nd Jun 2017 Chiang Mai - Wat Prah Singh
No Description
---
22nd Jun 2017 Chiang Mai - Wat Prah Singh
No Description
---
22nd Jun 2017 Chiang Mai - Wat Prah Singh
No Description
---
22nd Jun 2017 Chiang Mai - Wat Prah Singh
No Description
---
22nd Jun 2017 Chiang Mai - Wat Prah Singh
No Description
---
22nd Jun 2017 Chiang Mai - Wat Prah Singh
No Description
---
22nd Jun 2017 Chiang Mai - Wat Prah Singh
No Description
---
22nd Jun 2017 Chiang Mai - Wat Chedi Luang
No Description
---
22nd Jun 2017 Chiang Mai - Wat Chedi Luang
No Description
---
22nd Jun 2017 Chiang Mai - Wat Chedi Luang
No Description
---
22nd Jun 2017 Chiang Mai - Wat Chedi Luang
No Description
---
22nd Jun 2017 Chiang Mai - Wat Chedi Luang
No Description
---
22nd Jun 2017 Chiang Mai - Wat Chedi Luang
No Description
---
22nd Jun 2017 Chiang Mai - Wat Chedi Luang
No Description
---
22nd Jun 2017 Chiang Mai - Wat Chedi Luang
No Description
---