samandlucytravels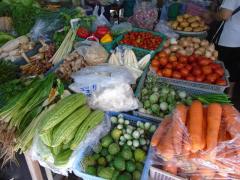 23rd Jun 2017
Chiang Mai: Cook Thai
Zabb-E-Lee Cooking School took Sam and I in for the day to learn how to cook some of the more popular Thai dishes. We had our pick from a menu containing one appetiser, a soup, stir fry, curry paste, curry and mango sticky rice (delicious!). Between us we cooked Spring Rolls, Tom Yum, Pad Thai, Chicken with Cashew, Panang Curry & Green Curry.
We met our group in the morning, and Bow our instructor took us round the local food market (Somphet Market). She explained all the essential herbs and ingredients they use in Thai cuisine, and what we would be using in our dishes. Although I heard of and used most of them before, in England we don't get to see them in the their fresh form. Kaffir limes look like angry limes, and raw turmeric is apparently really good for sunburn or insect bites. It's great to have an insight to how the Thai people use them as medicine or a natural remedy. We definitely saw some vegetables however that I have never seen in my life.
Sam and I have both learned to love Thai food since we've been here. All the ingredients they use are fresh and seasonal. It's light, healthy and prepared quickly. We learnt that in Thai cuisine it's not a worry if your food comes surprisingly quickly, there's no microwaves in the kitchens here. The woks get seriously hot, and Thai dishes take no more than 10 minutes to cook. With Thai cooking it's all in the preparation.
What surprised me most on our cooking course is how much depth of flavour you can get with only a short time over the heat. In England we tend to let all our dishes stew and reduce for flavour, but it's the complete opposite here. The way the ingredients are used and balanced creates the perfect flavour. The flavour of the curry surprised me the most! I'm not sure how many tips we'll remember, but they gave us a recipe book, and I can't wait to give it go when I'm home.
Diary Photos
23rd Jun 2017 Cooking Class - Somphet Market
No Description
---
23rd Jun 2017 Cooking Class - Somphet Market
No Description
---
23rd Jun 2017 Cooking Class - Somphet Market
No Description
---
23rd Jun 2017 Cooking Class - Somphet Market
No Description
---
23rd Jun 2017 Cooking Class
No Description
---
23rd Jun 2017 Cooking Class
No Description
---
23rd Jun 2017 Cooking Class - Tom Yum Gung
No Description
---
23rd Jun 2017 Cooking Class - Spring Rolls
No Description
---
23rd Jun 2017 Cooking Class - Spring Rolls
No Description
---
23rd Jun 2017 Cooking Class - Panang Curry
No Description
---
23rd Jun 2017 Cooking Class - Panang Curry
No Description
---
23rd Jun 2017 Cooking Class - Green Curry
No Description
---