samandlucytravels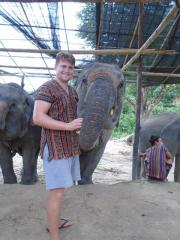 24th Jun 2017
Chiang Mai: Elephant Jungle Sanctuary
Spending a day with the Karon Hill Tribe at the Elephant Jungle Sanctuary in Chiang Mai, is one of the best things I have ever done. It is truly fulfilling your bucket list dreams.
We trekked through the jungle and up into the mountains, across rivers that the tribe had built giant bamboo bridges over, these bridges scared the hell out of me! Finally once we had got up into the hills, there were the elephants wandering around the village. We dressed into the Karon hill tribes clothing, while we were given a briefing. Turns out elephants are super cheeky, trying to walk into buildings and steal food. One of the young males had to wear a collar, so the tribe knew where he was if they got a call from neighbouring village. These elephants are able to roam completely freely, the Karon hill tribe just watch over them so they don't get into trouble with the other villagers nearby. All the elephants here are rescued so they have already had human relations most of their lives, so are used to being fed and human interaction.
We started off feeding the elephants bananas, sugar cane and the leaves. You had to hold the food behind your back otherwise their trunk would sneak behind you and steal all of it. Elephants are massive but they truly are the most gentle of giants, they approach you so softly, there is nothing to be scared of. We then headed down the mountain to a massive mud bath where the elephants rolled around on their backs and you help coat them for sun cream. It was so slippery everyone was falling over. You did have to watch out for the elephants legs though, when their rolling around. Make sure to stay by their backs.
Afterwards we headed down to a fresh running stream, and threw water at the elephants to wash and cool them down. They loved rolling around and being cooled down from the fresh water. We also appreciated the freshness as it was so hot that day. The stream even had a natural slide carved out of the rock. It was lovely to see how the elephants weren't made to do any of these things either, once the elephants are done they stroll off. They are friendly and happy to spend time with you (because we fed them in the beginning), but to animals that's what relationships with humans start with.
Diary Photos
24th Jun 2017 Elephant Jungle Sanctuary
No Description
---
24th Jun 2017 Elephant Jungle Sanctuary
No Description
---
24th Jun 2017 Elephant Jungle Sanctuary
No Description
---
24th Jun 2017 Elephant Jungle Sanctuary
No Description
---
24th Jun 2017 Elephant Jungle Sanctuary
No Description
---
24th Jun 2017 Elephant Jungle Sanctuary
No Description
---
24th Jun 2017 Elephant Jungle Sanctuary
No Description
---
24th Jun 2017 Elephant Jungle Sanctuary
No Description
---
24th Jun 2017 Elephant Jungle Sanctuary
No Description
---
24th Jun 2017 Elephant Jungle Sanctuary
No Description
---
24th Jun 2017 Elephant Jungle Sanctuary
No Description
---
24th Jun 2017 Elephant Jungle Sanctuary
No Description
---