samandlucytravels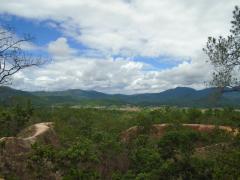 26th Jun 2017 - 28th Jun 2017
Pai
We had heard many great things about Pai so thought we'd head there for a few days to see what all the fuss is about. I have to say it has been one of my favourite places so far. Despite the journey there from Chiang Mai consisting of 762 hairpin bends that wind through the mountains, and the crazy Thai drivers who take you there, it's worth every minute just to escape to the true countryside of Thailand.
The small town of Pai reminded us of Byron Bay, full of quirky little restaurants, clothing shops and hippies. You could wander the streets and find some great cheap eats and lovely people. On our second day we hired a moped from a Vespa store, unfortunately they didn't have a Vespa powerful enough to carry both of us, but the owner had a Union Jack helmet for Sam which he was over the moon with! As Pai is out in the countryside, we visited the Pai Canyon which was awesome but more for adrenaline seekers, rubbish for people scared of heights (me). We also rode out to waterfalls, and a land split. At the land split there was a lovely man who gave us some Rosella juice (delicious) and offered us fruit and snacks to take with us.
We also went out to the strawberry farm which has a beautiful view, a lovely stop on the way to the Bridge over the River Kwai. The best part about Pai was just how quiet it was, and how fun it was to explore through the little villages and baron areas. It really feels like you're in rural Thailand when spending time in the north. The landscape is beautiful, and truly deserves it's name 'The Land of Smiles'.
Diary Photos
27th Jun 2017 Pai Canyon
No Description
---
27th Jun 2017 Pai Canyon
No Description
---
27th Jun 2017 Pai Canyon
No Description
---
27th Jun 2017 Pai Canyon
No Description
---
27th Jun 2017 Pai - Bridge over the River Kwai
No Description
---
27th Jun 2017 Pai Countryside
No Description
---
27th Jun 2017 Pai Ped Heads
No Description
---
27th Jun 2017 Pai Ped Heads
No Description
---
27th Jun 2017 Pai Ped Heads
No Description
---
27th Jun 2017 Pai Ped Heads
No Description
---
27th Jun 2017 Pai Ped Heads
No Description
---
27th Jun 2017 Pai Land Split
No Description
---
27th Jun 2017 Pai Land Split
No Description
---
27th Jun 2017 Pai Land Split
No Description
---
27th Jun 2017 Pai Strawberry Farm
No Description
---
27th Jun 2017 Pai Strawberry Farm
No Description
---
27th Jun 2017 Pai Strawberry Farm
No Description
---
27th Jun 2017 Pai Strawberry Farm
No Description
---
27th Jun 2017 Pai
No Description
---