Brian and Glen Take Off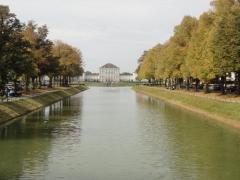 29th Sep 2017
Palatial Beauty
Our day started with a tram ride to the Nymphenberg Palace.
This summer residence of the Wittelsbachs, Electors/Kings of Bavaria, rivals Versailles in scale and grandeur. We toured the private apartments and
grand reception rooms. Later we enjoyed a remrkable deisplay of the royal coaches and sleighs. The splendor and style of the palace is in the baroque
and second empire styles influenced by Italian and French art and architecture.
We spent our final afternoon in Munich (in fact our final in Germany) at a leisurely pace window shopping and just enjoying this very busy city.
We had supper at Bohne & Malz located in a courtyard off the Marienplatz and opted for burgers and salad. This ended up being a great option, as the food was delicious.
We have to remind ourselves that it is "ok" to eat something other than European cuisine on occasion.
Bedtime was early as our train to Salzburg would be at 7:55am.
Diary Photos
29th Sep 2017 Nymphenburg
No Description
---
29th Sep 2017 Nyphenburg
No Description
---
29th Sep 2017 Great Hall
No Description
---
29th Sep 2017 Great Hall
No Description
---
29th Sep 2017 Chamber Ceiling
No Description
---
29th Sep 2017 Carriage Museum
No Description
---
29th Sep 2017 Carriage
No Description
---
29th Sep 2017 Carriage
No Description
---
29th Sep 2017 Winter Harness with Bells
No Description
---
29th Sep 2017 Sleigh
No Description
---