Brian and Glen Take Off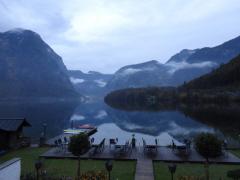 3rd Oct 2017
Salzburg Day 2
It was softly drizzling when we got up, but it hardly affected our day. We went for breakfast at an excellent restaurant called the Cafe Bazar. This lovely cafe is located on the riverside beside the five star Hotel Sacher. We were referred here by Nora, a lovely woman we met the night previous at supper. She is a former Torontonian who has retired to Austria (small world once again).
The rain had now stopped, just in time for our guided walking tour of historic Salzburg. In addition to learning the rich history of the region and the story of Mozart, we had many of the filming locations from The Sound of Music pointed out to us. This movie is a huge draw and there are other bus/walking tours devoted solely to showing tourists the sights from the film.
After our tour ended we bought bus tickets and went to Schloss Helbrunn the summer palace of the Prince Bishops. This lovely baroque house and grounds are well preserved and feature the famous garden of beautiful trick fountains. While touring this you must be careful of your belongings as water can be shot at you at any time by the "trick" fountains. We rode back into town and stopped for a beer on Mozart Square. After a quick clean up athe hotel we set out for an early supper. As it was Sunday many restaurants close early or are just closed. This is true for shops as well. While the regular tourist shops, in tourist areas are open,
regular shops are not. We have found this to be the case in many European cities.
Our choices of spots to eat were limited by the day so we decided to go back to the restaurant from the previos evening, as we had had such a nice meal. We were not disappointed and enjoyed a beef broth with light fluffy semolina dumpling, porcini stuffed ravioli in a light butter sauce and green salad.
We had a nightcap on the terrace of our hotel's Sky Bar with its gorgeous view of the illuminated old town. Early to bed and early to rise for our morning train.
Diary Photos
3rd Oct 2017 View
No Description
---
3rd Oct 2017 Obertraun
No Description
---
3rd Oct 2017 Obertraun
No Description
---
3rd Oct 2017 Cemetery Obertraun
No Description
---
3rd Oct 2017 Obertraun
No Description
---
3rd Oct 2017 Obertraun
No Description
---
3rd Oct 2017 Obertraun
No Description
---
3rd Oct 2017 Lambs Obertraun
No Description
---