Brian and Glen Take Off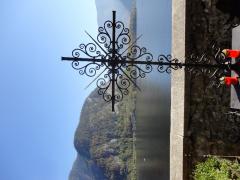 2nd Oct 2017 - 3rd Oct 2017
Beautiful Alpine Lake
It has been a quiet couple of days so...short entry, but lots of pics.
We have been on the go since arriving in Europe, so had made plans for a bit of r & r in an idylic location. We traveled from Salzburg by rail to Obertraun on lake Hallstatt with one transfer in Attnung Pucheim. The views from the train through the alps were absolutely wonderful and the journey went like clockwork.
Obertraun is a small community with farms and alpine medows surrounding and within the village (picture the opening scene in "The Sound of Music"). Our hotel Haus Am See located on the lakeshore afforded us stunning views from our balcony of the mountains and the town of Hallstatt directly across.
On our first afternoon we took the boat from our hotel to Hallstatt to explore this quaint alpine settlement built on a small ledge between the mountain and the lake, then returned to Obertraun for the evening.
The next morning was rainy but there were breaks throughout the day allowing us to explore "our" side of the lake. We went for several long walks including some fairly steep hills, and only had to pull out the rain ponchos once. Later in the day the rain gave way to clearing skies. We enjoyed a couple of glasses of local wine on our balcony before walking to a nearby restaurant for supper.
Diary Photos
2nd Oct 2017 No Title
No Description
---
2nd Oct 2017 Lake Hallstatt
No Description
---
2nd Oct 2017 Lake HAllstatt
No Description
---
2nd Oct 2017 View from Hallstatt
No Description
---
2nd Oct 2017 Hallstatt
No Description
---
2nd Oct 2017 No Title
No Description
---
2nd Oct 2017 Church Hallstatt
No Description
---
2nd Oct 2017 Church
No Description
---
2nd Oct 2017 Hallstatt
No Description
---
2nd Oct 2017 Swans
No Description
---
2nd Oct 2017 Hallstatt
No Description
---
2nd Oct 2017 Hallstatt
No Description
---
2nd Oct 2017 Hallstatt
No Description
---
2nd Oct 2017 Lake
No Description
---
2nd Oct 2017 Hallstatt
No Description
---
2nd Oct 2017 Hallstatt
No Description
---
2nd Oct 2017 Hallstatt
No Description
---
2nd Oct 2017 Lake
No Description
---
2nd Oct 2017 Our Hotel
No Description
---
2nd Oct 2017 Room View
No Description
---
2nd Oct 2017 View
No Description
---
2nd Oct 2017 Obertraun
No Description
---
2nd Oct 2017 Rail Station
No Description
---
2nd Oct 2017 Obertraun
No Description
---
2nd Oct 2017 Sheep in Obertraun
No Description
---
2nd Oct 2017 Obertraun
No Description
---
2nd Oct 2017 Obertraun
No Description
---
3rd Oct 2017 View
No Description
---
3rd Oct 2017 Obertraun
No Description
---
3rd Oct 2017 Obertraun
No Description
---
3rd Oct 2017 Cemetery Obertraun
No Description
---
3rd Oct 2017 Obertraun
No Description
---
3rd Oct 2017 Obertraun
No Description
---
3rd Oct 2017 Obertraun
No Description
---
3rd Oct 2017 Lambs Obertraun
No Description
---