Brian and Glen Take Off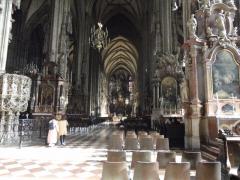 4th Oct 2017 - 6th Oct 2017
Dreamlike Vienna
We have been a bit lax in our blogging as Vienna has been extremely busy, so, Three days - one entry.
We arrived in Vienna and Glen's phone died in the train station. Not the battery, but the phone itself. Luckily we have Brian's phone, which for the duration is "our" phone. You don't realize how dependant you are on a little piece of technology until you don't have it. Ah well, first world problems.
We checked into the Pension Arenburg, a lovely two floor hotel located at the top end of the Ringstrasse, and set off to explore this beautiful city.
Vienna is absolutely gorgeous. With a population of 1.8 million it is a thriving, vibrant city. Green space covers approx. 50% of the land area within the city borders and these parks, gardens and woods are loved and used by the Vienese. Now the capital of Austria, it was once the seat of power for the vast Austro-Hungarian Empire, and most of the grand buildings and palaces date from this period. We saw the St. Stephen's Cathedral, the opera, the Museum
Quarter and the pedestrian only, wide intersecting avenues of shops and restaurants that make up the center of town. Concerts are held every evening in the churches and palaces and we started looking into which we would like to attend.
As it turns out, friends of ours from Toronto were in Vienna as well, and we had pre-arranged to meet up for supper. We met up with Dina and Laure at their hotel (which was just 6 or 7 minutes walk from ours) and took the underground a couple of stops to the Museum Quarter and the restaurant. We had a wonderful meal. As they had been a few evenings before Laure had already made notes on suggested dishes and we went with the flow. Schnitzle, goulash, pork cheeks, potato rosti, and green salad, all of it was delicious. The four of us stoped for a digestivo at St Stephan's Square before calling it a night.
Our walking tour of historic Vienna began day two. Our guide Dace was well informed and offered us a great orientation of the old town and the overall history of the region. After the tour we had a light lunch of soup and salad before walking just south of the old town to the Belvedere Palace. This is now an art museum and holds many famous works by such artists as Moll, Schiele, Munk and of course Klimpt. There is an entire gallery devoted to the
latter with "Judith" and "The Kiss" as its centrepieces. After the Belvedere we went to see the Secession building, a temple of the Jungdenstile before heading back to the hotel to freshen up
In the evening we attended an organ and contrabass concert at St. Peter's just off the Stephansplatz. While the concert was lovely the weather was not, and it was pouring when we came out. We dodged the rain when it lightened up and ran to a souvenir shop to buy umbrellas. We happened upon a fantastic Italian restaurant and had a great meal before ending the evening.
Day three and the skies had somewhat cleared, but the temperature had dropped. It had been like summer (23c) for the first two days, but fall (14c) had now fully set in. We had purchased tickets before leaving to attend the very impressive morning training of the Lipizaner Stallions at the famous Spanish Riding School, dating back over 450 years.
These beautiful animals are showcased in an equally beautiful building which is truely a"Horse Palace". The riding arena is like a baroque ballroom with double tier ballustrades and rock crystal chandeliers.
We had time for a quick bite before taking the underground to the Schonbrunn Palace, the summer residence of the ruling Hapsburgs. The palace still has most of its original furnishings and gives a glimpse ito the lives of this 650 year dynasty of emperors and empresses. We both thought this to be one of the better audio guded tours we have been on.
Our next stop, the famous Cafe Central, an amazing Art Nouveau space with the most delectible pastries and deserts imaginable. Some of these seem like small works of art (almost) too pretty to eat. We had apfelstrudel and sachre torte with specialty coffee and spritz.
Next - justfor fun and excitement - we got lost, and not together. We seperated for a bit and got our wires crossed as to our meeting place. Both of us spent a rather frantic couple of hours looking for each other (remember we only had one phone), before reconecting at the hotel. Lessons learned, we went for a lovely traditional supper of clear broth mushroom soup, beef goulash with sauerkraut and schnitzle with parsley potatoes. Tomorrow, off to our last stop, Budapest.
Diary Photos
4th Oct 2017 St Stephen
No Description
---
4th Oct 2017 St. Stephen
No Description
---
4th Oct 2017 Albertina Museum
No Description
---
4th Oct 2017 Vienna
No Description
---
4th Oct 2017 St. Stephen
No Description
---
4th Oct 2017 No Title
No Description
---
4th Oct 2017 Across from Hotel
No Description
---
5th Oct 2017 Horse Palace
No Description
---
5th Oct 2017 Palace Courtyard
No Description
---
5th Oct 2017 Vienna
No Description
---
5th Oct 2017 Palace
No Description
---
5th Oct 2017 Museum
No Description
---
5th Oct 2017 Maria Theresa
No Description
---
5th Oct 2017 Maria Theresa
No Description
---
5th Oct 2017 Palace
No Description
---
5th Oct 2017 Vienna
No Description
---
5th Oct 2017 Parliament
No Description
---
5th Oct 2017 Parliament
No Description
---
5th Oct 2017 Parliament
No Description
---
5th Oct 2017 Theatre
No Description
---
5th Oct 2017 Last Supper Micro-Mosaic
No Description
---
5th Oct 2017 Vienna
No Description
---
5th Oct 2017 St. Michaels
No Description
---
5th Oct 2017 Library
No Description
---
5th Oct 2017 St. Stephens
No Description
---
5th Oct 2017 Belvedere
No Description
---
5th Oct 2017 Belvedere
No Description
---
5th Oct 2017 Belvedere
No Description
---
5th Oct 2017 Belvedere
No Description
---
5th Oct 2017 Portrait of Napolean
No Description
---
5th Oct 2017 Munch
No Description
---
5th Oct 2017 Klimpt
No Description
---
5th Oct 2017 Schiele
No Description
---
5th Oct 2017 Moll
No Description
---
5th Oct 2017 Judith
No Description
---
5th Oct 2017 Klimpt (unfinished
No Description
---
5th Oct 2017 Klimpt
No Description
---
5th Oct 2017 The Kiss
No Description
---
5th Oct 2017 Klimpt
No Description
---
5th Oct 2017 Secession
No Description
---
5th Oct 2017 Secession
No Description
---
6th Oct 2017 Vienna
No Description
---
6th Oct 2017 Vienna
No Description
---
6th Oct 2017 Schonbrunn
No Description
---
6th Oct 2017 Cafe Central
No Description
---
6th Oct 2017 Cafe Central
No Description
---
6th Oct 2017 Cafe Central
No Description
---