Brian and Glen Take Off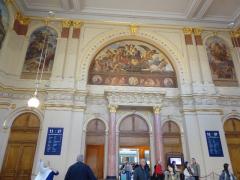 7th Oct 2017 - 9th Oct 2017
Fabulous, Friendly Budapest
ur train journey from Vienna to Budapest was uneventful and we arrived on a beautiful, sunny day. After a short 5 stop metro ride and we were only a a few minutes walk from our apartment at the Piano Castle Hill on the Buda side of the Danube. We were greeted by Farenc, the reservations manager, and shown to our 4th floor rooftop apartment with loft bedroom. The apartment has two outdoor spaces - a balcony off the living room and a roof top terrace off the bedroom with views of the parliament buildings accross the river.
As we had nothing booked for our first day, we simply unpacked and set off to explore the city. We took a short walk (10 mins.) to the famous Chain Bridge and walked across to the Pest side of the river. We walked through Liberty Square, St Stephen's Cathedral, the Parliament, all the while passing one beautiful building after another. While Budapest had some bomb damage during WWII the city has been completely rebuilt and many of the original Beaux Arts, Art Nouveau and Art Deco buildings surrvived intact. We have found the people of Budapest to be some of the friendliest we have met anywhere. Eveyone is so accomodating and English is spoken by most. We had lunch on "our" square, a block from our apartment and shopped at the local supermarket for some groceries, mostly for breakfasts. Supper that evening was at a local wine bar located on our side of the Danube near the Chain Bridge.
Our second day was a bit cloudy and windy, but with no rain in the forcast. We set off by Metro to meet our walking tour behind the stunningly beautiful State Opera House. Our group was comprised of us and only one other couple, Dwayne and Susane from Portland, Oregon. Our guide Viktoria gave us a brief outline of the 1100 year plus history of Budapest and Hungary before taking us to Hero's Square, a collection of reproduction castles from the 19th century and one of the many thermal baths that are scattered throughout the city. We then walked through St. Stephens Square before stopping at a strudel restaurant for a coffee break and, you guessed it, strudel. The restaurant has an assortment of savory and sweet strudels and an open kitchen where you can watch the strudel being made. After our break we took a bus across to the Castle Hill and the Fisherman's Bastion, a fortification built around St. Mathius Church at the highest point in the old town. We said goodbye to our guide and, after initially getting a bit off course, Brian navigated us back to our apartment. In the afternoon we went on a guided tour of the Opera House and were treated to a short concert with a soprano performing some famous arias. We stopped for a "spritz" on St. Stephan's Square and later had supper at The Belgian Brasserie located riverside in Buda.
Day three was sunny and breezy. We decided to take a leisurely pace for our last day and began at The Great Market Hall. This famous food and handicraft market is located in Pest and is about an hours walk from our apartment. After browsing our way through the stalls we went for a traditional lunch of spicy goulash stew and langosh (a fried bread with garlic sour cream and cheese) at the Drum Cafe. This little hole in the wall had been highly recomended to us by our friend Bojana, and was excellent. We made our way back to the river and went for a boat cruise up the Danube around the Margaret Island. Today's spritz break was in the shopping district near St. Stephen's, before walking back to the loft for a short nap. We enjoyed a terrific supper of cabbage rolls and sauerkraut at the Polo Pub just a few blocks from our apartment. We went for a walk after supper and turned in at a reasonable hour. This has been a great vacation, but all good things must come to and end. Tomorrow (Tuesday) - home to Toronto.
Diary Photos
7th Oct 2017 Train Station
No Description
---
7th Oct 2017 Chain Bridge
No Description
---
7th Oct 2017 Chain Bridge
No Description
---
7th Oct 2017 Daanube
No Description
---
7th Oct 2017 Castle Hill
No Description
---
7th Oct 2017 Four Seasons
No Description
---
7th Oct 2017 Budapest
No Description
---
7th Oct 2017 Budapest
No Description
---
7th Oct 2017 Budapest
No Description
---
7th Oct 2017 Budapest
No Description
---
7th Oct 2017 Liberty Square
No Description
---
7th Oct 2017 Liberty Square
No Description
---
7th Oct 2017 Liberty Square
No Description
---
7th Oct 2017 Fountain
No Description
---
7th Oct 2017 St. Stephen's
No Description
---
7th Oct 2017 Parliament
No Description
---
7th Oct 2017 View from Lower Balcony
No Description
---
7th Oct 2017 View from Roof Deck
No Description
---
8th Oct 2017 Opera
No Description
---
8th Oct 2017 Opera
No Description
---
8th Oct 2017 Hero's Square
No Description
---
8th Oct 2017 Hero's Square
No Description
---
8th Oct 2017 Hero's Square
No Description
---
8th Oct 2017 St. Stephen's
No Description
---
8th Oct 2017 St Mathius
No Description
---
8th Oct 2017 St Mathius
No Description
---
8th Oct 2017 Budapest
No Description
---
8th Oct 2017 Budapest
No Description
---
8th Oct 2017 Opera
No Description
---
8th Oct 2017 Opera
No Description
---
8th Oct 2017 Opera
No Description
---
8th Oct 2017 Opera
No Description
---
8th Oct 2017 Opera
No Description
---
8th Oct 2017 Opera
No Description
---
8th Oct 2017 St. Stephen's
No Description
---
8th Oct 2017 Palace
No Description
---
9th Oct 2017 Great Market
No Description
---
9th Oct 2017 Budapest
No Description
---
9th Oct 2017 Parliament
No Description
---