sapp travels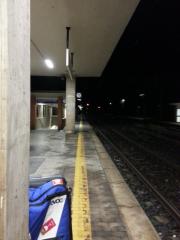 6th Oct 2013 - Italy 2013
Time to go
Sunday morning came quickly. It was always going to as the alarm was set for 4.15. Time for a quick shower, throw the last bits and pieces in our bags and head downstairs. We had packed the bulk of the luggage and bike boxes into Brett's car the night before. Brett being the fabulously generous being that he is, was also getting up at stupid o'clock to drive us to the train station. Brett helped us get our luggage onto the platform and then headed back to the villa to go back to sleep while it was still dark.
Paul and I bought our tickets to Florence and then Florence to Pisa Airport. Our flight wasn't until 12:50, however the connecting trains left us with no choice except to catch the 5.15 train to Florence.
As usual when traveling with bike boxes, travel sometimes feels like it resembles many a stress filled scene from the TV show, The Amazing Race, I swear it is good training for it, and perhaps we should audition for it! There we are standing on the platform, and have just dragged the bike boxes to another spot on the platform so that we can go and sit inside a waiting room where it was warmer, as we are about to sit down, I have a sudden realisation. "Aahhh Paul, I think we are supposed to be on the other side". Paul looks at me and I see the light bulb go off. Yep this is the side we got off when we arrived from Florence 6 days ago. Yikes, we survey the luggage at our feet, two big, heavy bike boxes, two cabin size suitcases, a backpack each, and a bag each. We look across the tracks at the other platform. "Okay", I say, " I will go over and confirm the train etc", I go down the stairs, under the track and up the stairs to the other side, "Yep" I nod across to Paul. While you are imagining this, bear in mind that in most of Italy, the drop down from the platform to train tracks is a step down, it's not the big drop like it is in Australia and most of the UK, it is literally a step down. Paul calls across to me that we are going to carry the bags across the tracks as there is no way in hell that we are carrying them down and up the "bloody stairs" (slight mis-quote erring on being polite). Being the virtuous goody two shoes that I am. I say a big no. I am not walking across the tracks, its illegal. Not to mention potentially highly dangerous and oh, my mum will kill me! Due to time constraints and the logistics of moving the load, I sigh, whisper, "sorry Mum" and step down on to the track. In no time at all we and all our luggage are safely on the platform, the right one this time.
In the continuing theme of The Amazing Race, we discuss the strategies of boarding the train with the entire luggage in time to ensure everything and both of us alight safely before the train departs. So far all of our train boarding has been at the start of the train line, not mid-journey. As the train nears, we watch nervously and as it pulls up we go into action and like a well-oiled machine (bar some stressful agonised curt words at each other) we load all the bags and ourselves onto the train. With each stop the train got busier and busier. How weird 5.30 on a Sunday morning what were they all up to? It increased the tension a little as our bike boxes were taking up considerable room.
Eventually we arrived in Florence, and again we were limited on time to make our connecting train. And we still had to find the platform it was on. Thankfully, one thing I am good at is reading quickly. We get off the train and while I am loading up my luggage, I scan around and find an electronic display of all the trains, I locate our platform and off we go. I was moving faster than Paul as unbeknown to me, the handle for pulling the bike box broke off, so he was now carrying it, just to add to the degree of difficulty as he still had his pull along cabin bag and backpack as well. While I am making my way down the platform, a woman comes along and starts trying to help me with my bike bag. I say No, quite firmly. This doesn't work. I say No thank you. This doesn't work, I say No No NO. And this doesn't work. I get on the train and suddenly out of nowhere 3 people who are clearly with her, start taking my bags and "helping" me, to get it all up on the train. I did say No. Then they run back to "help" Paul. He says no as well. Paul gets on the train and is absolutely livid. Saying No to gypsies doesn't actually work. I think perhaps 'Fck Off' (sorry Mum), might work. So we gave them some coins as it was the only way to get rid of them. They asked for more and this time I got angry, and I yelled at them, they left after that!
The train trip to the airport was mostly uneventful, except for the conductor who was so nice he wanted to confirm with us that we didn't want to use the ticket to go anywhere else apart from the airport, because this ticket wouldn't let us. He didn't speak English, and we didn't speak Italian, so it was quite confusing until one nice woman came up and interpreted for all us.
Once at the airport we just sat and waited and waited and waited to check in. And then finally to board the plane and we were on the way to London. England adventures here we come!
Diary Photos
---