sapp travels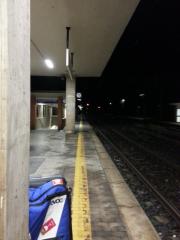 6th Oct 2013 - 8th Oct 2013 - Italy 2013
Touchdown in England
We flew into Gatwick airport on Sunday afternoon, grabbed our luggage and made our way to the car hire place to pick up our "pre-booked" car. A lengthy wait ensued as the car we were meant to have had been in a crash, so we sat and hung out in the airport while we they found us another. I used the time wisely to research the left luggage options for future reference.
Eventually we were in the car and driving around in circles outside the airport while we waited for the Tom Tom to find its signal. It did, and we were on the way to Sutton Coldfield. Sutton Coldfield was our destination of stop one to try and catch up with us much as Paul's family as we could while in the UK. As we drove to (Aunt) Chris's and (Uncle) Paul's, we took in the scenery. I love that England obligingly looks English, that it just fits so neatly into all the postcards, story books and pictures that I have ever seen. It's not my first time in the UK, but every time I see it, I'm chuffed that it turns on the 'English' for me.
The drive to Sutton was about 3 hours. We arrived at Chris and Paul's, Chris had arranged with some of the family to all come to dinner to catch up. We had plenty of time to unpack and shower and get respectable. However as we pulled into the driveway there were already a couple of cars there. We laughed when we pulled in, because it wasn't really a surprise. The family has grown since we last visited as some of the kids have had kids. By 7 o'clock the house was swarming, with chatter and laughter and playing and talking over each other and more laughter. I think there was possibly about 20 of us eventually from tiny tots all the way through to the very gorgeous nearly 90 Uncle George.
Chris being the smart and resourceful woman she is had arranged with a local Indian Restaurant to cook and deliver a shed full of food. We kicked off the evening with customary beer/wine/juice/drink of choice. And we commenced the catch up. By midnight most of the clan had left, and Paul and I were close to falling asleep, it had been a long day getting up at 4.15 that morning for the leaving Italy adventure. We bid our good nights and slipped away, leaving Chris and Paul and Tony and Irene to chatter on into the night.
Morning came and for the first time in a while we slept in, eventually we got up and on with the day. We decided to kick the day off by unpacking the bikes, putting them together and heading out for a ride. Before we left for the ride, Paul was having some gear shifting problems, he worked on remedying that for quite a bit, and then off we rode. About 4 kilometres down the road, as we reached some undulations, Paul was having problems shifting gears, eventually after a kilometre of swearing and muttering, we turned right into a side street to assess the situation. After much assessment and more swearing and muttering, it was deemed that situation was useless. We rode back to Chris and Paul's and started looking up local bike shops, this one was outside of our fiaxable control. Bad news, lots of bike shops on Mondays are closed! We found one that did Monday's in inner Birmingham and this appealed to the shoppers within as we could go check out the Bullring. I am always amazed every time that I go to the UK, when people ask where, Birmingham is always one of the places we go (Sutton Coldfield is just out of Birmingham), so many people respond with disdain and or incredulity "why would you go there", I always assume that they have never actually given Birmingham a proper look. There is so much to do there and the Bullring, without fail, is one of the great places to go shopping. And every visit I manage to find at least some clothes and some shoes. I was looking forward to this visit and was hoping it would make up for my inability to buy shoes in Italy failure!
First stop Bike Shop. Bike Shop said, mmmm, maybe, perhaps we can look at it tomorrow. We said okay thanks we may bring it back tomorrow. We then drove to the Bullring and hit the shops! By now it was well after lunch and the shopping fervor had waned a little. We ambled around from shop to shop and tried things on, but I was in a maybe mood and wanted to process and think about everything, so I left mostly empty handed, with the exception of two pairs of fantastic shoes. Given our luggage situation, this wasn't necessarily a bad thing.
Driving out of Birmingham at 5 in the afternoon is not a smart move and traffic was less than ideal. Back at Chris and Paul's we parked and then walked into the centre of Sutton Coldfield to suss out some important shops, like a Barber for Paul. They were closed, but thankfully we found a bottle shop, so all was not lost and we took back some supplies to re-stock Chris and Paul's fridge from the night before.
Chris had only just got home from work not long before we got there, and Paul B was starting night shift that night, he had his cereal for his dinner/breakfast and headed off to work.
We knocked together an easy left over meal and had some wine and stayed up talking with Chris. Eventually, midnight was nigh and we laughed at how quickly the time disappears once we start talking and solving the problems of the world.
The next morning, we had another lazy sleep in, and got up by about 7:30. The house was quiet with Chris having already left for the day and Paul B was asleep having come in from night shift. We had breakfast and planned our day, which was kicking off with trying some more bike shops.
The first bike shop we stopped at had the answer, and the guy, there and then fixed Paul's bike and charged very little for the frustrating fiddly job. Bike back in the car and we were on our way to the Black Country Living Museum in Dudley.
Diary Photos
---