sapp travels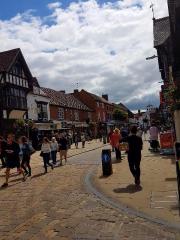 5th Jul 2016 - Spain, Italy, UK 2016
A Midsummer Treat
Tuesday morning was another lazy start, the accumulation of late nights were making us a little tired, that combined with being on holidays, making it much easier to justify a sleep in. We had a late breakfast and then went out for an easy ride. We rode to Stratford-upon-Avon. I stopped at the Royal Shakespeare Company to see what was playing and saw that A Midsummers Night Dream was playing. We rode around the town, then headed back a slightly different way to check out more of the area. After our ride we decided to go out for lunch. We ended up in Shipston-on-Stour exploring the town, which included a sneaky drink at a pub that we were doing some spying work in for Gary and Vikki. Eventually, as is the norm, we were soon staaarving, so we went and found somewhere to have lunch.
We chose the George Town House. The building was beautiful, and it had a lunch menu, so that ticked the right boxes. Our waitress was lovely, she loved that we were from Perth and talked about the time she had been there. I ordered the carrot and coriander soup and Paul ordered a chicken dish. We decided to share a cheese board, because cheeses in the UK are beautiful. Well the cheese board came out and it was massive. We gave it our best go and we couldn't finish it. There was a LOT of cheese. Turns out the chef was feeling extra generous. The cheeses were delightful. During lunch I asked Paul if he wanted to go to Midsummer Night that night. He kind of said yeah sure. I explained that I was more than happy to go by myself, as I didn't want him going under duress and suffering through it. I did also point out that it is one of the best plays for a non Shakespearian person to see. After we had finished in Shipston, we drove back to Stratford to get tickets for the play that night. Lucky that we did, they were nearly sold out, there was only one option left for two seats together!
We pretty much had time to head back to Ilmington, change into some theatre appropriate clothes and leave again. Parking in Stratford seems to always be a bit of a pain in the arse. I'm not sure if it actually is or if that's just because we don't really know the town very well. After a couple of laps near the theatre we ended up parking quite some distance away. Which really wasn't an issue as it gave us another opportunity to look at Stratford. It struck me that the town really is very commercial, which at first I thought, oh that's a shame, but then I figured, well why not. It makes a lot of sense. We made our way into the theatre and I purchased a program, of course. Our seats were fabulous, fifth row, centre stage, brilliant brilliant brilliant!
The performance was electric. The actors were faultless and of course that theatre! It was so bright and powerful and exciting. The character of Puck was played magically. The set and the set changes were magnificent. All in all it made for an incredibly memorable evening. At intermission, we went out to the bar where we bought two very expensive classes of sparkling wine and we were most impressed to see that we could walk outside with our glasses! We were able to wander down to the banks of the Avon, or across to the park, all while holding our glasses. Thanks to our liquor licencing act in Perth, we would never be able to do such a thing. It was great, and we didn't get glassed, even though people were just walking around with glasses! It was actually too cold to take advantage of being outside, so we headed back in and checked out the inside of the theatre before going back in for Act II. We did have the added bonus of a woman a couple of seats up from us critiquing the play. It was mildly irritating, but I turned my filter up and tuned her and her (incorrect) comments out. All good things have to come to an end and soon it was curtain call time. The packed theatre was loudly enthusiastic in their appreciation of the play. It was just so good.
We walked back to the car park, now it wasn't so awesome being parked so far away, where we paid a very hefty parking fee to exit the car park. We got back to the pub and it was a relatively quiet night, being a Tuesday, but definitely not as quiet as I would have thought. We chatted in the bar for a while before calling it a night.
Diary Photos
---