sapp travels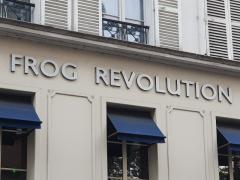 28th Jul 2018 - Paris & London 2018
A day in Champagne
We had booked a day trip to Champagne. The meeting point was just over a kilometre away from our apartment. We left early (to allow for getting lost and a possible coffee stop opportunity), we were due to be there by 715 (early for Parisian streets) and got there ahead of schedule. Before long everyone else who had booked arrived and introductions were made. It was a nice small group, just 7 of us – our tour companions were a family of 5 women from America, ranging from 17 – 70 and Mum and me. Our tour guide arrived and introduced himself, Guillaume, and we head off, get seated in our tour van and off to Champagne.
The group is very friendly and chatty, and that's before the champagne! And the drive to Reims goes smoothly and quickly. Guillaume drives us to Reims' Notre Dame cathedral and we get out, take photos as he tells us as bit about it and then points out where a few things are and that he will meet us back there in 40 minutes, we have time to wonder around have a look, get coffee (for all the coffee drinkers). The cathedral is amazing, they are kind of all the same, but this one is really very nice, complete with a gift shop (of course).
We coffee (water and a biscuit) stop in the park benches outside the cathedral and then regroup and head to our first Champagne house. As we drive to the Champagne house, Guillaume, tells us a bit about the grapes, the vineyards and the area. The first champagne house is called, Lequien et Fils. We meet Phillipe who is the owner of the house. Phillipe is lovely, so sweet and the efforts that he has gone to to learn English and to make sure that he can communicate with all the English speaking tourists is fabulous. There are some things that are difficult for him to explain in English, and Guillaume does a great translation job. The tour takes over 3 hours. We learn so much about the production of champagne, which I found super exciting. We got to taste the still wine at different stages, the 100% chardonnay, and then the still blended wine that goes on to eventually become champagne. We get to see the traditional method of riddling the champagne (manually turning a quarter turn a day, for all the bottles, by hand) and then the new riddling machine that takes away the manual labour component. We learn properly about removing the sediment, the degorging and corking process. It was awesome. And Phillipe gave us all as new cork, in its original shape before they get squished into the bottle.
After about 2 hours we head to the tasting room to taste the final product. Phillipe was incredibly generous with his tastings and pretty much gave us glasses for each champagne rather than small tastings. Phillipe opened four different champagnes for us to try and while we tasted, he told us the story of his parents how the business had developed and changed over the years. He told us about the champagne he was ageing to be released in 5 years for his daughters 18th birthday and showed us the bottle his daughter had chosen for the champagne. He taught us how to open the champagne bottle correctly and then with each bottle that he was opening, gave us a different person each time a bottle to open. I was quite successful in opening mine correctly (if I do say so myself).
Eventually it was time to go, it was the most fantastic and generous winery visit I have ever experienced, it was magnificent.
Back on the bus and we were headed to Epernay. In the town of Epernay, Guillaume dropped us in town for us to go and find lunch and explore for an hour. We kept it simple and ate at a Paul café, averagely sufficient. Interestingly while we were eating lunch there a bridal party came in (including the bride and groom) to buy, lunch? Don't know. But that was weird.
After a quick walk around the town, and another cathedral, we regrouped and headed to Moet et Chandon. And yes the correct pronunciation is with a hard ET, not Moey. This champagne house is next level in impressive production. After all it is a worldwide name, there is a bottle of Moet sold every second throughout the world. That is a lot of champagne! Moet have reached a stage where they do not have enough grapes to maintain meeting demand. We are greeted by our tour guide at 2.30. Our guide was interesting, a combination of a bot and a stepford wife. Very programmed and the fakest (weirdest) smile. That aside, she told us some history and then took us down to the caves, two levels of caves, both levels spanning 28 kilometres. All filled with champagne. It was really amazing. It was nowhere near as interesting (and definitely not as personable) as the tour at Phillipe's champagne house, but it was fabulous to experience. Everything that we learned at the previous tour was reinforced and added to at this one, and it made so much sense doing the houses in that order. Our bot guide was not programmed to answer some questions and it was funny to almost see sparks come out of her head as the computer dealt with the glitch. After the tour we were taken to the tasting room. Less tasting, more given a glass of their standard champagne. Interestingly, while they may be one of the biggest names in the industry and sell for a premium, there are much better tasting champagnes, and sparkling wines than that of the Moet et Chandon variety.
We left the Moet house after a walk through the obligatory and very sparkly and shiny gift shop and Guillaume drove us to the Abbey where Dom Pérignon worked and is buried. Dom Pérignon was a monk and cellar master. He pioneered a number of winemaking techniques around he was the first to blend grapes in such a way as to improve the quality of wines, He also introduced corks (instead of wood), and hence why Moet et Chandon have the black label Dom Pérignon champagne named in his honour.
When we got to the Abbey there was a wedding just leaving the church, and as it is a tourist spot, several tourists were loitering waiting to go in. We loitered with them, and before long went aside. It was just a quick stop as it is a very small church and then we were headed back to Paris. The walk back to our apartment was painless (with my 3 bottles of champagne that I bought packed into our little bags).
Once we got back to our apartment, it was nearly 7pm. We freshened up and reviewed our dinner options and decided to head over to the Pigalle district for a vegetarian burger and then call into Glass to see Joseoh. We ubered off, found the vege burger restaurant, got average service and very very average food. We then walked to Glass at about 9.30 only to learn that Joseph still hadn't started work. Greg gave us a drink which we nursed until Joseph got there about 10.30 and which point we hi'd and bye'd then ubered home about 11. A relatively early night by Paris standards, but we had started our day at 6.30, bed was beckoning as we were starting to eagerly anticipate the exciting plans for tomorrow!
Diary Photos
---